Redmine DB
Redmine Plugin for Redmine 3.4.x
Created by AlphaNodes, 2016-2020.
Knowledge is Power
Make your Redmine project management tool more powerful with Redmine DB plugin.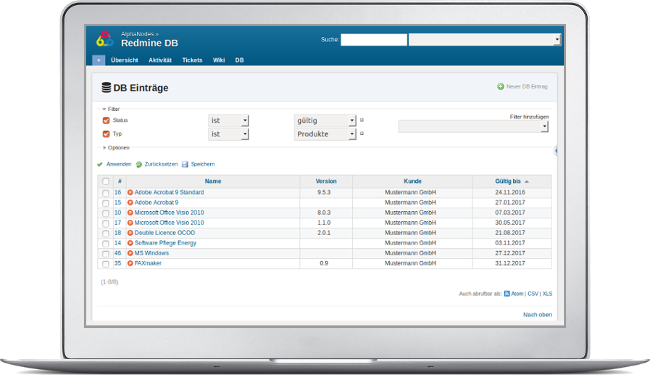 Say goodbye to your spreadsheets or data base tools
like MS Excel or MS Access
The DB Plugin makes data collaboration in project teams more easy
The DB Plugin solves one big problem
Guarantee all team members to view and manage project-relevant data entries with all information in a central location and share them (in real-time) in a secure way with everyone involved.
Functionality
Manage project records
Assignment of user-defined fields to DB type
Filter functions and options like for issues
Features
Simple data import and export (CSV, XLS)
Tagging for a better categorisation
Simple linking with other areas of Redmine
Area of application
Industry & Science
Public institutions
Educational institutions
Business companies
Individual departments
Whole project teams
Individual administrators
Inventory
Manage your inventory (Office, Warehouse, Building etc.)
When did you buy something?
Where is it located?
How long is it in use?
Asset management
Manage your property, plan and equipment (e.g. machinery, industrial plant, infrastructure and buildings)
Upload your corresponding data and plans
Management of scientific work, Study results & Researches
Prototype information
Specialist areas or degree courses
Results or sequences
Resources
Licence management
Who bought what?
When?
How long is it valid?
Who is responsible for it?
Redmine DB Plugin
Make your project management more powerful!