Redmine Products / Redmine DB Plugin (Asset management)
What if you could organize data from Excel with anyone from your Team directly in Redmine?
The alternative to the Excel spreadsheet to record inventory, objects, data records of any kind clearly. Say goodbye to duplicate and old data.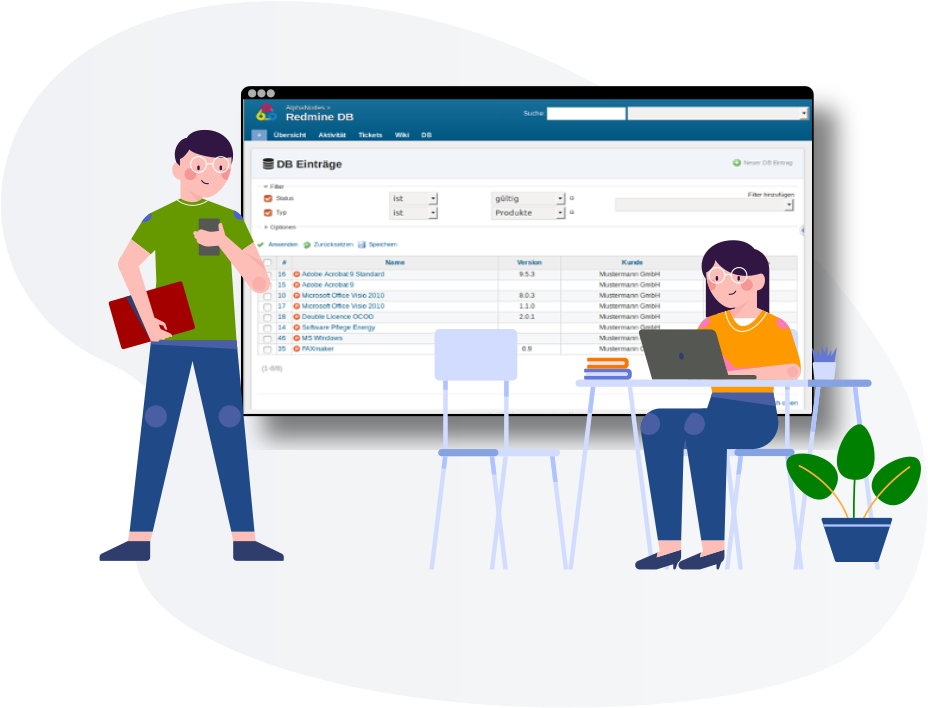 Manage any kind of assets or information entries within Redmine that is not an issue, task or bug.
Finally a good solution for your project team to get rid of outdated Excel sheets
Problem

Lack of updated information

Most organizations lack an updated version of their in excel stored data, which is relevant to their project teams. And aren't used to follow any excel data management best practices. As the number of data stored in excel sheets in your organization increases, so does your challenge of tracking them properly.
Solution

Better overview and more efficiency

Get rid of your excel sheets for asset management. This DB plugin is an extension for the open source web-based software and issue tracking tool Redmine. Feel free to find a use case of your own. The custom field option of Redmine makes almost everything possible. Facilitate the collection and availability of project-relevant data and assets for your users.
Work together in real time.
Working with the latest data is always relevant for successful teams. Using Redmine DB, your team in the office or remote records important data in a flash. Thanks to the common online collaboration, the latest information is immediately available in real time to every colleague for further processing or information.
Time saving due to fast localization.
As a user, you want to manage information easily and find it quickly if necessary. Therefore flexible filter options are an essential part of our plugin. The content can be picked out by Redmine search, various filter options as well as TAG assignment. All this makes your search much easier and more effective.
Quick start by import.
Nobody likes to start from scratch. Especially if you want to switch from other systems (e. g. Excel) to Redmine DB. Importing data is the be-all and end-all for a successful start. Due to the possibility of creating user-defined fields for any purpose, no problem at all. Just give it a try. The export is also possible (CSV, XLSX)
Simple integration within Issues.
This feature allows you to connect easily to DB entries within Redmine issues. That makes linking to DB entries as easy as possible to everyone in your team.
Easily identify relevant information
Get valuable insights of your stored data. By generating charts for custom fields of the List format.
REST API
Integrate Redmine DB plugin seamlessly with your other tools. Drive more integration and automation between Redmine, DB plugin and your ecosystem of solutions with our open API.
Dashboard Support
You decide what's important to you.
Dashboards are a great way to view all relevant project metrics in one place. With numerous available dashboard blocks, users can access issue data easier, track project progress, better analyze plugin-related data and much more!
Features for more team power and effortless growth
Improve productivity. Accelerate goals. Make your team happy.
Our goal is to deliver a high quality product with real added value to demanding customers. Change your daily work with Redmine, now.

Why do Customers like Redmine DB
Because you can build it how you like it
Just as every business is different, so is every process and project. Using Redmine DB as central storage for digital informations, you can digitize project assets and build your own information base from the ground up to work the way you do.
Scalable and flexible.
Use custom fields to add them to DB types, relevant to your business. Activate DB types only in projects, where they are relevant. Link to them easily in issues.
Redmine DB offers the possibility to manage information for any purpose related to a project or the entire company.
No hidden costs. No long-term contracts.
Using our extensions for Redmine there are no forced contracts or additional costs. You pay for what you get. And what you get can be tested on our online demo.
When buying our plugin with a 12 month support licence you profit from feature updates, bug fixes and friendly support during this period. And if you liked it, you can renew it any time you want.
An integration full of possibilities
Use for license management and software contract management (e.g. warranty contracts, service contracts).
Useful for asset management
Ideal for lease agreement, rental agreement, real estate management
Digital personnel file for employee information
Inventory management (plant and equipment, car, office equipment)
SSL certificates, Hosting packages, hardware (PCs, Server etc.)
Useful to deposit costs of lease agreement, rental prices, software costs, hardware costs etc.
Why us? Our solutions are efficient, integrated, scalable, flexible and up-to-date. This way we not only make sure that your product or service is on target, but also help you to transfor your business.
Our development base is Munich (Germany). Documentation and support available in: EN, DE. Plugin: Multilingual. Plugin is also available as Cloud solution.
Learn more about the plugin requirements and read our FAQ before purchase.
With the Redmine DB Plugin it is easy to store general as well as technical information, warranty periods, inspection or maintenance procedures, as well as related documents (e.g. invoice receipts, order information, operating instructions etc.) centrally in the project and to link them to tickets. The best way is to try it.
Our plugins will suit your needs!
Our Redmine plugins are multilingual and a good choice if you want to work productively. 12 month support & updates included.
Buy DB Plugin v3.0.8
Fast, free delivery of the download URL after receipt of payment
Plugin requirements - Plugin FAQ - Terms of use
Access to documentation, Support, Features & Updates
12 Month - DE, EN - E-Mail support via customer area
Right to use the obtained plugin version
Lifetime
Single product
* Offer is directed exclusively to entrepreneurs within the meaning of §14 BGB. All prices are in EUR and net prices. Plus the applicable statutory sales tax. Reverse Charge applies for international clients outside Germany with a valid EU VAT ID No. Delivery of the download URL against advance payment. Plugin installation is done by the client himself, according to our installation instructions. Note the minimum system requirements and FAQ before purchase.
1) does not run stand-alone. Requires Redmine Reporting. Affects: Automation, HRM, DevOps
What annual support and maintenance license do you need?