The Redmine DB plugin makes it easier for organizations and companies to manage any kind of assets or information entries within Redmine that is not an issue, task or bug.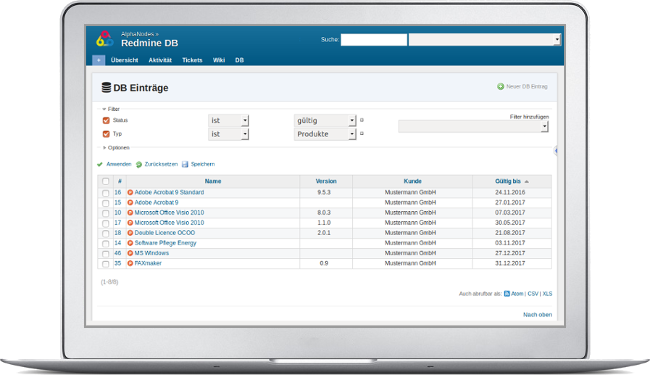 Finally a good solution for your project team to get rid of outdated Excel sheets
Get rid of your excel sheets for asset management. This plugin is an extension for the open source web-based software and issue tracking tool Redmine. Feel free to find a use case of your own. The custom field option of Redmine makes almost everything possible.
Work together in real time.
Working with the latest data is always relevant for successful teams. Using Redmine DB, your team in the office or remote records important data in a flash. Thanks to the common online collaboration, the latest information is immediately available in real time to every colleague for further processing or information.
Time saving due to fast localization.
As a user, you want to manage information easily and find it quickly if necessary. Therefore flexible filter options are an essential part of our plugin. The content can be picked out by Redmine search, various filter options as well as TAG assignment. All this makes your search much easier and more effective.
Quick start by import.
Nobody likes to start from scratch. Especially if you want to switch from other systems (e. g. Excel) to Redmine DB. Importing data is the be-all and end-all for a successful start. Due to the possibility of creating user-defined fields for any purpose, no problem at all. Just give it a try. The export is also possible (CSV, XLSX)
Easy integration within Issues
This feature allows you to connect easily to DB entries within Redmine issues. That makes linking to DB entries as easy as possible to everyone in your team.
REST API
Integrate Redmine DB plugin seamlessly with your other tools. Drive more integration and automation between Redmine, DB plugin and your ecosystem of solutions with our open API.
An integration full of possibilities
License management and software contract management
Useful for asset management
Warranty contracts, service contracts
Lease agreement, rental agreement
Digital personnel file for employee information
Real estate management
Inventory management (plant and equipment, car, office equipment)
SSL certificates, Hosting packages, hardware (PCs, Server etc.)
Useful to deposit costs of lease agreement, rental prices, software costs, hardware costs etc.
Our development base is Munich (Germany). Documentation and support available in: EN, DE. Plugin: Multilingual. Plugin is also available as Cloud solution. We will rock your Redmine.
Our plugins will suit your needs!
Our Redmine plugins are multilingual and a good choice if you want to work productively. 12 month support & updates included.