Redmine Products / Redmine Servicedesk Plugin
What if you had the possibility to handle support requests in an optimal way?
The bigger your company, the higher the support volume. The Redmine Service Desk Plugin offers possibilities to support your customers in the best possible way and at the same time to grow flexibly with your company.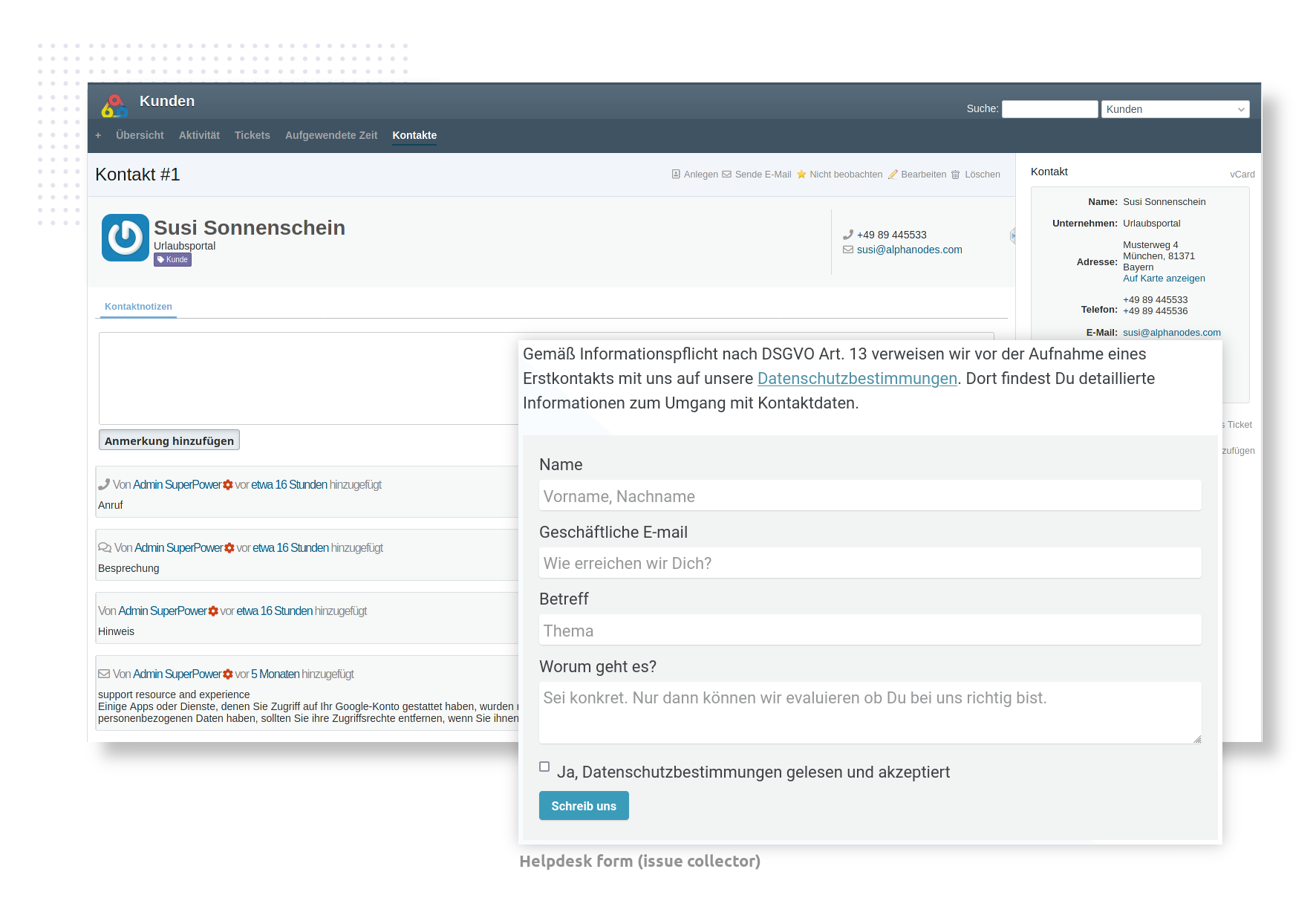 From administration to the HR department and from IT to marketing, you manage all incoming requests in one central location.
The Service Desk Plugin is an extension for Redmine. It provides support teams in IT, service and product development with a functional service desk for more efficient handling and communication with external incoming email requests.
Better handle support requests as a team and solve problems together.
Requests
Convert incoming emails into helpdesk tickets. Tag, track, prioritise, change and close them
Contacts
Manage contacts, categorise with TAGs, store information, measure customer satisfaction
Answers
Respond more quickly and consistently with pre-written responses (canned responses)
Increase the productivity of your support team.
Automation
Automated e-mail rules through connection to the Automation Plugin
Customization
Individually customisable appearance of the contact list and table views
Centralize
Dashboard support to better display relevant support requests
Globalize
Manage canned responses for Redmine Issues as well as helpdesk tickets together. Share with others or cross-project
Identify, improve and fix problems faster.
Reports
Reports with relevant information: First Answer Time, Most Active Time of Day
Evaluations
Determine customer satisfaction with customer service assessments
Real-time Monitoring
Dashboard support to monitor service purchase with real-time data
Helpdesk forms
Generate leads via your website. Using the API or HTML5 form fields (issue collector) linked to your helpdesk
Useful extensions
For an even better customer experience, we recommend the following add-on plugins that perfectly complement the service desk plugin and give your service agents more options.
Messenger Plugin
Team chat integration for Redmine. With Slack, Rocket.Chat, Discord and Mattermost support. Then it works a little better with the communication.
Automation Plugin
Automate routine tasks and optimize existing data volumes. For even more time for really important tasks.
ServiceDesk as a helpdesk for small businesses using Redmine
The needs of small businesses are not much different from those of mid-sized companies. However, small businesses usually do not have the necessary number of employees to handle support as the big ones do. That's why you need a helpdesk tool with more automation capabilities.
Do you have SLAs (Service Level Agreements) for certain customers and want to better meet deadlines or escalate in a timely manner?
Do you want to automatically tag, prioritize, assign to another agent, or move customer requests to another project?
Do you have to consider data protection regulations or industry requirements and want to be sure that your helpdesk tool will help you?
The ServiceDesk plugin can currently support you better than other tools in the Redmine area through its integration with the Automation plugin. The use of issue rules, automatic resubmission of issues, or ticket repetitions simplifies your support job. And ensures that less is forgotten and requests are processed more efficiently.
Ready to improve your employee support or customer service?