The Redmine Reporting Plugin provides you real time data insights into your project and product development. Find out where you stand, identify potential risks, make informed decisions.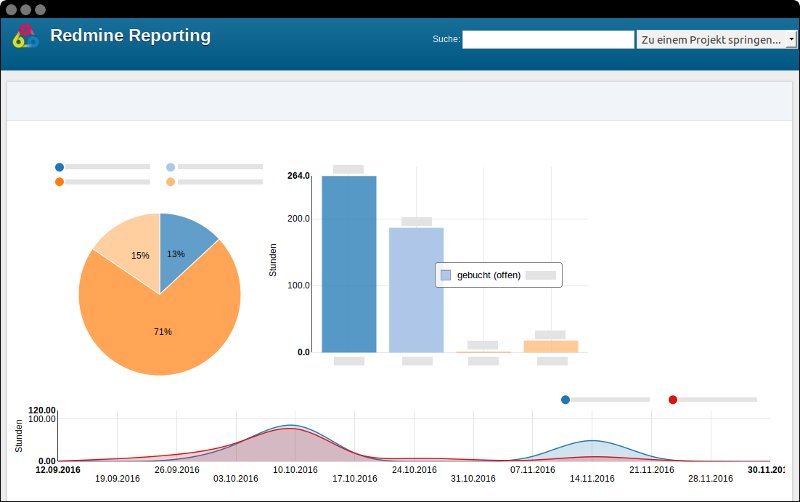 Powerful ways to discover more.
The Reporting Plugin is a feature enhancement for the web based project management tool Redmine. It provides you exciting new insights on your project business. Helps you optimizing team work and ensures you will crush your goals. Get all cross-project or project-related information you need.
Clear, understandable, individual.
Optimize your Redmine ticket system and monitor the current project development based on decisive quality factors. One look and you can see what is going on.
Easy to understand visualization.
Focus on the data you need with our flexible filtering options. They allow you a thorough project analysis in real time. Even budget control has never been easier
Graphs, Diagrams, Statistics. All in it's place.
Get useful information where you need them. All reports, diagrams and intaractive graphs for your Redmine are simple, clearly arranged and easy to understand. This saves you time!
Effective weapon against time and cost killers
Monitor your projects and your team and avoid the most common difficulties in project management. Work with real-time data. This way it is easier for you to keep an eye on budget overruns, time bottlenecks, urgent tickets or important mile stones.
Get better insights.
Our Reporting plugins helps you to control, analyze and optimize your projects in an easy way. By using the much better project-list bottlenecks will be visible and you get more transparency on what is going on in your team. And in case of emergency you get the chance to countersteer.
Experience more clarity.
Provide your users with more useful content. Our lists are simply better. Searchable, filterable, individually storable, exportable, printable with company logo. Applicable for project list, version list, file list.
Track Overall Progress with the Status Bar
Check the current status of your project. Compare the progress with other projects. Analyze the results. The Issue Progress Status Bar helps.
Set individual project rates.
Flexibility is an essential component of service-oriented companies and service providers who look after different customers or handle several projects. The Reporting plugin takes individual hourly rates per project and user into account in the budget calculation. Useful if hourly rates are agreed individually.
Wow that's "Awesome."
Let your creativity run wild. The plugin offers the possibility to add chic Font Awesome icons to different places - for more overview and fun at work.
Why are project reports relevant?
A tool like Redmine Reporting spares you from tedious and annoying discussions if something doesn't work 100%. As responsible project manager, you need to know that everything is running smoothly - and you need to know it fast. That's the only chance for your to interfere. Show everyone what you are capable of.
And as a customer or investor, you get valuable project insights - even without going into much detail. Graphics are easier to analyze than long reports. You see immediately whether everything is within the scope of quality, time and costs. This is the only way if you need to make well-founded decisions.
An integration full of possibilities
Interactive graphics and various reports
Real-time insights into your project budget
Simple sharing of relevant project reports
Customized overviews for every team member
Limited reporting access by using roles & rights
Issue SLA options for individual reaction / solution times
Visual tools to increase issue and task visibility
Log book for complete traceability of changes
Personas
Built for digital teams to manage, develop and sell scaling products and services.
IT management, Project managers and Lifecycle managers
Redmine Reportings graphical evaluations, reports and flexible filterable lists for project data, tasks, spent time on project budget ensures that you achieve your goals more effectively than the average. Engage your team and become more effective and smarter every day in terms of where to focus your efforts.
Marketing leads
Keep your customers invested. Provide a seamless customer experience across sales and marketing. Ensure that 100% of your marketing budget is invested into the right tasks and not spent too much on unplanned stuff.
Decision makers, Executives, Leadership
Full visibility into your team's activities lets you know each rep is engaging every stakeholder with the right messaging. And everything's logged to your Redmine history to learn from it for later projects. Never worry about data accuracy again.
Business teams and operational team members
The Reporting plugin integrates flawlessly with your Redmine. It provides litte fine-tune integrations to meet your team members needs for more productivity and usability. And ensure your team adheres to your defined process so you get the right data.
Simply powerful.
The Redmine Reporting Plugin gives your team the security, structure, governance and flexibility to do their best work, no matter the scale.
Bring your work forward and get everything you need much easier and in different ways. That and even more you will only discover with our Redmine Reporting Plugin. See what's included or try the demo.
Optimize & Personalization
User defined, personalized project lists (as table view or Treemap)
PDF export of reports and lists (Corporate Branding)
Business reports (project related, cross-project)

Groupable spent time reports
Projects with exceeded budget
Projects with exceeded planning hours
Issues with exceeded planning hours
Spent time project list (Sums)
Planned – actual data report
Overdue issues
Usable for work happening within one project, between multiple projects, or across your company
Searchable / filterable version list, cross-project (ideal for agile teams)
Analyze & Segmentation
Use Tagging for projects
SLA function for various issues priorities
Task analyzation according to different criteria

Issue status division
Issue category and tracker division
Get an overview on the assigned issues
Important insights on overdue issues
Comparison of estimated and logged hours on tasks
Tree Map chart for estimated and spent times
Average issue lifetime graph

Issue related: Round Trips, Issue lifetime and history lists on issue metrics.
Custom query counter boxes (Issues, Reports, Logs, DB entries, Passwords)
Monitoring & Automation
Management of project budget and hourly rates
Monitor project relevant activities via diverse info boxes (Watch list, User logins)
Redmine statistics / system statistics for users with administration rights
System wide log book for security and overall activity monitoring
Filterable file list for cross-project file uploads
Our development base is Munich (Germany). Documentation and support available in: EN, DE. Plugin: Multilingual. Plugin is also available as Cloud solution. We will rock your Redmine.
Our plugins will suit your needs!
Our products are multilingual and certainly a good choice. We have customers in 15 different countries, spread over 3 continents.