Redmine Products / Redmine Reporting Plugin (Smarter project insights)
What if there would be an effective weapon against time and cost killers?
Project data is valuable property for entrepreneurs. The Redmine Reporting Plugin provides you with the necessary insight into your projects and product development.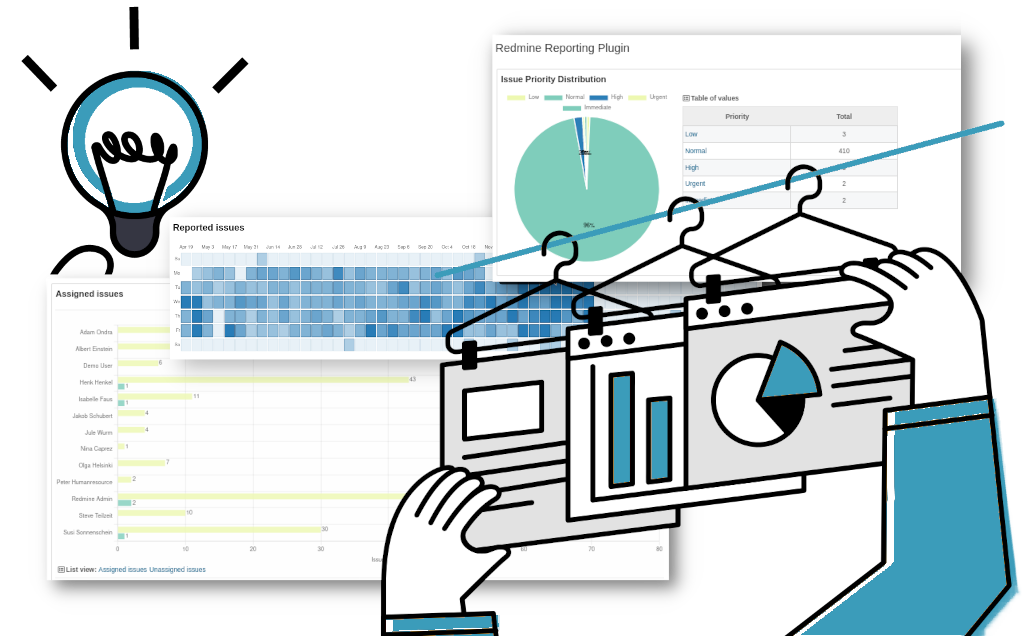 Find out where you are, identify potential risks, make informed decisions. Clearly arranged and in real time.
Clear & individual.
Optimize your Redmine ticket system and monitor the current project development based on decisive quality factors. One look and you can see what is going on.
Easy to understand.
Focus on the data you need with our flexible filtering options. They allow you a thorough project analysis in real time. Even budget control has never been easier.
All in it's place.
Get useful information where you need them. Reports, diagrams and intaractive graphs for your Redmine are simple and clearly arranged. This saves you time!
Effective weapon against time and cost killers
Monitor your projects and your team and avoid the most common difficulties in project management. Work with real-time data. This way it is easier for you to keep an eye on budget overruns, time bottlenecks, urgent tickets or important mile stones.
Get better insights & focus on what matters.
The Reporting plugins helps you to control, analyze and optimize your projects in an easy way. Bottlenecks will be visible and you get more transparency on what is going on in your team. And in case of emergency you get the chance to countersteer.

Features for more team power and effortless growth
Dashboard support for target group-related evaluations and content. Graphics, analysis and reports on projects, issues, wiki pages. Graphical display options of the project list and issue list. Export options to format: PDF, CSV. Type-as-you-search functionality for projects, issues, version list. Issue SLA based on priorities. System-wide user log. Project budget and hourly rate management, task board and burndown charts and much more.
Simply powerful.
The Redmine Reporting Plugin gives your team the security, structure, governance and flexibility to do their best work, no matter the scale.
Bring your work forward and get everything you need much easier and in different ways. See what's included in our demo.
Improve productivity. Accelerate goals. Make your team happy.

Analysis, monitoring and optimization of projects is important
A tool like Redmine Reporting spares you from tedious and annoying discussions if something doesn't work 100%. As responsible project manager, you need to know that everything is running smoothly - and you need to know it fast. That's the only chance for your to interfere. Show everyone what you are capable of.
And as a customer or investor, you get valuable project insights - even without going into much detail. Graphics are easier to analyze than long reports. You see immediately whether everything is within the scope of quality, time and costs. This is the only way if you need to make well-founded decisions.
Our plugins will suit your needs!
Our Redmine plugins are multilingual and a good choice if you want to work productively. 12 month support & updates included.
Why us? Our solutions are efficient, integrated, scalable, flexible and up-to-date. This way we not only make sure that your product or service is on target, but also help you to transfor your business.
Our development base is Munich (Germany). Documentation and support available in: EN, DE. Plugin: Multilingual. Plugin is also available as Cloud solution.
Learn more about the plugin requirements and read our FAQ before purchase.
Buy Reporting Plugin v3.0.8
Affordable prices regardless of your team size
Fast, free delivery of the download URL after receipt of payment
Plugin requirements - Plugin FAQ - Terms of use
Access to documentation, Support, Features & Updates
12 Month - DE, EN - E-Mail support via customer area
Right to use the obtained plugin version
Lifetime
Single product
Unlimited User
* Offer is directed exclusively to entrepreneurs within the meaning of §14 BGB. All prices are in EUR and net prices. Plus the applicable statutory sales tax. Reverse Charge applies for international clients outside Germany with a valid EU VAT ID No. Delivery of the download URL against advance payment. Plugin installation is done by the client himself, according to our installation instructions. Note the minimum system requirements and FAQ before purchase.
1) does not run stand-alone. Requires Redmine Reporting. Affects: Automation, HRM, DevOps
What annual support and maintenance license do you need?

Like this product?
Spread the word about it and earn commission of the purchase price on sales you refer. Join our affiliate program.