Redmine Products / Redmine Automation Plugin (Automate and optimize)
What if your team could optimize progress and processes even better?
The bigger the company, the more extensive the projects and tasks. The Redmine Automation Plugin offers possibilities to automate procedures and thereby simplify work processes.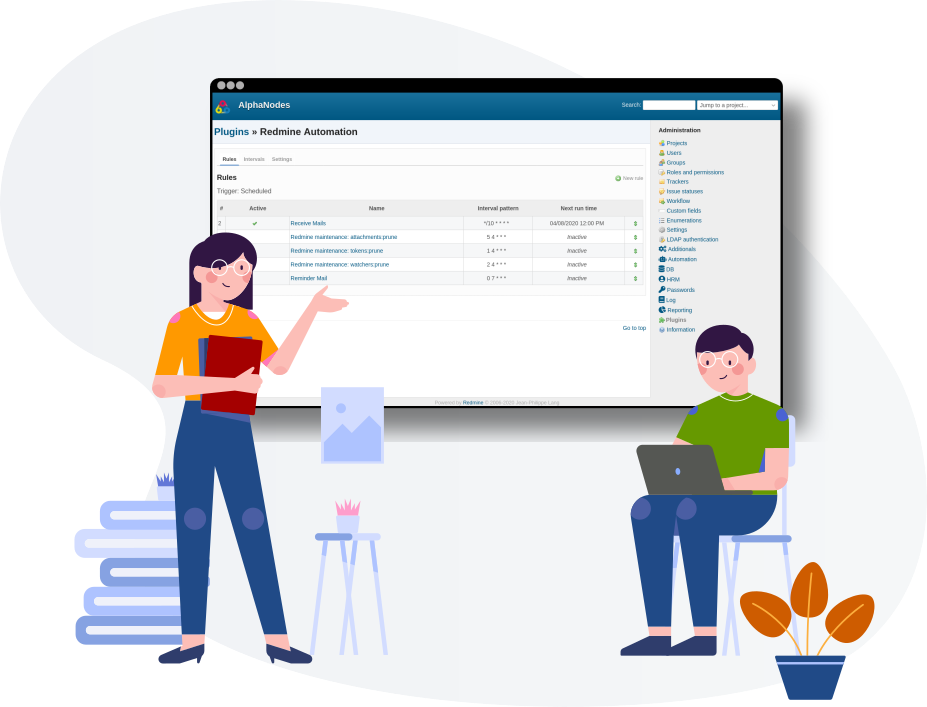 From Management to HR Department and from IT to Marketing, you can free all departments from the burden of manual tasks.
Save time and invest in more important tasks
Enable your team to organize projects more easily without worrying about forgetting tasks. The possibility to turn every ticket or time booking into a template for automated tasks or ticket bookings by assigning predefined time intervals helps to do this.
Increase data volume with automation
Redmine Automation facilitates task planning. Users can easily perform recurring tasks at regular intervals (daily, weekly, monthly).
Automation made easy
Easy for users to use. No matter whether tasks are to be automated, tickets resubmitted, or time entries completed.
Reduce errors, standardise procedures
With our rule builder, administrators can easily configure and automate any type of action in Redmine. Powerful automation rules allow you to combine triggers, conditions and actions. In this way, you will be able to handle even complex scenarios in the future without errors and in a timely manner.
Reduce data volume with automation
Redmine Automation uses rules triggered by specific actions to enable compliance with internal process instructions. Our plugin enables a smooth workflow and simplifies recurring operations.
Boundless freedom
Write your own rules. Your Redmine Administrator sets rules that help to make complex projects clearer and reduce existing data automatically. For example, by closing inactive tickets after x days, updating deadlines, deleting inactive users or outdated content.
Our development base is Munich (Germany). Documentation and support available in: EN, DE. Plugin: Multilingual. Plugin is also available as Cloud solution.
Learn more about the plugin requirements and read our FAQ before purchase.
69% of management activities will be fully automated by 2024
Source: Report by research and advisory firm Gartner, Inc. (NYSE: IT) from 2020 on the topic - Predicts 2020: AI and the Future of Work & Barriers Fall as Technology Adoption Grows
Requirements: The Automation plugin requires the commercial Redmine Reporting Plugin as base. Both plugins are available as bundle. It will not work as "Stand-alone".
Redmine Automation handles your busy work
Get started fast with templates built by our industry experts or set up your own rules. It's as easy as possible. See how to create a rule in minutes to build processes faster and get mor e done. No code required.
Work smart - not hard
Set up new or activate existing rules and our bot user does the jobs for you. Triggered by an event or triggerd by a scheduled time.

Our example below describes how the triggers, conditions and actions work together to do the automation.
Trigger
Your support team solves an issue and assignes it to the user.
Triggers may be an event or a time schedule
Condition
There is no feedback or status change for a set period of time.
Conditions are usually available filters (inclusive custom fields)
Action
The issue is automatically closed as solved - Status: Done.
Actions are the result you expect. Like sending mails, close issues, change assignee
Great job!
Enjoy more free time for things you like.
77% of employees have a positive view of automation and say: I am relieved of routine tasks
Source: Survey of the german randstadkorrespondenten (Online-Magazin workforce360) from 2017 among 1200 readers on the topic - automation of the working world.
Redmine Automation Plugin is a tool that fit right in
Automation should be as easy as possible. To make your Team work smarter. Stop waste your time on busy work. Make your tools work for you.
Get started fast
Comes with most important rule templates, built by experts to get you easily started.
24/7
No team can work 24/7. But automation tools can. So automate everything you can.
Multiple actions
Automate multiple tasks with a single trigger. For actions related to issues, projects, spent time entries.
Optimal integration
Optimal integrated into Redmine and works perfectly with our Plugins.
Webhooks
Stop calling Redmine, it will call you. Allows user with Administration rights to use webhooks for push-notifications.
Rake commands
Allows user with Administration rights to execute Rake commands.
No Coding required
Use automation triggers you already have in place. Just work with drop-down selections of the common filters.
Almost limitless freedom
Issues, Time entries, DB and Password entries, E-Mail notifications… Automate what ever comes you in mind.
World-class support
In case of questions we are available for you and assist you fast with our friendly support (DE, EN).
Company-wide usable
Easy to use in numerous use cases. From IT to Marketing, Human Resource Department or Management.
ROI increasement
Don't wast time on busy work. Make your tools work for you. Save time and increase your return on investment.
Data obliteration
Enables GPDR compliant cleaning of user data via anonymization.
Ready to automate your business?
Is part of our Redmine Managed Application Hosting. Requires Redmine Reporting.
Only available as bundle (Automation & Reporting or Enterprise+). It does not work as stand alone.
It's easier than you think
Redmine Automation Plugin can be implemented in a matter of days. The no-code rules are simply created by a user with administration privileges.
Our Automation Plugin is an emerging, cost-effective plugin that automates repetitive, manual tasks that used to waste too much of your employees' valuable time.
It can be used for any business activity performed in Redmine that has to do with: projects, issues, spent time, or users (in combination with HRM plugin) see all Features.