Keep an eye on your staff capacities at all times. Reduce your risk. Because this is the only way for you to successfully complete projects and meet deadlines finally.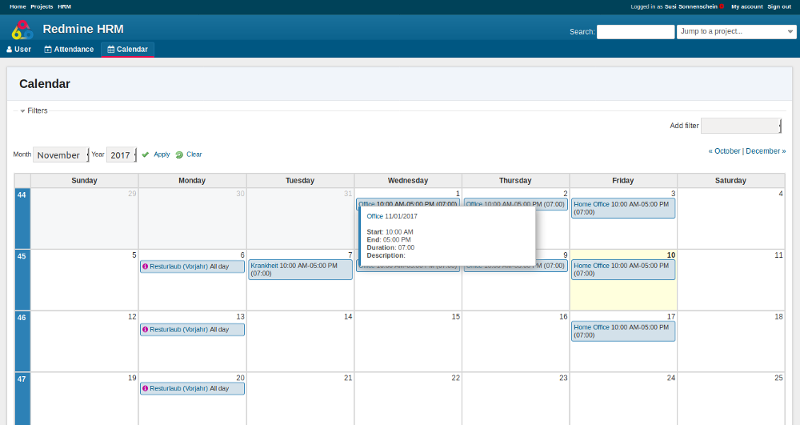 The Redmine HRM Plugin (HRM = Human Resource Management) supports companies in planning their employee resources. Efficient planning, control and analysis of capacities, absences and assignments for your projects and services is now fairly simple. Redmine itself is easy to use. It can be used to manage countless projects at the same time.
Useful for:
Project Managers
HR Managers
IT Managers and Lifecycle Managers
Business owners and Decisions makers
Business teams of all kinds
Teams that prefer self-management
Everything in view despite flexible working hours.
The more complex a project becomes, the more projects run in parallel, the larger the team, the more important it is to keep an eye on the capacities of the employees when planning new projects. Adding our HRM plugin you keep track of project resources - no matter how complex a project is.
Which employee is involved in which projects?
Who in the team still has time reserves left and who is overloaded?
Are there resource bottlenecks that endanger the completion of a project?
Identify your time resources instantly
The HRM plugin is a feature enhancement for Redmine v3.4.x and extends our reporting plugin to the possibility of resource planning. It covers the temporal utilization of the team members and supports you with a realistic project planning.
Project managers' first choice
As project manager you want to protect your team members from stressful situations. Our HRM plugin helps you to identify work overload and distribute project time in a better way.
Manage employee time management
Every modern workforce that works globally needs an easy solution to manage its team absence policies, time accruals, time-off requests like vacation and record working hours as well as home office hours. That is why Redmine integrated HRM solution is the best way for you and your employee. To get real-time project capacities and to allow your team members to manage their own HR activities with custom built-in self-service capabilities for absence and attendance management.
Always in sight: Your planned hours
The Planned hours resource view helps you to keep a close look at the future. Use various filters and options to adjust the table content according to your needs. If something in the respective time period is going wrong you will find out.
Learn from the past: Your spent time
Keep track of the past with the Spent time resource view. Analyse how it really went. Find out about team member overlad. Use various filters and options to adjust the table view.
Identify and solve problems. Easily.
The plugin comes with informational tool tipps and hints on resource allocation problems. Use them and fix them in order to guarantee a smooth project time line.
Keep control over the acces via user types
Get more control and security by controlling HRM permissions per user type in the plugin configuration.
Stay as flexible as possible
Define types for presence and user. The HRM Plugin allows you to create your own attendance types and user types. They are then optimally adapted to your company guidelines.
A single platform - a case full of options
Time and attendance management
Assignment of supervisors for granting approvals
Defining custom user types (internal, external, customer etc.)
Assigning individual permissions and menus per user type
Centralized overview and distribution of project resources
Enables realistic calculation of workload and budget
Minimizes risk to endanger project goals
Enables in-time resource recruiting (Freelancer, Experts, Employees)
Requirements: The HRM plugin requires the commercial Redmine Reporting Plugin as base. Both plugins are available as bundle. It will not work as "Stand-alone".
Why is resource planning important in project management?
A tool like Redmine HRM helps you as a project manager to estimate the time scheduling and expected costs realistically. If there are any deviations, you can take timely countermeasures. The HRM extension gives you the overview you need. Even if you are in charge of many or complex projects. This is the only way to ensure your customers a high reliability of project planning.
You need your team to stay motivated. This requires an easy-to-use tool for the necessary tasks as an employee. With Redmine HRM your employees can easily record any type of absence and attendance provided by you. They get real-time insight into their overtime and balances. And your project manager gets real-time insights in the availability of the resources for the upcoming projects.
HRM area
Filterable attendance management
Filterable user management
Filterable group management
Filterable project member list
Filterable working hours calendar
Filterable management of holidays
Own rights and roles
Resource views
Project wide, project related, user related resource view (filterable)
Resources for planned hours (future)
Resources for spent hours (past)
Resource view available as table or Tree map
Scale: day, week, month
Selection of numerous date ranges and existing versions
Resource allocation problems / hint lists on issues
Automated issue allocation according to given rules
User area
Posting and displaying attendances/absences
Calendar view for booked entries
Holidays planning
Assignment of supervisors (for managing attendances and absences requiring approval)
Assignment of user types (with different authorizations)
Export attendance postings as: CSV, XLSX, PDF
Theory is good - practice is better!
Come get one of our professional Redmine plugins.
To suit your needs.