Redmine Products / Redmine Wiki Guide Plugin
What if you could improve the self-service capability of your wiki?
The success of online self-service portals depends not only on the quality or amount of information. But also the accessibility of the available wiki content for the user.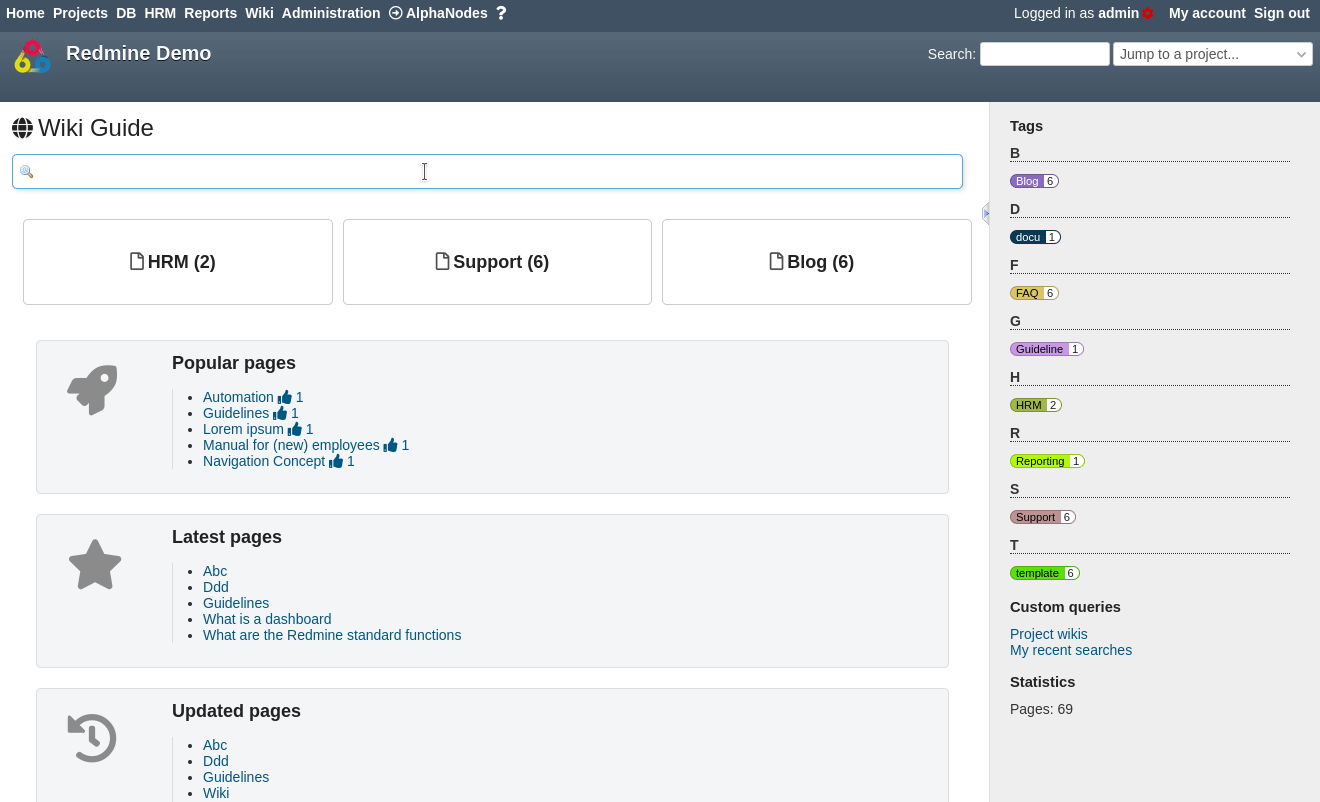 From IT support to HR to administration, the Redmine Wiki Guide plugin helps make the information stored in the wiki easier to find and share.
Redmine Wiki Guide Plugin - more empowering
Most users want to solve problems or questions related to their job, a product or service themselves. Make it as easy as possible for them and thereby relieve your support, HR department, administrative staff or project managers.
The Redmine Wiki Guide plugin is an extension for Redmine and integrates seamlessly with the existing Redmine Wiki. It enables Redmine users to find content in the wiki faster and more accurately.
Be it to handle support requests more efficiently or to simplify the retrieval of necessary information. Among other things, typical knowledge base functions are used here.
Global wiki page
Integrates a global portal with useful features (Popular Pages, Recent Pages, Last Updated Pages, My Recent Updates, Buttons)
Wiki Guide buttons
Allows tagging of wiki pages and provides defined TAGs to wiki pages as so-called buttons on the global wiki page. For direct target page navigation and better content categorization.
Live-Search
Implements find-as-you-type Search in order to provide even faster and better search results than the global Redmine search. Allows e.g. negation or phrases
Voting for Wiki pages
Users can provide positive or negative feedback for individual wiki pages via voting. For even better content.
Orphaned wiki pages
Helps to find forgotten contents of a project wiki and to bring them up to date.
Missing wiki pages
Shows where content needs to be made available in the project wiki in order to provide users with additional information.
Confidential wiki pages
Allows users with appropriate permission to mark wiki pages as Confidential to share the information stored there only with a small group of users.
Quick start made easy
Builds on the existing wiki content. No plugin-specific, custom content is required, as with other providers. This saves time during implementation.
24/7
Self-service support provides users with information around the clock. This reduces waiting times for answers.
Optimal integration
Is optimally integrated into Redmine and works smoothly with our other plugins.
Company-wide use
For a better self-service of all users. Useful for IT department to marketing. As well as HR department up to administration.
Extended role permissions
Extends the authorization concept for the individual user roles for the wiki.
Own panel macro
Provides panel macros for integration in wiki content for highlighted information of type: Note, Info, Tip, Warning.
Dashboard support
Supports the Additionals plugin dashboard feature by providing dashboard blocks to the wiki on the Redmine Home page and project overview page.
Why customers love Redmine Wiki Guide Plugin
Because you can use it immediately.
The Redmine Wiki Guide is based on the Redmine Standard Wiki. The big advantage here: You can directly use the data contained in it. No own data types are entered. If necessary, you can optimize the existing wiki content or create new content in the respective project wiki.
Ready to improve your employee support or customer service?
Coming soon: Available II/2021!
The plugin is part of our Redmine Managed Application Hosting.
It is available exclusively to our hosting customers.