Redmine Products / Redmine DevOps Plugin
What if relevant information from externally hosted Git repositories and other DevOps services were to flow together within Redmine?
Anyone who decides to introduce DevOps development processes will sooner or later also use external DevOps platforms. Some outsource only the Git hosting. Others outsource Continuous Integration (CI), Continuous Delivery (CD) or monitoring. Inevitably, you work with different systems.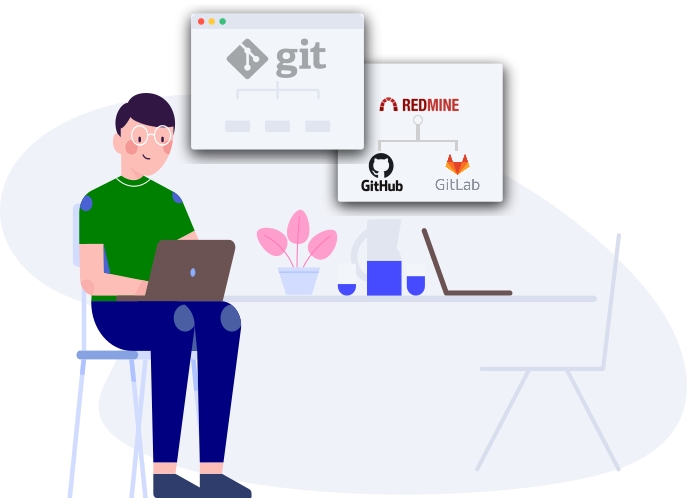 No matter what you decide, you bundle all data relevant to your whole project team, project managers and stakeholders centrally in Redmine. The Redmine DevOps Plugin provides an easy way to link external data from GitHub, GitLab, Jenkins or Zabbix to Redmine.
It's more important than ever to provide your development team a proactive and world-class work environment. However, as the number of options and backend systems increase, it can be a challenge to bring it all together. So your team has the context they need to work more effectively. The use of suitable Redmine integrations helps.
Support your users where possible
Make it easy for your Redmine team and provide them with the info where they spend most of their business time, so they can quickly and easily get the information that is relevant to them at a glance.
DevOps Teams
The goal of every DevOps team is to achieve a maximum of results with a minimum of effort. That's why you should give your DevOps team direct access to relevant information from external platforms, even within Redmine.
Project Manager
In order for the DevOps approach to succeed, it is essential to provide responsible project managers with all the necessary information centrally and in a simple manner for better team coordination.
Project Team & Stakeholders
Anyone who is affected by the outcome of a project or has an interest in the project's success should also have the opportunity to view externally managed, project-relevant information as needed.
How does it work
Connect your external Git Repositories or other supported development Tools with Redmine (e.g. GitHub Secret Key, GitLab private token, Jenkins API token, Zabbix access information). When your GitHub, GitLab, Zabbix or Jenkins account is linked to Redmine Software, your team gets to see commit messages and other relevant information directly in Redmine.

You can integrate them as dashboard blocks on the project overview page. And the context of Redmine Software issues they're working on. This helps users quickly and easily get a glimpse of external stored information without the need of leaving Redmine.

Redmine is your information hub
Since Redmine acts primarily as an information hub, the displayed information is simply linked to the content on your external development tool, where all further action will take place.
Redmine DevOps Plugin is a tool that provides additional benefit
Even if your developers compile all their work into external DevOps tool, the rest of your project team can view this information as well by using our simple to use Redmine integration.
Dashboard Support
Supports the use of dashboards (public, private, role based) by providing custom blocks. This way you display relevant information within a Redmine project overview page where you want
Project Relation
Is optimally integrated with Redmine. Must be set up per project. Is equipped with role-based access permissions (view, link). Can also be configured with private account information (private Dashboard)
Ticket commit link
Allows linking commits in the external Git repository to Redmine issues if the developer uses the corresponding issue key in the commit message
GitHub Integration
Provides information about Pull-Requests, Repositories, Issues and Workflows within Redmine project overview
GitLab Integration
Delivers information about Merge Requests, Pipelines, Projects and Issues within Redmine project overview
Last Commits
Shows the latest commits in external stored repository on the Redmine project overview page
Failed Jenkins Jobs
Lists all failed Jenkins jobs and links to them
Zabbix Hosts & Problems
Lists Hosts and all problems in Zabbix and links to them
External Redmine Integration
Supplies information from externally connected Redmine systems such as repositories, tickets, projects, system information
Our plugins will suit your needs!
Our Redmine plugins are multilingual and a good choice if you want to work productively. 12 month support & updates included.
Buy DevOps Plugin v3.0.9
Fast, free delivery of the download URL after receipt of payment
Plugin requirements - Plugin FAQ - Terms of use
Access to documentation, Support, Features & Updates
12 Month - DE, EN - E-Mail support via customer area
Right to use the obtained plugin version
Lifetime
DevOps-Bundle
(Reporting & DevOps)
Single product
1
(as Reporting extension)
* Offer is directed exclusively to entrepreneurs within the meaning of §14 BGB. All prices are in EUR and net prices. Plus the applicable statutory sales tax. Reverse Charge applies for international clients outside Germany with a valid EU VAT ID No. Delivery of the download URL against advance payment. Plugin installation is done by the client himself, according to our installation instructions. Note the minimum system requirements and FAQ before purchase.
1) does not run stand-alone. Requires Redmine Reporting. Affects: Automation, HRM, DevOps
What annual support and maintenance license do you need?