Redmine producten / Redmine DevOps Plugin
Wat als relevante informatie van extern gehoste Git repositories en andere DevOps diensten samen zouden stromen binnen Redmine?
Wie besluit om DevOps-ontwikkelingsprocessen in te voeren, zal vroeg of laat ook externe DevOps-platforms gebruiken. Sommigen besteden alleen de Git-hosting uit. Anderen besteden Continuous Integration (CI), Continuous Delivery (CD) of monitoring uit. Het is onvermijdelijk dat je met verschillende systemen werkt.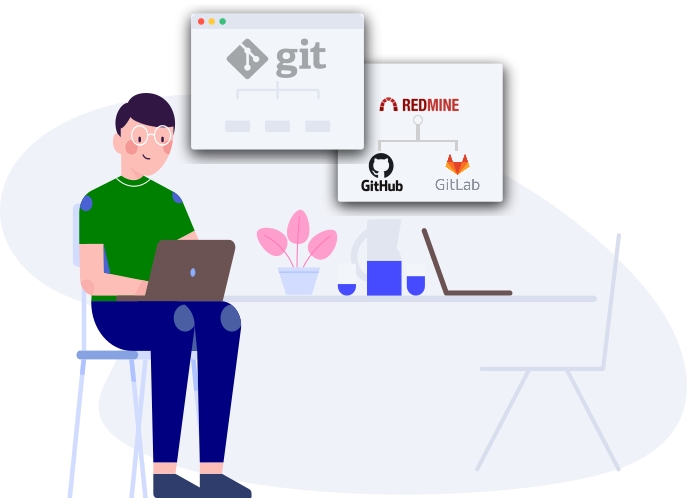 Wat u ook beslist, u bundelt alle gegevens die relevant zijn voor uw hele project team, project managers en belanghebbenden centraal in Redmine. De Redmine DevOps Plugin biedt een eenvoudige manier om externe gegevens van GitHub, GitLab, Jenkins of Zabbix te koppelen aan Redmine.
Het is belangrijker dan ooit om uw ontwikkelingsteam een proactieve en wereldklasse werkomgeving te bieden. Echter, als het aantal opties en backend systemen toeneemt, kan het een uitdaging zijn om het allemaal samen te brengen. Zodat uw team de context heeft die ze nodig hebben om effectiever te werken. Het gebruik van geschikte Redmine integraties helpt daarbij.
Ondersteun uw gebruikers waar mogelijk
Maak het uw Redmine team gemakkelijk en geef hen de info waar zij het grootste deel van hun werktijd doorbrengen, zodat zij snel en gemakkelijk de voor hen relevante informatie in een oogopslag kunnen krijgen.
DevOps Teams
Het doel van elk DevOps team is om een maximum aan resultaten te bereiken met een minimum aan inspanning. Dat is waarom u uw DevOps team directe toegang moet geven tot relevante informatie van externe platforms, zelfs binnen Redmine.
Project Manager
Om de DevOps-aanpak te laten slagen, is het essentieel om verantwoordelijke projectmanagers centraal en op een eenvoudige manier te voorzien van alle benodigde informatie voor een betere teamcoördinatie.
Project Team & Stakeholders
Iedereen die wordt beïnvloed door de uitkomst van een project of een belang heeft in het succes van het project moet ook de mogelijkheid hebben om extern beheerde, project-relevante informatie te bekijken als dat nodig is.
Hoe werkt het
Verbind uw externe Git Repositories of andere ondersteunde ontwikkelingstools met Redmine (bijv. GitHub Secret Key, GitLab privé token, Jenkins API token, Zabbix toegangsinformatie). Wanneer uw GitHub, GitLab, Zabbix of Jenkins account is gekoppeld aan Redmine Software, krijgt uw team de commit berichten en andere relevante informatie direct in Redmine te zien.

U kunt ze integreren als dashboard blokken op de project overzichtspagina. En de context van Redmine Software issues waar ze aan werken. Dit helpt gebruikers snel en gemakkelijk een glimp op te vangen van extern opgeslagen informatie zonder Redmine te hoeven verlaten.

Redmine is uw informatie-hub
Omdat Redmine in de eerste plaats als informatie-hub fungeert, wordt de getoonde informatie eenvoudigweg gelinkt aan de inhoud op uw externe ontwikkeltool, waar alle verdere actie zal plaatsvinden.
De Redmine DevOps-plugin is een hulpmiddel dat extra voordeel biedt
Zelfs als uw ontwikkelaars al hun werk in een externe DevOps-tool bundelen, kan de rest van uw projectteam deze informatie ook bekijken met behulp van onze eenvoudig te gebruiken Redmine-integratie.
Dashboard Support
Supports the use of dashboards (public, private, role based) by providing custom blocks. This way you display relevant information within a Redmine project overview page where you want
Project Relation
Is optimally integrated with Redmine. Must be set up per project. Is equipped with role-based access permissions (view, link). Can also be configured with private account information (private Dashboard)
Ticket commit link
Allows linking commits in the external Git repository to Redmine issues if the developer uses the corresponding issue key in the commit message
GitHub Integration
Provides information about Pull-Requests, Repositories, Issues and Workflows within Redmine project overview
GitLab Integration
Delivers information about Merge Requests, Pipelines, Projects and Issues within Redmine project overview
Last Commits
Shows the latest commits in external stored repository on the Redmine project overview page
Failed Jenkins Jobs
Lists all failed Jenkins jobs and links to them
Zabbix Hosts & Problems
Lists Hosts and all problems in Zabbix and links to them
External Redmine Integration
Supplies information from externally connected Redmine systems such as repositories, tickets, projects, system information
Our plugins will suit your needs!
Our Redmine plugins are multilingual and a good choice if you want to work productively. 12 month support & updates included.
Buy DevOps Plugin v3.0.8
Fast, free delivery of the download URL after receipt of payment
Plugin requirements - Plugin FAQ - Terms of use
Access to documentation, Support, Features & Updates
12 Month - DE, EN - E-Mail support via customer area
Right to use the obtained plugin version
Lifetime
DevOps-Bundle
(Reporting & DevOps)
Single product
1
(as Reporting extension)
* Offer is directed exclusively to entrepreneurs within the meaning of §14 BGB. All prices are in EUR and net prices. Plus the applicable statutory sales tax. Reverse Charge applies for international clients outside Germany with a valid EU VAT ID No. Delivery of the download URL against advance payment. Plugin installation is done by the client himself, according to our installation instructions. Note the minimum system requirements and FAQ before purchase.
1) does not run stand-alone. Requires Redmine Reporting. Affects: Automation, HRM, DevOps
What annual support and maintenance license do you need?