Redmine Produkter / Redmine DevOps-plugin
Hvad nu hvis relevant information fra eksterne Git repositories og andre DevOps-tjenester kunne flyde sammen i Redmine?
Enhver, der beslutter sig for at indføre DevOps-udviklingsprocesser, vil før eller senere også bruge eksterne DevOps-platforme. Nogle outsourcer kun Git-hostingen. Andre outsourcer Continuous Integration (CI), Continuous Delivery (CD) eller overvågning. Det er uundgåeligt, at du arbejder med forskellige systemer.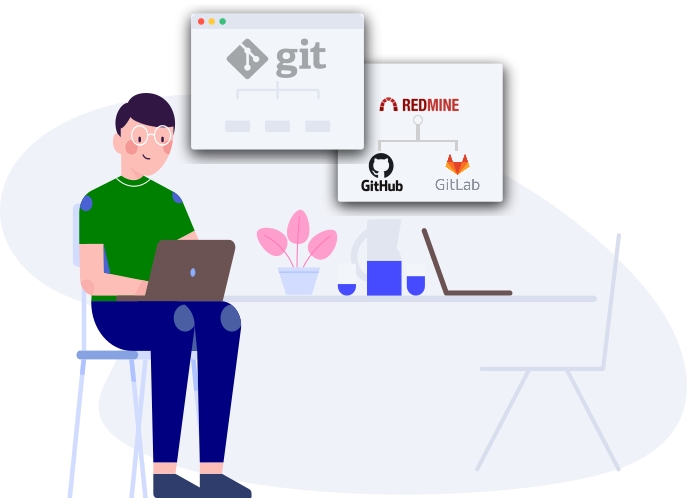 Uanset hvad du beslutter dig for, samler du alle data, der er relevante for hele dit projektteam, projektledere og interessenter, centralt i Redmine. Redmine DevOps Plugin giver en nem måde at linke eksterne data fra GitHub, GitLab, Jenkins eller Zabbix til Redmine på.
Det er vigtigere end nogensinde før at give dit udviklingsteam et proaktivt arbejdsmiljø i verdensklasse. Men efterhånden som antallet af muligheder og backend-systemer stiger, kan det være en udfordring at få det hele til at hænge sammen. Så dit team har den kontekst, de har brug for til at arbejde mere effektivt. Brugen af passende Redmine-integrationer hjælper.
Støt dine brugere, hvor det er muligt
Gør det nemt for dit Redmine-team, og giv dem de oplysninger, hvor de bruger mest tid på deres arbejde, så de hurtigt og nemt kan få de oplysninger, der er relevante for dem, med et hurtigt overblik.
DevOps-teams
Målet for ethvert DevOps-team er at opnå et maksimum af resultater med et minimum af indsats. Derfor bør du give dit DevOps-team direkte adgang til relevante oplysninger fra eksterne platforme, selv i Redmine.
Projektleder
For at DevOps-tilgangen kan lykkes, er det vigtigt at give de ansvarlige projektledere alle de nødvendige oplysninger centralt og på en enkel måde for at sikre en bedre teamkoordinering.
Projektteam og interessenter
Alle, der er påvirket af resultatet af et projekt eller har en interesse i projektets succes, bør også have mulighed for at se eksternt forvaltede, projektrelevante oplysninger efter behov.
Hvordan virker det?
Forbind dine eksterne Git-repositorier eller andre understøttede udviklingsværktøjer med Redmine (f.eks. GitHub Secret Key, GitLab privat token, Jenkins API token, Zabbix adgangsoplysninger). Når din GitHub-, GitLab-, Zabbix- eller Jenkins-konto er knyttet til Redmine Software, får dit team mulighed for at se commit-meddelelser og andre relevante oplysninger direkte i Redmine.

Du kan integrere dem som dashboard-blokke på projektoversigtssiden. Og konteksten for Redmine Software-problemer, som de arbejder på. Dette hjælper brugerne til hurtigt og nemt at få et glimt af eksternt lagrede oplysninger uden at skulle forlade Redmine.

Redmine er dit informationshub
Da Redmine primært fungerer som et informationshub, er de viste oplysninger blot knyttet til indholdet på dit eksterne udviklingsværktøj, hvor al videre handling finder sted.
Redmine DevOps Plugin er et værktøj, der giver yderligere fordele
Selv om dine udviklere kompilerer alt deres arbejde i et eksternt DevOps-værktøj, kan resten af dit projektteam også se disse oplysninger ved hjælp af vores enkle Redmine-integration.
Dashboard Support
Supports the use of dashboards (public, private, role based) by providing custom blocks. This way you display relevant information within a Redmine project overview page where you want
Project Relation
Is optimally integrated with Redmine. Must be set up per project. Is equipped with role-based access permissions (view, link). Can also be configured with private account information (private Dashboard)
Ticket commit link
Allows linking commits in the external Git repository to Redmine issues if the developer uses the corresponding issue key in the commit message
GitHub Integration
Provides information about Pull-Requests, Repositories, Issues and Workflows within Redmine project overview
GitLab Integration
Delivers information about Merge Requests, Pipelines, Projects and Issues within Redmine project overview
Last Commits
Shows the latest commits in external stored repository on the Redmine project overview page
Failed Jenkins Jobs
Lists all failed Jenkins jobs and links to them
Zabbix Hosts & Problems
Lists Hosts and all problems in Zabbix and links to them
External Redmine Integration
Supplies information from externally connected Redmine systems such as repositories, tickets, projects, system information
Our plugins will suit your needs!
Our Redmine plugins are multilingual and a good choice if you want to work productively. 12 month support & updates included.
Buy DevOps Plugin v3.0.9
Fast, free delivery of the download URL after receipt of payment
Plugin requirements - Plugin FAQ - Terms of use
Access to documentation, Support, Features & Updates
12 Month - DE, EN - E-Mail support via customer area
Right to use the obtained plugin version
Lifetime
DevOps-Bundle
(Reporting & DevOps)
Single product
1
(as Reporting extension)
* Offer is directed exclusively to entrepreneurs within the meaning of §14 BGB. All prices are in EUR and net prices. Plus the applicable statutory sales tax. Reverse Charge applies for international clients outside Germany with a valid EU VAT ID No. Delivery of the download URL against advance payment. Plugin installation is done by the client himself, according to our installation instructions. Note the minimum system requirements and FAQ before purchase.
1) does not run stand-alone. Requires Redmine Reporting. Affects: Automation, HRM, DevOps
What annual support and maintenance license do you need?