Redmine Prodotti / Redmine Plugin DevOps
E se le informazioni rilevanti dai repository Git ospitati esternamente e da altri servizi DevOps fluissero insieme all'interno di Redmine?
Chiunque decida di introdurre processi di sviluppo DevOps prima o poi utilizzerà anche piattaforme DevOps esterne. Alcuni esternalizzano solo l'hosting di Git. Altri esternalizzano l'integrazione continua (CI), la consegna continua (CD) o il monitoraggio. Inevitabilmente, si lavora con diversi sistemi.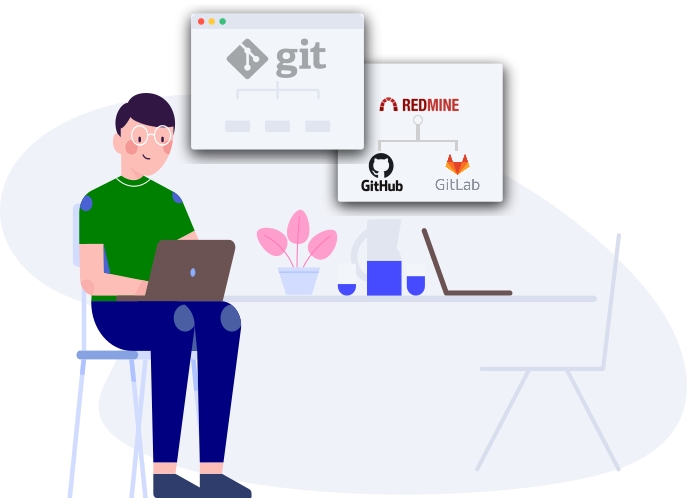 Non importa cosa decidiate, raggruppate tutti i dati rilevanti per il vostro intero team di progetto, i project manager e le parti interessate centralmente in Redmine. Il Redmine DevOps Plugin fornisce un modo semplice per collegare dati esterni da GitHub, GitLab, Jenkins o Zabbix a Redmine.
È più importante che mai fornire al vostro team di sviluppo un ambiente di lavoro proattivo e di classe mondiale. Tuttavia, man mano che il numero di opzioni e di sistemi backend aumenta, può essere una sfida mettere tutto insieme. Così il tuo team ha il contesto di cui ha bisogno per lavorare in modo più efficace. L'uso di opportune integrazioni di Redmine aiuta.
Supporta i tuoi utenti dove possibile
Rendete semplice per il vostro team Redmine e fornite loro le informazioni dove trascorrono la maggior parte del loro tempo lavorativo, in modo che possano ottenere rapidamente e facilmente le informazioni che sono rilevanti per loro a colpo d'occhio.
Team DevOps
L'obiettivo di ogni team DevOps è quello di ottenere il massimo dei risultati con il minimo sforzo. Ecco perché dovreste dare al vostro team DevOps un accesso diretto alle informazioni rilevanti da piattaforme esterne, anche all'interno di Redmine."
Manager del progetto
Affinché l'approccio DevOps abbia successo, è essenziale fornire ai project manager responsabili tutte le informazioni necessarie a livello centrale e in modo semplice per un migliore coordinamento del team.
Team di progetto e stakeholder
Chiunque sia influenzato dal risultato di un progetto o abbia un interesse nel successo del progetto dovrebbe anche avere l'opportunità di vedere le informazioni rilevanti per il progetto gestite esternamente, se necessario.
DevOps Plugin Buyers Guide (EN)
Everything you need to know when buying Redmine DevOps.
Come funziona
Connetti i tuoi repository Git esterni o altri strumenti di sviluppo supportati con Redmine (ad esempio GitHub Secret Key, GitLab private token, Jenkins API token, informazioni di accesso Zabbix). Quando il tuo account GitHub, GitLab, Zabbix o Jenkins è collegato a Redmine Software, il tuo team può vedere i messaggi di commit e altre informazioni rilevanti direttamente in Redmine.

Puoi integrarli come blocchi della dashboard nella pagina di panoramica del progetto. E il contesto dei problemi di Redmine Software su cui stanno lavorando. Questo aiuta gli utenti a dare rapidamente e facilmente un'occhiata alle informazioni esterne memorizzate senza il bisogno di lasciare Redmine.

Redmine è il tuo hub di informazioni
Poiché Redmine agisce principalmente come un hub di informazioni, le informazioni visualizzate sono semplicemente collegate al contenuto sul tuo strumento di sviluppo esterno, dove avranno luogo tutte le ulteriori azioni.
Redmine DevOps Plugin è uno strumento che fornisce ulteriori benefici
Anche se i vostri sviluppatori compilano tutto il loro lavoro in uno strumento DevOps esterno, anche il resto del vostro team di progetto può visualizzare queste informazioni utilizzando la nostra semplice integrazione con Redmine.
Dashboard Support
Supports the use of dashboards (public, private, role based) by providing custom blocks. This way you display relevant information within a Redmine project overview page where you want
Project Relation
Is optimally integrated with Redmine. Must be set up per project. Is equipped with role-based access permissions (view, link). Can also be configured with private account information (private Dashboard)
Ticket commit link
Allows linking commits in the external Git repository to Redmine issues if the developer uses the corresponding issue key in the commit message
GitHub Integration
Provides information about Pull-Requests, Repositories, Issues and Workflows within Redmine project overview
GitLab Integration
Delivers information about Merge Requests, Pipelines, Projects and Issues within Redmine project overview
Last Commits
Shows the latest commits in external stored repository on the Redmine project overview page
Failed Jenkins Jobs
Lists all failed Jenkins jobs and links to them
Zabbix Hosts & Problems
Lists Hosts and all problems in Zabbix and links to them
External Redmine Integration
Supplies information from externally connected Redmine systems such as repositories, tickets, projects, system information
Our plugins will suit your needs!
Our Redmine plugins are multilingual and a good choice if you want to work productively. 12 month support & updates included.
Buy DevOps Plugin
Fast, free delivery of the download URL after receipt of payment
Plugin requirements - Plugin FAQ - Terms of use
Access to documentation, Support, Features & Updates
12 Month - DE, EN - E-Mail support via customer area
Right to use the obtained plugin version
Lifetime
DevOps-Bundle
(Reporting & DevOps)
Single product
1
(as Reporting extension)
* Offer is directed exclusively to entrepreneurs within the meaning of §14 BGB. All prices are in EUR and net prices. Plus the applicable statutory sales tax. Reverse Charge applies for international clients outside Germany with a valid EU VAT ID No. Delivery of the download URL against advance payment. Plugin installation is done by the client himself, according to our installation instructions. Note the minimum system requirements and FAQ before purchase.
1) does not run stand-alone. Requires Redmine Reporting. Affects: Automation, HRM, DevOps
What annual support and maintenance license do you need?