Redmine Tuotteet / Redmine DevOps-liitännäinen
Entä jos ulkoisesti isännöidyistä Git-tietovarastoista ja muista DevOps-palveluista saadut olennaiset tiedot kulkisivat yhdessä Redmineen?
okainen, joka päättää ottaa käyttöön DevOps-kehitysprosessit, käyttää ennemmin tai myöhemmin myös ulkoisia DevOps-alustoja. Jotkut ulkoistavat vain Git-hostingin. Toiset ulkoistavat jatkuvan integroinnin (CI), jatkuvan toimituksen (CD) tai seurannan. Väistämättä työskentelet erilaisten järjestelmien kanssa.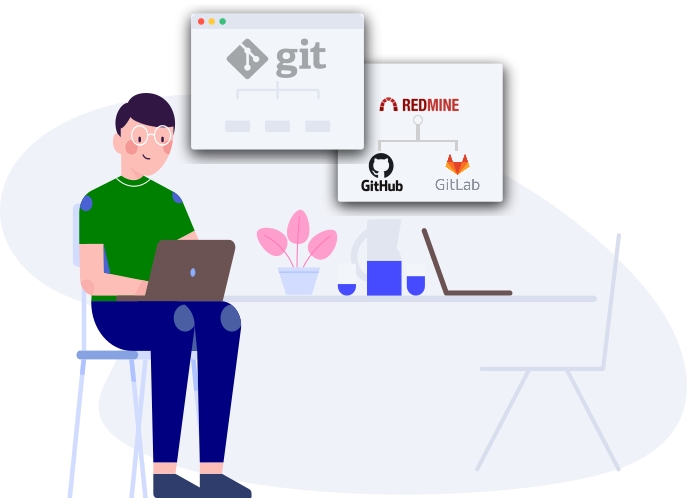 Päätitpä mitä tahansa, niputat kaikki koko projektiryhmän, projektipäälliköiden ja sidosryhmien kannalta olennaiset tiedot keskitetysti Redmineen. Redmine DevOps Plugin tarjoaa helpon tavan linkittää ulkoista dataa GitHubista, GitLabista, Jenkinsistä tai Zabbixista Redmineen.
On tärkeämpää kuin koskaan tarjota kehitystiimillesi ennakoiva ja maailmanluokan työympäristö. Vaihtoehtojen ja taustajärjestelmien määrän kasvaessa voi kuitenkin olla haastavaa saattaa kaikki yhteen. Jotta tiimilläsi olisi tarvittava konteksti työskennelläkseen tehokkaammin. Sopivien Redmine-integraatioiden käyttö auttaa.
Tue käyttäjiäsi mahdollisuuksien mukaan
Tee Redmine-tiimistäsi helppoa ja tarjoa heille tietoa sieltä, missä he viettävät suurimman osan työajastaan, jotta he saavat nopeasti ja helposti heille tärkeät tiedot yhdellä silmäyksellä.
DevOps-tiimit
Jokaisen DevOps-tiimin tavoitteena on saavuttaa mahdollisimman paljon tuloksia mahdollisimman pienellä vaivalla. Siksi sinun tulisi antaa DevOps-tiimillesi suora pääsy relevantteihin tietoihin ulkoisilta alustoilta, jopa Redmine-ohjelmiston sisällä.
Projektipäällikkö
Jotta DevOps-lähestymistapa onnistuisi, on tärkeää tarjota vastuullisille projektipäälliköille kaikki tarvittavat tiedot keskitetysti ja yksinkertaisella tavalla tiimin parempaa koordinointia varten.
Projektiryhmä ja sidosryhmät
Kaikilla, joihin projektin lopputulos vaikuttaa tai jotka ovat kiinnostuneita projektin onnistumisesta, pitäisi myös olla mahdollisuus tarkastella tarpeen mukaan ulkoisesti hallinnoituja, projektin kannalta olennaisia tietoja.
Miten se toimii
Yhdistä ulkoiset Git-repositoryt tai muut tuetut kehitystyökalut Redmineen (esim. GitHub Secret Key, GitLab private token, Jenkins API token, Zabbix access information). Kun GitHub-, GitLab-, Zabbix- tai Jenkins-tilisi on yhdistetty Redmine-ohjelmistoon, tiimisi pääsee näkemään commit-viestit ja muut asiaankuuluvat tiedot suoraan Redmineen.

Voit integroida ne kojelautalohkoina projektin yleiskatsaussivulle. Ja niiden Redmine Software -ongelmien yhteyteen, joiden parissa he työskentelevät. Näin käyttäjät saavat nopeasti ja helposti vilkaisun ulkoisiin tallennettuihin tietoihin ilman, että heidän tarvitsee poistua Redminestä.

Redmine on tietokeskuksesi
Koska Redmine toimii ensisijaisesti tietokeskuksena, näytettävät tiedot on yksinkertaisesti linkitetty ulkoisen kehitystyökalusi sisältöön, jossa kaikki jatkotoimet tapahtuvat.
Redmine DevOps Plugin on työkalu, joka tarjoaa lisähyötyä
Kehittäjät kokoavat kaikki työnsä ulkoiseen DevOps-työkaluun, mutta myös muu projektiryhmäsi voi tarkastella näitä tietoja käyttämällä helppokäyttöistä Redmine-integraatiotamme.
Dashboard Support
Supports the use of dashboards (public, private, role based) by providing custom blocks. This way you display relevant information within a Redmine project overview page where you want
Project Relation
Is optimally integrated with Redmine. Must be set up per project. Is equipped with role-based access permissions (view, link). Can also be configured with private account information (private Dashboard)
Ticket commit link
Allows linking commits in the external Git repository to Redmine issues if the developer uses the corresponding issue key in the commit message
GitHub Integration
Provides information about Pull-Requests, Repositories, Issues and Workflows within Redmine project overview
GitLab Integration
Delivers information about Merge Requests, Pipelines, Projects and Issues within Redmine project overview
Last Commits
Shows the latest commits in external stored repository on the Redmine project overview page
Failed Jenkins Jobs
Lists all failed Jenkins jobs and links to them
Zabbix Hosts & Problems
Lists Hosts and all problems in Zabbix and links to them
External Redmine Integration
Supplies information from externally connected Redmine systems such as repositories, tickets, projects, system information
Our plugins will suit your needs!
Our Redmine plugins are multilingual and a good choice if you want to work productively. 12 month support & updates included.
Buy DevOps Plugin
Fast, free delivery of the download URL after receipt of payment
Plugin requirements - Plugin FAQ - Terms of use
Access to documentation, Support, Features & Updates
12 Month - DE, EN - E-Mail support via customer area
Right to use the obtained plugin version
Lifetime
DevOps-Bundle
(Reporting & DevOps)
Single product
1
(as Reporting extension)
* Offer is directed exclusively to entrepreneurs within the meaning of §14 BGB. All prices are in EUR and net prices. Plus the applicable statutory sales tax. Reverse Charge applies for international clients outside Germany with a valid EU VAT ID No. Delivery of the download URL against advance payment. Plugin installation is done by the client himself, according to our installation instructions. Note the minimum system requirements and FAQ before purchase.
1) does not run stand-alone. Requires Redmine Reporting. Affects: Automation, HRM, DevOps
What annual support and maintenance license do you need?