Redmine Produkty / Redmine DevOps Plugin
Co kdyby příslušné informace z externě hostovaných úložišť Git a dalších služeb DevOps proudily společně v rámci Redmine?
Každý, kdo se rozhodne zavést vývojové procesy DevOps, bude dříve či později používat také externí platformy DevOps. Někteří outsourcují pouze hosting systému Git. Jiní outsourcují kontinuální integraci (CI), kontinuální dodávku (CD) nebo monitorování. Nevyhnutelně pracujete s různými systémy.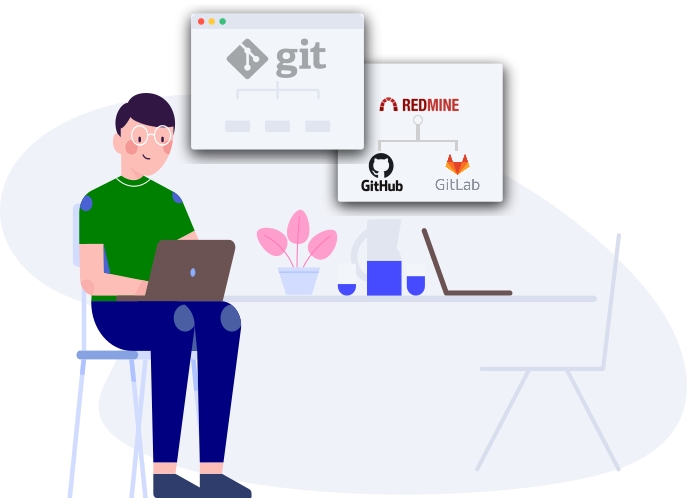 Ať se rozhodnete jakkoli, všechna data důležitá pro celý projektový tým, projektové manažery a zúčastněné strany budete mít centrálně v Redmine. Zásuvný modul Redmine DevOps Plugin poskytuje snadný způsob propojení externích dat z GitHubu, GitLabu, Jenkinsu nebo Zabbixu do Redmine.
Je důležitější než kdy jindy zajistit svému vývojovému týmu proaktivní a prvotřídní pracovní prostředí. S rostoucím počtem možností a backendových systémů však může být problém vše skloubit dohromady. Aby váš tým měl k dispozici kontext, který potřebuje k efektivnější práci. Pomůže vám v tom použití vhodných integrací Redmine.
Podporujte své uživatele, kde je to možné
Usnadněte svému týmu Redmine práci a poskytněte jim informace tam, kde tráví většinu svého pracovního času, aby mohli snadno a rychle získat informace, které jsou pro ně důležité, na první pohled.
Týmy DevOps
Cílem každého týmu DevOps je dosáhnout maximálních výsledků s minimálním úsilím. Proto byste měli svému týmu DevOps umožnit přímý přístup k relevantním informacím z externích platforem, a to i v rámci Redmine.
Projektový manažer
Aby byl přístup DevOps úspěšný, je nezbytné poskytnout odpovědným projektovým manažerům všechny potřebné informace centrálně a jednoduchým způsobem pro lepší koordinaci týmu.
Projektový tým a zúčastněné strany
Každý, koho se výsledek projektu dotýká nebo kdo má zájem na jeho úspěchu, by měl mít podle potřeby možnost nahlížet do externě spravovaných informací relevantních pro projekt.
How does it work
Propojte externí úložiště Git nebo jiné podporované vývojové nástroje s Redmine (např. tajný klíč GitHub, privátní token GitLab, token API Jenkins, přístupové informace Zabbix). Když je váš účet GitHub, GitLab, Zabbix nebo Jenkins propojen se softwarem Redmine, váš tým získá možnost vidět zprávy o revizích a další důležité informace přímo v Redmine.

Můžete je integrovat jako bloky ovládacího panelu na stránce s přehledem projektů. A kontext otázek Redmine Software, na kterých pracují. Uživatelé tak snadno a rychle získají přehled o externě uložených informacích, aniž by museli opustit Redmine.

Redmine je vaším informačním centrem
Jelikož Redmine funguje především jako informační centrum, zobrazené informace jsou jednoduše propojeny s obsahem vašeho externího vývojového nástroje, kde budou probíhat veškeré další akce.
Redmine DevOps Plugin je nástroj, který poskytuje další výhody
I když vaši vývojáři kompilují veškerou svou práci do externího nástroje DevOps, zbytek vašeho projektového týmu může tyto informace zobrazit také pomocí naší jednoduché integrace s Redmine.
Dashboard Support
Supports the use of dashboards (public, private, role based) by providing custom blocks. This way you display relevant information within a Redmine project overview page where you want
Project Relation
Is optimally integrated with Redmine. Must be set up per project. Is equipped with role-based access permissions (view, link). Can also be configured with private account information (private Dashboard)
Ticket commit link
Allows linking commits in the external Git repository to Redmine issues if the developer uses the corresponding issue key in the commit message
GitHub Integration
Provides information about Pull-Requests, Repositories, Issues and Workflows within Redmine project overview
GitLab Integration
Delivers information about Merge Requests, Pipelines, Projects and Issues within Redmine project overview
Last Commits
Shows the latest commits in external stored repository on the Redmine project overview page
Failed Jenkins Jobs
Lists all failed Jenkins jobs and links to them
Zabbix Hosts & Problems
Lists Hosts and all problems in Zabbix and links to them
External Redmine Integration
Supplies information from externally connected Redmine systems such as repositories, tickets, projects, system information
Our plugins will suit your needs!
Our Redmine plugins are multilingual and a good choice if you want to work productively. 12 month support & updates included.
Buy DevOps Plugin
Fast, free delivery of the download URL after receipt of payment
Plugin requirements - Plugin FAQ - Terms of use
Access to documentation, Support, Features & Updates
12 Month - DE, EN - E-Mail support via customer area
Right to use the obtained plugin version
Lifetime
DevOps-Bundle
(Reporting & DevOps)
Single product
1
(as Reporting extension)
* Offer is directed exclusively to entrepreneurs within the meaning of §14 BGB. All prices are in EUR and net prices. Plus the applicable statutory sales tax. Reverse Charge applies for international clients outside Germany with a valid EU VAT ID No. Delivery of the download URL against advance payment. Plugin installation is done by the client himself, according to our installation instructions. Note the minimum system requirements and FAQ before purchase.
1) does not run stand-alone. Requires Redmine Reporting. Affects: Automation, HRM, DevOps
What annual support and maintenance license do you need?