Redmine-produkter / Redmine DevOps-plugg
Vad skulle hända om relevant information från externa Git-arkiv och andra DevOps-tjänster flödade samman i Redmine?
Den som beslutar sig för att införa DevOps-utvecklingsprocesser kommer förr eller senare också att använda externa DevOps-plattformar. En del lägger ut endast Git-hotellet på entreprenad. Andra lägger ut kontinuerlig integration (CI), kontinuerlig leverans (CD) eller övervakning. Det är oundvikligt att man arbetar med olika system.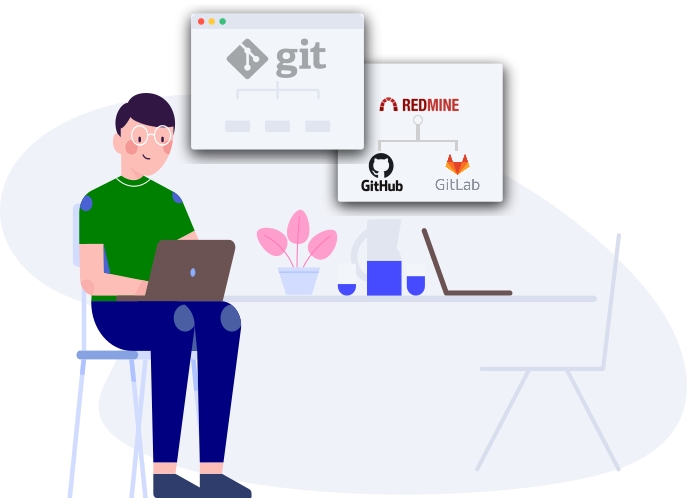 Oavsett vad du väljer samlar du alla data som är relevanta för hela projektgruppen, projektledare och intressenter centralt i Redmine. Redmine DevOps Plugin ger ett enkelt sätt att länka externa data från GitHub, GitLab, Jenkins eller Zabbix till Redmine.
Det är viktigare än någonsin att ge ditt utvecklingsteam en proaktiv arbetsmiljö i världsklass. Men när antalet alternativ och backend-system ökar kan det vara en utmaning att få ihop allt. Så att ditt team har det sammanhang de behöver för att arbeta mer effektivt. Användningen av lämpliga Redmine-integrationer hjälper till.
Stöd dina användare där det är möjligt
Gör det enkelt för ditt Redmine-team och ge dem information där de tillbringar den mesta av sin arbetstid, så att de snabbt och enkelt kan få den information som är relevant för dem på en gång.
DevOps-team
Målet för varje DevOps-team är att uppnå maximala resultat med minsta möjliga ansträngning. Därför bör du ge ditt DevOps-team direkt tillgång till relevant information från externa plattformar, även inom Redmine.
Projektledare
För att DevOps-strategin ska lyckas är det viktigt att ge ansvariga projektledare all nödvändig information centralt och på ett enkelt sätt för bättre teamkoordinering.
Projektgrupp och intressenter
Alla som påverkas av resultatet av ett projekt eller har ett intresse av projektets framgång bör också ha möjlighet att se externt hanterad, projektrelevant information vid behov.
Hur fungerar det?
Anslut dina externa Git Repositories eller andra utvecklingsverktyg som stöds med Redmine (t.ex. GitHub Secret Key, GitLab private token, Jenkins API token, Zabbix accessinformation). När ditt GitHub-, GitLab-, Zabbix- eller Jenkins-konto är kopplat till Redmine Software får ditt team möjlighet att se commit-meddelanden och annan relevant information direkt i Redmine.

Du kan integrera dem som dashboardblock på projektöversiktssidan. Och sammanhanget för Redmine Software-frågor som de arbetar med. Detta hjälper användarna att snabbt och enkelt få en glimt av externt lagrad information utan att behöva lämna Redmine.

Redmine är din informationshubb
Då Redmine i första hand fungerar som en informationshubb är den visade informationen helt enkelt länkad till innehållet i ditt externa utvecklingsverktyg, där alla ytterligare åtgärder kommer att äga rum.
Redmine DevOps Plugin är ett verktyg som ger ytterligare fördelar
Även om dina utvecklare sammanställer allt sitt arbete i ett externt DevOps-verktyg kan resten av ditt projektteam också se denna information med hjälp av vår enkla Redmine-integration.
Dashboard Support
Supports the use of dashboards (public, private, role based) by providing custom blocks. This way you display relevant information within a Redmine project overview page where you want
Project Relation
Is optimally integrated with Redmine. Must be set up per project. Is equipped with role-based access permissions (view, link). Can also be configured with private account information (private Dashboard)
Ticket commit link
Allows linking commits in the external Git repository to Redmine issues if the developer uses the corresponding issue key in the commit message
GitHub Integration
Provides information about Pull-Requests, Repositories, Issues and Workflows within Redmine project overview
GitLab Integration
Delivers information about Merge Requests, Pipelines, Projects and Issues within Redmine project overview
Last Commits
Shows the latest commits in external stored repository on the Redmine project overview page
Failed Jenkins Jobs
Lists all failed Jenkins jobs and links to them
Zabbix Hosts & Problems
Lists Hosts and all problems in Zabbix and links to them
External Redmine Integration
Supplies information from externally connected Redmine systems such as repositories, tickets, projects, system information
Our plugins will suit your needs!
Our Redmine plugins are multilingual and a good choice if you want to work productively. 12 month support & updates included.
Buy DevOps Plugin v3.0.9
Fast, free delivery of the download URL after receipt of payment
Plugin requirements - Plugin FAQ - Terms of use
Access to documentation, Support, Features & Updates
12 Month - DE, EN - E-Mail support via customer area
Right to use the obtained plugin version
Lifetime
DevOps-Bundle
(Reporting & DevOps)
Single product
1
(as Reporting extension)
* Offer is directed exclusively to entrepreneurs within the meaning of §14 BGB. All prices are in EUR and net prices. Plus the applicable statutory sales tax. Reverse Charge applies for international clients outside Germany with a valid EU VAT ID No. Delivery of the download URL against advance payment. Plugin installation is done by the client himself, according to our installation instructions. Note the minimum system requirements and FAQ before purchase.
1) does not run stand-alone. Requires Redmine Reporting. Affects: Automation, HRM, DevOps
What annual support and maintenance license do you need?