Redmine 製品情報 / Redmine DevOps プラグイン
外部でホストされているGitリポジトリや他のDevOpsサービスからの関連情報が、Redmineの中で一緒に流れてくるとしたらどうでしょう?
DevOpsの開発プロセスを導入しようとする人は、遅かれ早かれ外部のDevOpsプラットフォームを利用することになります。ある人はGitのホスティングだけを外部に委託する。また、継続的インテグレーション(CI)、継続的デリバリー(CD)、モニタリングを外部に委託する人もいます。必然的に、異なるシステムを使用することになります。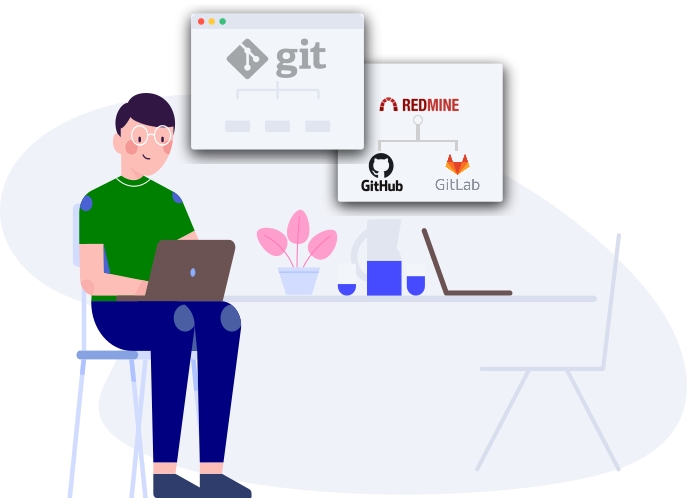 何を決めるにしても、プロジェクトチーム全体、プロジェクトマネージャー、ステークホルダーに関連するすべてのデータをRedmineに集中的にバンドルします。Redmine DevOps Pluginは、GitHub、GitLab、Jenkins、Zabbixなどの外部データをRedmineに簡単に連携させることができます。
開発チームにプロアクティブでワールドクラスの作業環境を提供することは、これまで以上に重要です。しかし、オプションやバックエンドシステムの数が増えると、すべてをまとめるのが大変になります。そこで、チームがより効果的に仕事をするために必要なコンテキストを用意します。適切なRedmineの統合機能を使用することが役立ちます。
可能な限りユーザーをサポートする
Redmineチームを楽にして、彼らが業務時間の大半を費やす場所に情報を提供し、彼らに関連する情報を一目で素早く簡単に得られるようにしましょう。
DevOpsチーム
すべてのDevOpsチームの目標は、最小の努力で最大の結果を出すことです。そのため、DevOpsチームには、Redmine内であっても、外部プラットフォームから関連する情報に直接アクセスできるようにする必要があります。
プロジェクトマネージャー
DevOpsアプローチを成功させるためには、責任あるプロジェクトマネージャーに必要な情報を一元的かつシンプルに提供し、チームの連携を深めることが不可欠です。
プロジェクトチームとステークホルダー
プロジェクトの結果に影響を受ける人や、プロジェクトの成功に関心を持つ人も、必要に応じて外部で管理されているプロジェクト関連の情報を閲覧する機会を持つべきです。
DevOps Plugin Buyers Guide (EN)
Everything you need to know when buying Redmine DevOps.
仕組み
外部のGitリポジトリやその他のサポートされている開発ツールとRedmineを連携させます(例:GitHubシークレットキー、GitLabプライベートトークン、Jenkins APIトークン、Zabbixアクセス情報)。GitHub、GitLab、Zabbix、JenkinsのアカウントがRedmineソフトウェアと連携すると、チームはコミットメッセージやその他の関連情報をRedmineで直接見ることができます。

プロジェクトの概要ページにダッシュボードブロックとして統合することができます。そして、彼らが取り組んでいるRedmine Softwareの課題のコンテキスト。これにより、ユーザーはRedmineから離れることなく、外部に保存されている情報を素早く簡単に把握することができます。

Redmineはあなたの情報ハブ
Redmineは主に情報ハブとして機能するため、表示された情報は外部の開発ツール上のコンテンツに単純にリンクされ、そこでさらにすべてのアクションが行われることになります。
Redmine DevOps Plugin is a tool that provides additional benefit
たとえ開発者がすべての作業を外部のDevOpsツールにまとめたとしても、私たちの簡単に使えるRedmineインテグレーションを使えば、プロジェクトチームの他のメンバーもこの情報を見ることができます。
Dashboard Support
Supports the use of dashboards (public, private, role based) by providing custom blocks. This way you display relevant information within a Redmine project overview page where you want
Project Relation
Is optimally integrated with Redmine. Must be set up per project. Is equipped with role-based access permissions (view, link). Can also be configured with private account information (private Dashboard)
Ticket commit link
Allows linking commits in the external Git repository to Redmine issues if the developer uses the corresponding issue key in the commit message
GitHub Integration
Provides information about Pull-Requests, Repositories, Issues and Workflows within Redmine project overview
GitLab Integration
Delivers information about Merge Requests, Pipelines, Projects and Issues within Redmine project overview
Last Commits
Shows the latest commits in external stored repository on the Redmine project overview page
Failed Jenkins Jobs
Lists all failed Jenkins jobs and links to them
Zabbix Hosts & Problems
Lists Hosts and all problems in Zabbix and links to them
External Redmine Integration
Supplies information from externally connected Redmine systems such as repositories, tickets, projects, system information
Our plugins will suit your needs!
Our Redmine plugins are multilingual and a good choice if you want to work productively. 12 month support & updates included.
Buy DevOps Plugin
Fast, free delivery of the download URL after receipt of payment
Plugin requirements - Plugin FAQ - Terms of use
Access to documentation, Support, Features & Updates
12 Month - DE, EN - E-Mail support via customer area
Right to use the obtained plugin version
Lifetime
DevOps-Bundle
(Reporting & DevOps)
Single product
1
(as Reporting extension)
* Offer is directed exclusively to entrepreneurs within the meaning of §14 BGB. All prices are in EUR and net prices. Plus the applicable statutory sales tax. Reverse Charge applies for international clients outside Germany with a valid EU VAT ID No. Delivery of the download URL against advance payment. Plugin installation is done by the client himself, according to our installation instructions. Note the minimum system requirements and FAQ before purchase.
1) does not run stand-alone. Requires Redmine Reporting. Affects: Automation, HRM, DevOps
What annual support and maintenance license do you need?