Giochiamo a salvare! Si mantiene sempre una panoramica di tutte le password inserite e si può condividerle facilmente con tutti i membri del team di progetto.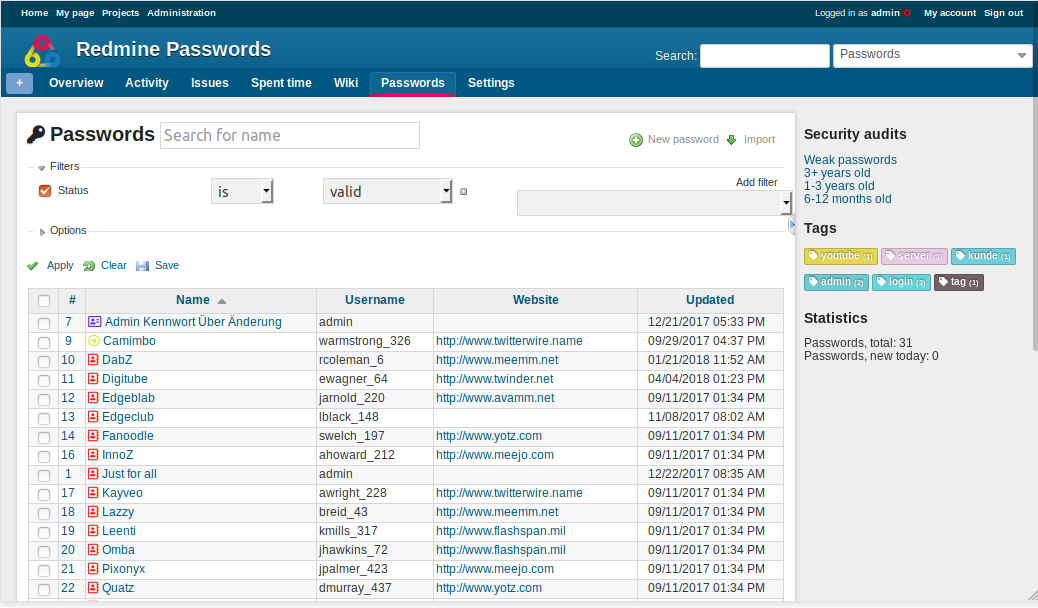 Esplora il giocatore della squadra
Il plugin Redmine Passwords è un giocatore di squadra. Consente di gestire le password relative al progetto secure e central al fine di proteggerle da accessi non autorizzati da parte di terzi. Aiuta a supportare in modo semplice le conformità di sicurezza date. Utile per:
Amministratori e DevOps
Sviluppatori
Utenti
Responsabili di progetto
Clienti e stakeholder
Semplice e facile da usare.
Algoritmo di crittografia collaudato (AES 256 CBC) per la sicurezza dei dati. Redmina i diritti basati sui ruoli e la gestione degli accessi per semplificare l'amministrazione e la condivisione in tutta sicurezza. Il generatore di password integrato supporta il team nella creazione di password sicure.
Uno per tutti.
Dall'amministratore di sistema al gestore e al normale utente Redmine fino al cliente applicabile. Chiunque attribuisca importanza ad una trasmissione sicura delle proprie password lo realizza con l'aiuto della nostra estensione di funzione per Redmine.
Tenere d'occhio le cose. Ridurre il rischio.
Il rischio deriva dall'ignoranza. Chiunque gestisca molto perde rapidamente la visione d'insieme. Con le numerose opzioni di filtro e di ricerca, è possibile tenere d'occhio tutto e trovare rapidamente quello che stai cercando.
Un contenitore pieno di opzioni
Safe. Central repository for secure storage and distribution of access data. Encrypted (AES) storage of passwords in the database.
Simple. Central password administration and access to passwords.
Team player. Suitable for teams. Password availability guaranteed at all times (24/7).
Features
Secure password management with corresponding authorizations
Quick start through CSV import possible
Safe export of data to CSV format, if necessary
Usable in many ways thanks to user-defined fields
encrypted password storage in the database using Advanced Encryption Standard (AES 256 CBC)
Definable password rules according to internal guidelines for easy-to-use password generator
password audit filter to detect outdated, insecure passwords
Live search, tagging, categorization allows fast password access
Simple linking within tickets and among each other
Numerous macros for use in the wiki
Cooperation with Redmine DB (Asset Management)
Risolve problemi tipici
Passwords no longer need to be stored publicly, visible to everyone in the project wiki
Passwords are no longer sent insecurely by e-mail
passwords are finally safe enough
facilitates employees to generate secure access IDs quickly and easily
ensures that every team member sees the passwords
prevents abuse by users with administrator rights who are not in the team (have no access)
prevents the use of insecure, outdated passwords with password audits
provides an overview of passwords created, detects forgotten accounts.
prevents important passwords from being lost due to the elimination of employees
provides a central storage location
Gruppi di utenti
Administrators and DevOps: System admins and project admins can manage their work related passwords by the help of Redmine Passwords in order to proceed their work without problems.
Team members and Managers: The browser based password manager is suitable for teams which makes it easy to use the tool for a whole project or even the whole company. All team members have access to project relevant access data in order to do a proper job.
Customers and Stakeholders: More and more customers want to make sure, that their access data is stored and transferred safely. The password management Tool Redmine Passwords realises this security need and makes it possible to restrict data access according to the access rights of your Redmine installation.
Our plugins will suit your needs!
Our Redmine plugins are multilingual and a good choice if you want to work productively. 12 month support & updates included.