Juguemos a salvar! Usted siempre mantendrá una visión general de todas sus contraseñas ingresadas y puede compartirlas fácilmente con todos los miembros del equipo del proyecto.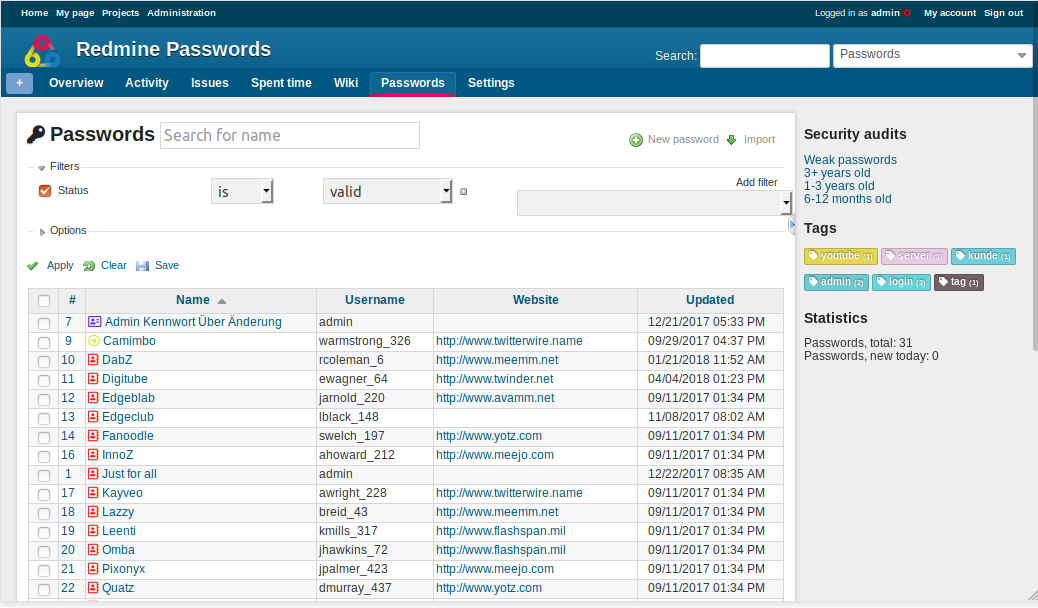 Explorar el trabajo en equipo
El plugin Redmine Passwords es un jugador de equipo. Le permite administrar sus contraseñas relacionadas con el proyecto seguro y central para protegerlas del acceso no autorizado de terceros. Le ayuda a dar soporte de una manera fácil a los cumplimientos de seguridad dados. Útil para:
Administradores y DevOps
Desarrolladores
Usuarios
Gestores de proyecto
Clientes y grupos de interés
Simple y fácil de usar
Un algoritmo de cifrado de eficacia probada (AES 256 CBC) garantiza la seguridad de los datos. Reduce la gestión de derechos y accesos basada en roles para facilitar la administración segura y el uso compartido. El generador de contraseñas integrado ayuda a su equipo a crear contraseñas seguras.
Uno para todos.
Desde el administrador del sistema, pasando por el administrador y el usuario normal de Redmine, hasta el cliente correspondiente. Todos los que dan importancia a una transmisión segura de sus contraseñas se dan cuenta de ello con la ayuda de nuestra extensión de funciones para Redmine.
Vigilando las cosas. Reducir el riesgo.
El riesgo surge de la ignorancia. Cualquiera que se las arregla mucho pierde rápidamente la visión general. Con las muchas opciones de filtro y opciones de búsqueda, usted puede mantener un ojo en todo y encontrar rápidamente lo que está buscando.
Un contenedor lleno de opciones
A salvo. Repositorio central para el almacenamiento seguro y la distribución de los datos de acceso. Almacenamiento encriptado (AES) de contraseñas en la base de datos.
Simple. Administración central de contraseñas y acceso a contraseñas.
Team player. Apto para equipos. Disponibilidad de contraseña garantizada en todo momento (24/7).
Características
Secure password management with corresponding authorizations
Quick start through CSV import possible
Safe export of data to CSV format, if necessary
Usable in many ways thanks to user-defined fields
encrypted password storage in the database using Advanced Encryption Standard (AES 256 CBC)
Definable password rules according to internal guidelines for easy-to-use password generator
password audit filter to detect outdated, insecure passwords
Live search, tagging, categorization allows fast password access
Simple linking within tickets and among each other
Numerous macros for use in the wiki
Cooperation with Redmine DB (Asset Management)
Resuelve problemas típicos
Passwords no longer need to be stored publicly, visible to everyone in the project wiki
Passwords are no longer sent insecurely by e-mail
passwords are finally safe enough
facilitates employees to generate secure access IDs quickly and easily
ensures that every team member sees the passwords
prevents abuse by users with administrator rights who are not in the team (have no access)
prevents the use of insecure, outdated passwords with password audits
provides an overview of passwords created, detects forgotten accounts.
prevents important passwords from being lost due to the elimination of employees
provides a central storage location
Grupos de usuarios
Administrators and DevOps: System admins and project admins can manage their work related passwords by the help of Redmine Passwords in order to proceed their work without problems.
Team members and Managers: The browser based password manager is suitable for teams which makes it easy to use the tool for a whole project or even the whole company. All team members have access to project relevant access data in order to do a proper job.
Customers and Stakeholders: More and more customers want to make sure, that their access data is stored and transferred safely. The password management Tool Redmine Passwords realises this security need and makes it possible to restrict data access according to the access rights of your Redmine installation.
Our plugins will suit your needs!
Our Redmine plugins are multilingual and a good choice if you want to work productively. 12 month support & updates included.