Grajmy oszczędnie! Zawsze będziesz miał podgląd wszystkich wprowadzonych haseł i będziesz mógł je łatwo udostępnić wszystkim członkom zespołu projektowego.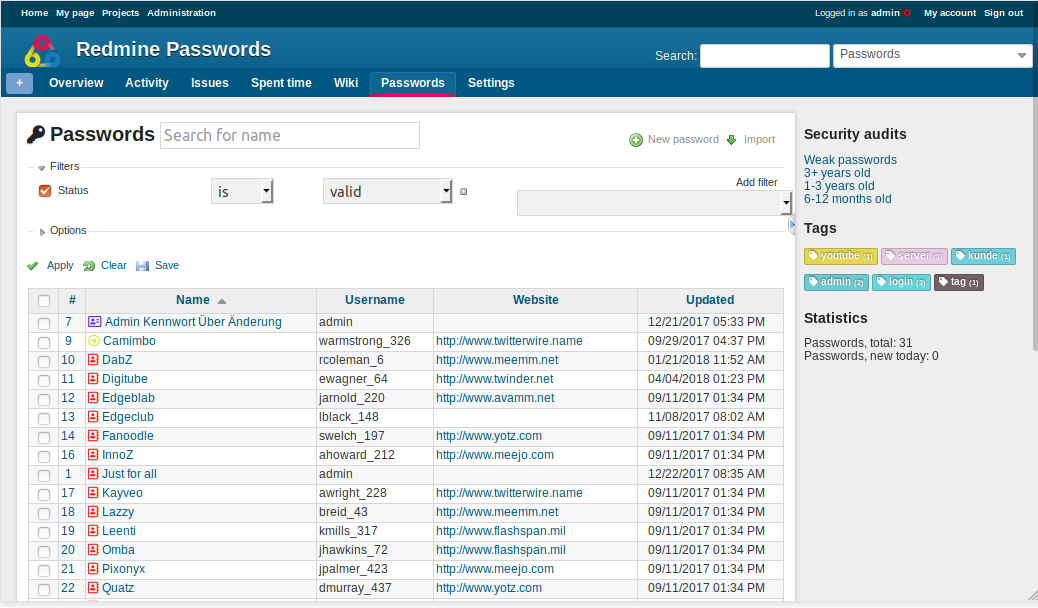 Odkryj zawodnika drużyny
Plugin Redmine Passwords jest graczem zespołowym. Umożliwia zarządzanie hasłami związanymi z projektem w sposób bezpieczny i centralny w celu zabezpieczenia ich przed nieupoważnionym dostępem osób trzecich. Pomaga to w łatwy sposób obsługiwać określone zabezpieczenia. Przydatny do:
Administratorzy i deweloperzy
Deweloperzy
Użytkownicy
Kierownicy projektów
Klienci i interesariusze
Proste i łatwe w użyciu.
Sprawdzony algorytm szyfrowania (AES 256 CBC) zapewnia bezpieczeństwo danych. Redminuje prawa oparte na rolach i zarządzanie dostępem, ułatwiając bezpieczną administrację i współdzielenie. Zintegrowany generator haseł wspiera Twój zespół w tworzeniu bezpiecznych haseł.
Jeden dla wszystkich.
Od administratora systemu, przez menedżera i normalnego użytkownika Redmine, aż do klienta. Każdy, kto przywiązuje wagę do bezpiecznej transmisji swoich haseł realizuje to za pomocą naszego rozszerzenia funkcji dla Redmine.
Pilnowanie spraw. Zmniejszyć ryzyko.
Ryzyko wynika z niewiedzy. Każdy, kto dużo potrafi, szybko traci przegląd. Dzięki wielu opcjom filtrowania i wyszukiwania, możesz mieć oko na wszystko i szybko znaleźć to, czego szukasz.
Pojemnik pełen opcji
Zapisz. Centralne repozytorium do bezpiecznego przechowywania i dystrybucji danych dostępowych. Szyfrowane (AES) przechowywanie haseł w bazie danych.
Proste. Centralne zarządzanie hasłami i dostęp do haseł.
Team player. Nadaje się dla drużyn. Dostępność hasła gwarantowana przez cały czas (24/7).
Features
Secure password management with corresponding authorizations
Quick start through CSV import possible
Safe export of data to CSV format, if necessary
Usable in many ways thanks to user-defined fields
encrypted password storage in the database using Advanced Encryption Standard (AES 256 CBC)
Definable password rules according to internal guidelines for easy-to-use password generator
password audit filter to detect outdated, insecure passwords
Live search, tagging, categorization allows fast password access
Simple linking within tickets and among each other
Numerous macros for use in the wiki
Cooperation with Redmine DB (Asset Management)
Rozwiązuje typowe problemy
Passwords no longer need to be stored publicly, visible to everyone in the project wiki
Passwords are no longer sent insecurely by e-mail
passwords are finally safe enough
facilitates employees to generate secure access IDs quickly and easily
ensures that every team member sees the passwords
prevents abuse by users with administrator rights who are not in the team (have no access)
prevents the use of insecure, outdated passwords with password audits
provides an overview of passwords created, detects forgotten accounts.
prevents important passwords from being lost due to the elimination of employees
provides a central storage location
Grupy użytkowników
Administrators and DevOps: System admins and project admins can manage their work related passwords by the help of Redmine Passwords in order to proceed their work without problems.
Team members and Managers: The browser based password manager is suitable for teams which makes it easy to use the tool for a whole project or even the whole company. All team members have access to project relevant access data in order to do a proper job.
Customers and Stakeholders: More and more customers want to make sure, that their access data is stored and transferred safely. The password management Tool Redmine Passwords realises this security need and makes it possible to restrict data access according to the access rights of your Redmine installation.
Our plugins will suit your needs!
Our Redmine plugins are multilingual and a good choice if you want to work productively. 12 month support & updates included.