Laten we spelen op te slaan! U houdt altijd een overzicht van al uw ingevoerde wachtwoorden en u kunt ze gemakkelijk delen met iedereen in het projectteam.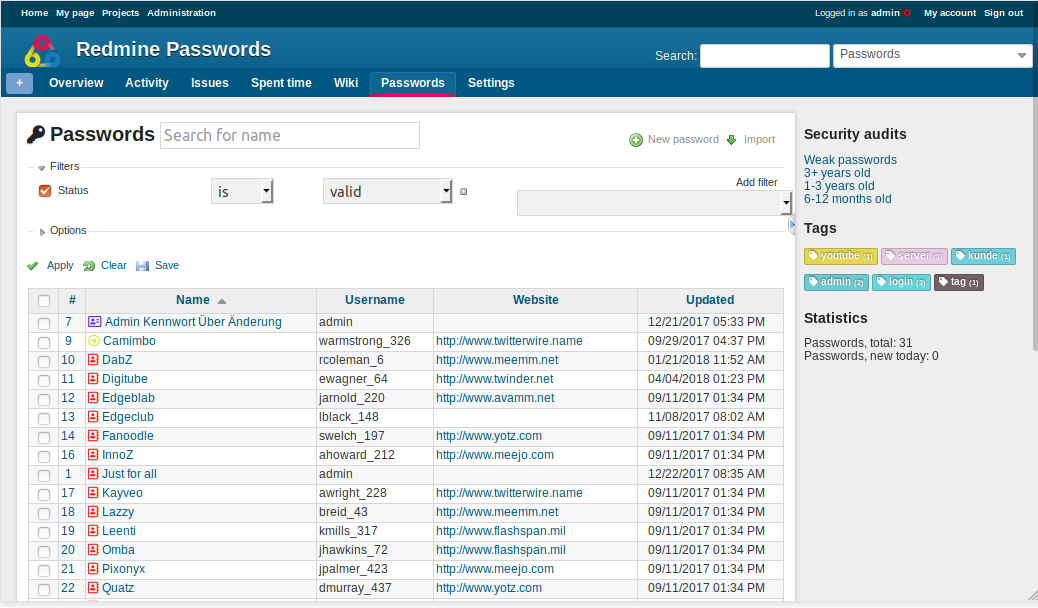 Ontdek de teamspeler
De Redmine Paswoorden plugin is een teamspeler. Het stelt u in staat om uw project gerelateerde wachtwoorden secure en central te beheren om ze te beschermen tegen niet geautoriseerde toegang door een derde partij. Het helpt u om bepaalde beveiligingscompliances op een eenvoudige manier te ondersteunen. Handig voor:
Beheerders en DevOps
Ontwikkelaars
Gebruikers
Projectmanagers
Klanten en belanghebbenden
Eenvoudig en gebruiksvriendelijk.
Bewezen versleutelingsalgoritme (AES 256 CBC) zorgt voor gegevensbeveiliging. Herminieert rolgerelateerde rechten en toegangsbeheer om veilig beheer en delen eenvoudig te maken. De geïntegreerde wachtwoordgenerator ondersteunt uw team bij het maken van veilige wachtwoorden.
Één voor allen.
Van de systeembeheerder over de beheerder en de normale Redmine gebruiker tot aan de van toepassing zijnde klant. Iedereen die belang hecht aan een veilige overdracht van zijn wachtwoorden realiseert zich dit met behulp van onze functie-extensie voor Redmine.
Een oogje in het zeil houden. Verminder het risico.
Risico vloeit voort uit onwetendheid. Wie veel beheert, verliest snel het overzicht. Met de vele filteropties en zoekmogelijkheden kunt u alles in de gaten houden en snel vinden wat u zoekt.
Een container vol opties
Opslaan. Centraal archief voor veilige opslag en distributie van toegangsgegevens. Gecodeerde (AES) opslag van wachtwoorden in de database.
Eenvoudig. Centraal wachtwoordbeheer en toegang tot wachtwoorden.
Team player. Geschikt voor teams. Wachtwoord beschikbaarheid gegarandeerd te allen tijde (24/7).
Features
Secure password management with corresponding authorizations
Quick start through CSV import possible
Safe export of data to CSV format, if necessary
Usable in many ways thanks to user-defined fields
encrypted password storage in the database using Advanced Encryption Standard (AES 256 CBC)
Definable password rules according to internal guidelines for easy-to-use password generator
password audit filter to detect outdated, insecure passwords
Live search, tagging, categorization allows fast password access
Simple linking within tickets and among each other
Numerous macros for use in the wiki
Cooperation with Redmine DB (Asset Management)
Oplost typische problemen
Passwords no longer need to be stored publicly, visible to everyone in the project wiki
Passwords are no longer sent insecurely by e-mail
passwords are finally safe enough
facilitates employees to generate secure access IDs quickly and easily
ensures that every team member sees the passwords
prevents abuse by users with administrator rights who are not in the team (have no access)
prevents the use of insecure, outdated passwords with password audits
provides an overview of passwords created, detects forgotten accounts.
prevents important passwords from being lost due to the elimination of employees
provides a central storage location
Gebruikersgroepen
Administrators and DevOps: System admins and project admins can manage their work related passwords by the help of Redmine Passwords in order to proceed their work without problems.
Team members and Managers: The browser based password manager is suitable for teams which makes it easy to use the tool for a whole project or even the whole company. All team members have access to project relevant access data in order to do a proper job.
Customers and Stakeholders: More and more customers want to make sure, that their access data is stored and transferred safely. The password management Tool Redmine Passwords realises this security need and makes it possible to restrict data access according to the access rights of your Redmine installation.
Our plugins will suit your needs!
Our Redmine plugins are multilingual and a good choice if you want to work productively. 12 month support & updates included.