私たちはセーブをしましょう! 入力したすべてのパスワードの概要を常に把握し、プロジェクトチームの全員と簡単に共有できます。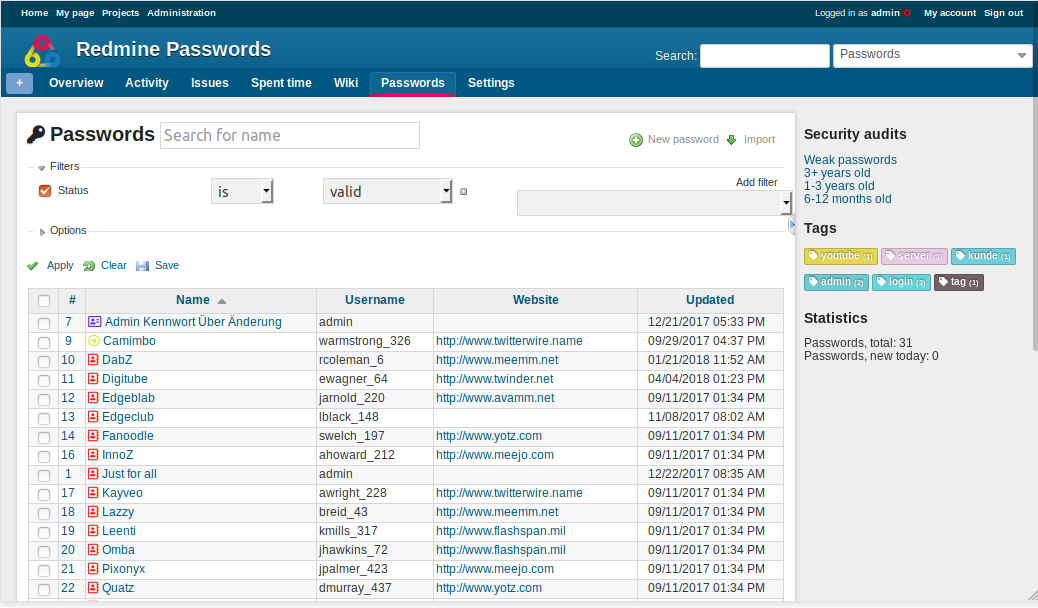 チーム選手を探る
Redmine Passwords プラグインはチームプレーヤーです。 これにより、プロジェクト関連のパスワードを安全かつ集中管理することができ、第三者による許可されていないアクセスからパスワードを保護することができます。 セキュリティコンプライアンスを容易にサポートするのに役立ちます。 役に立つ:
管理者と開発者
開発者
ユーザー
プロジェクトマネージャー
顧客とステークホルダー
シンプルで使いやすい。
実証済みの暗号化アルゴリズム(AES 256 CBC)はデータセキュリティを保証します。 役割ベースの権利とアクセス管理をRedminesは、安全な管理と共有を容易にします。 統合されたパスワードジェネレータは、チームをサポートして安全なパスワードを作成します。
すべてのために1つ。
システム管理者から通常のRedmineユーザーまで、適用可能な顧客まで。 パスワードの安全な送信を重視する人は、Redmineの機能拡張の助けを借りてこれを実現します。
物事を見守る リスクを減らす。
リスクは無知から生じる。 たくさんのことをすばやく管理する人は、すぐに概要を失います。 多くのフィルタオプションと検索オプションを使用することで、あらゆることを把握して、探しているものをすばやく見つけることができます。
オプションでいっぱいの容器
Safe. Central repository for secure storage and distribution of access data. Encrypted (AES) storage of passwords in the database.
Simple. Central password administration and access to passwords.
Team player. Suitable for teams. Password availability guaranteed at all times (24/7).
特徴
Secure password management with corresponding authorizations
Quick start through CSV import possible
Safe export of data to CSV format, if necessary
Usable in many ways thanks to user-defined fields
encrypted password storage in the database using Advanced Encryption Standard (AES 256 CBC)
Definable password rules according to internal guidelines for easy-to-use password generator
password audit filter to detect outdated, insecure passwords
Live search, tagging, categorization allows fast password access
Simple linking within tickets and among each other
Numerous macros for use in the wiki
Cooperation with Redmine DB (Asset Management)
典型的な問題を解決する
Passwords no longer need to be stored publicly, visible to everyone in the project wiki
Passwords are no longer sent insecurely by e-mail
passwords are finally safe enough
facilitates employees to generate secure access IDs quickly and easily
ensures that every team member sees the passwords
prevents abuse by users with administrator rights who are not in the team (have no access)
prevents the use of insecure, outdated passwords with password audits
provides an overview of passwords created, detects forgotten accounts.
prevents important passwords from being lost due to the elimination of employees
provides a central storage location
ユーザーグループ
Administrators and DevOps: System admins and project admins can manage their work related passwords by the help of Redmine Passwords in order to proceed their work without problems.
Team members and Managers: The browser based password manager is suitable for teams which makes it easy to use the tool for a whole project or even the whole company. All team members have access to project relevant access data in order to do a proper job.
Customers and Stakeholders: More and more customers want to make sure, that their access data is stored and transferred safely. The password management Tool Redmine Passwords realises this security need and makes it possible to restrict data access according to the access rights of your Redmine installation.
Our plugins will suit your needs!
Our Redmine plugins are multilingual and a good choice if you want to work productively. 12 month support & updates included.