Lad os spille gemme! Du vil altid holde et overblik over alle dine indtastede adgangskoder, og du kan dele dem nemt med alle i projektgruppen.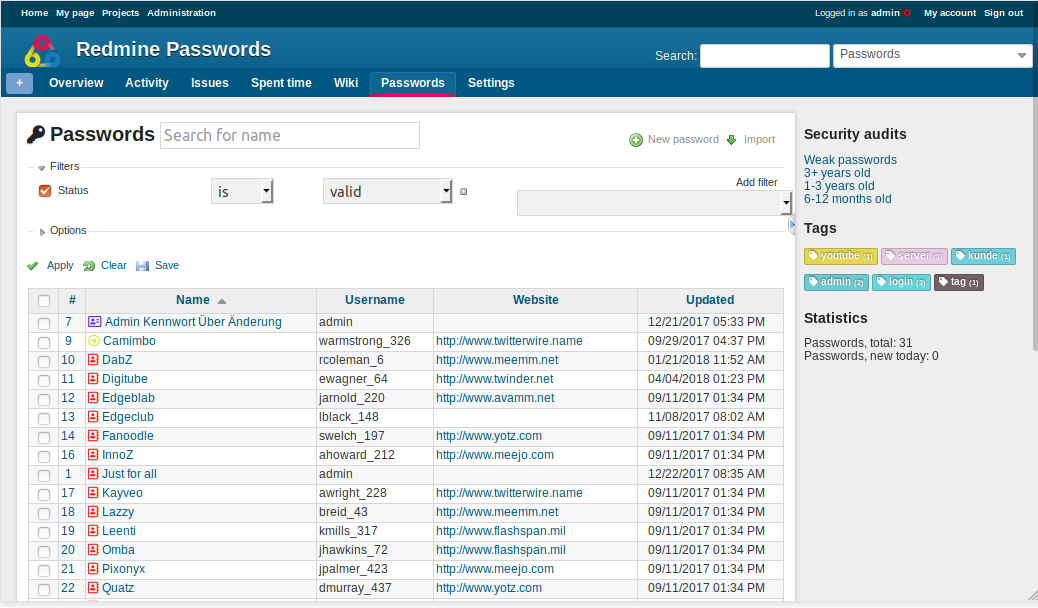 Udforsk holdspilleren
Redmine Passwords plugin er en holdspiller. Det giver dig mulighed for at administrere dine projektrelaterede adgangskoder sikre og central for at beskytte dem mod ikke autoriseret adgang fra tredjepart. Det hjælper dig med at understøtte givne sikkerhedskrav på en nem måde. Nyttig til:
Administratorer og DevOps
Udviklere
Brugere
Projektledere
Kunder og interessenter
Enkel og nem at bruge.
Velbevist krypteringsalgoritme (AES 256 CBC) sikrer datasikkerhed. Redmines rollebaserede rettigheder og adgangshåndtering giver sikker administration og deling nemt. Den integrerede adgangskode generator understøtter dit team for at oprette sikre adgangskoder.
En for alle.
Fra systemadministratoren over lederen og den normale Redmine-bruger op til den gældende kunde. Alle, der lægger vægt på en sikker overførsel af hans adgangskoder, realiserer dette ved hjælp af vores funktionsudvidelse til Redmine.
Holde øje med ting. Reducer risikoen.
Risiko stammer fra uvidenhed. Enhver, der forvalter meget hurtigt, mister oversigten. Med de mange filterindstillinger og søgeindstillinger kan du holde øje med alt og hurtigt finde det, du leder efter.
En beholder fyldt med muligheder
Sikker. Central depot for sikker opbevaring og distribution af adgangsdata. Krypteret (AES) opbevaring af adgangskoder i databasen.
Enkel. Central adgangskodeadministration og adgang til adgangskoder.
Team player. Velegnet til hold. Passordtilgængelighed garanteret til enhver tid (24/7).
Funktioner
Secure password management with corresponding authorizations
Quick start through CSV import possible
Safe export of data to CSV format, if necessary
Usable in many ways thanks to user-defined fields
encrypted password storage in the database using Advanced Encryption Standard (AES 256 CBC)
Definable password rules according to internal guidelines for easy-to-use password generator
password audit filter to detect outdated, insecure passwords
Live search, tagging, categorization allows fast password access
Simple linking within tickets and among each other
Numerous macros for use in the wiki
Cooperation with Redmine DB (Asset Management)
Løser typiske problemer
Passwords no longer need to be stored publicly, visible to everyone in the project wiki
Passwords are no longer sent insecurely by e-mail
passwords are finally safe enough
facilitates employees to generate secure access IDs quickly and easily
ensures that every team member sees the passwords
prevents abuse by users with administrator rights who are not in the team (have no access)
prevents the use of insecure, outdated passwords with password audits
provides an overview of passwords created, detects forgotten accounts.
prevents important passwords from being lost due to the elimination of employees
provides a central storage location
Brugergrupper
Administratorer og devOps: Systemadministratorer og projektadministratorer kan administrere deres arbejdsrelaterede adgangskoder ved hjælp af Redmine-adgangskoder for at kunne fortsætte deres arbejde uden problemer.
Teammedlemmer og ledere: Den browserbaserede adgangskodeadministrator er velegnet til hold, som gør det nemt at bruge værktøjet til et helt projekt eller endda hele firmaet. Alle holdmedlemmer har adgang til at projektere relevante adgangsdata for at kunne udføre et passende arbejde.
Kunder og interessenter: Flere og flere kunder ønsker at sikre, at deres adgangsdata gemmes og overføres sikkert. Password Redigering Tool Redmine Passwords realiserer dette sikkerhedsbehov og gør det muligt at begrænse datatilgang i henhold til adgangsrettighederne til din Redmine-installation.
Our development base is Munich (Germany). Documentation and support available in: EN, DE. Plugin: Multilingual. Plugin is also available as Cloud solution. We will rock your Redmine.
Our plugins will suit your needs!
Our Redmine plugins are multilingual and a good choice if you want to work productively. 12 month support & updates included.