Jouons à sauver! Vous aurez toujours une vue d'ensemble de tous les mots de passe que vous avez entrés et vous pouvez les partager facilement avec tous les membres de l'équipe du projet.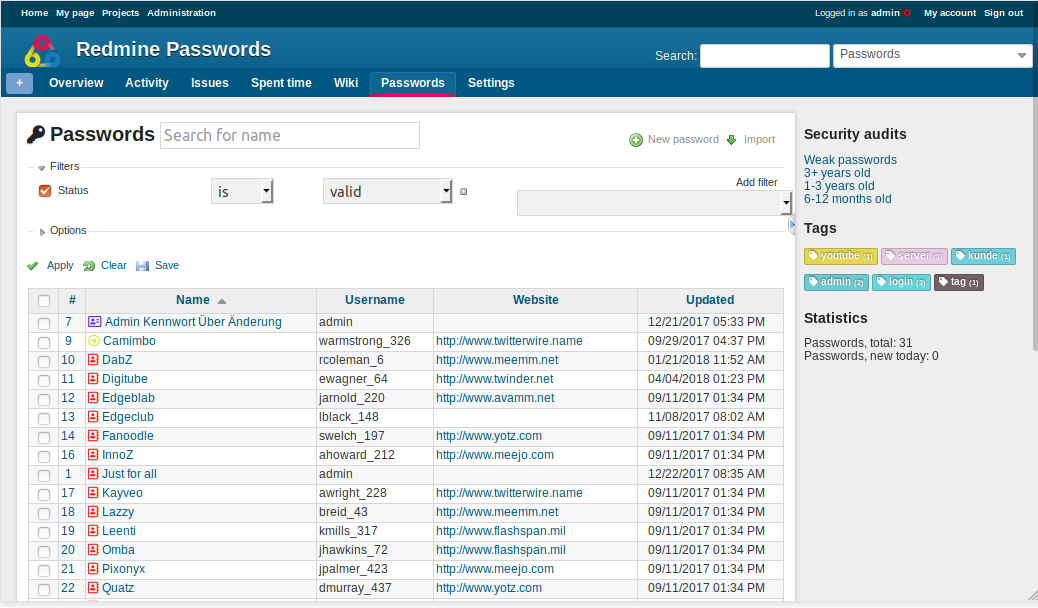 Explorez le joueur d'équipe
Le plugin Redmine Passwords est un jeu d'équipe. Il vous permet de gérer vos mots de passe liés au projet secure et central afin de les protéger contre un accès non autorisé par un tiers. Il vous aide à prendre en charge de manière simple des conformités de sécurité données. Utile pour:
Administrateurs et DevOps
Développeurs
Utilisateurs
Chefs de projet
Clients et parties prenantes
Simple et facile à utiliser.
Un algorithme de cryptage éprouvé (AES 256 CBC) assure la sécurité des données. La gestion des droits et des accès basée sur les rôles de Redmines facilite l'administration et le partage sécurisés. Le générateur de mots de passe intégré aide votre équipe à créer des mots de passe sûrs.
Un pour tous.
De l'administrateur système au manager et à l'utilisateur normal de Redmine jusqu'au client applicable. Tous ceux qui attachent de l'importance à une transmission sécurisée de leurs mots de passe s'en rendent compte à l'aide de notre extension de fonction pour Redmine.
Garder un oeil sur les choses. Réduire les risques.
Le risque découle de l'ignorance. Celui qui gère beaucoup de choses perd rapidement la vue d'ensemble. Grâce aux nombreuses options de filtrage et de recherche, vous pouvez garder un œil sur tout et trouver rapidement ce que vous cherchez.
Conteneur de mot de passe
En sécurité. Dépôt central pour le stockage et la distribution sécurisée des données d'accès. Stockage crypté (AES) des mots de passe dans la base de données.
Simple. Gestion centralisée des mots de passe et accès aux mots de passe.
Team player. Convient aux équipes. Disponibilité du mot de passe garantie en tout temps (24/7).
Caractéristiques
Secure password management with corresponding authorizations
Quick start through CSV import possible
Safe export of data to CSV format, if necessary
Usable in many ways thanks to user-defined fields
encrypted password storage in the database using Advanced Encryption Standard (AES 256 CBC)
Definable password rules according to internal guidelines for easy-to-use password generator
password audit filter to detect outdated, insecure passwords
Live search, tagging, categorization allows fast password access
Simple linking within tickets and among each other
Numerous macros for use in the wiki
Cooperation with Redmine DB (Asset Management)
Résout des problèmes typiques
Passwords no longer need to be stored publicly, visible to everyone in the project wiki
Passwords are no longer sent insecurely by e-mail
passwords are finally safe enough
facilitates employees to generate secure access IDs quickly and easily
ensures that every team member sees the passwords
prevents abuse by users with administrator rights who are not in the team (have no access)
prevents the use of insecure, outdated passwords with password audits
provides an overview of passwords created, detects forgotten accounts.
prevents important passwords from being lost due to the elimination of employees
provides a central storage location
Groupes d'utilisateurs
Administrators and DevOps: System admins and project admins can manage their work related passwords by the help of Redmine Passwords in order to proceed their work without problems.
Team members and Managers: The browser based password manager is suitable for teams which makes it easy to use the tool for a whole project or even the whole company. All team members have access to project relevant access data in order to do a proper job.
Customers and Stakeholders: More and more customers want to make sure, that their access data is stored and transferred safely. The password management Tool Redmine Passwords realises this security need and makes it possible to restrict data access according to the access rights of your Redmine installation.
Our plugins will suit your needs!
Our Redmine plugins are multilingual and a good choice if you want to work productively. 12 month support & updates included.