The Redmine DB tappi auðveldar fyrirtækjum og fyrirtækjum að stjórna hvers konar eignum eða upplýsingum færslum innan Redmine sem er ekki mál, verkefni eða galla.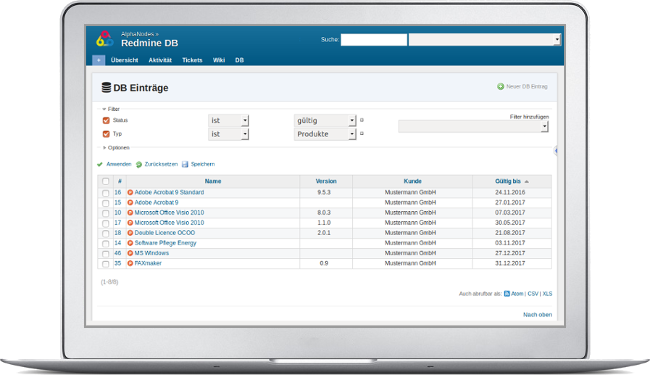 Að lokum góð lausn fyrir verkefnisliðið þitt til að losna við gamaldags Excel blöð
Problem

Lack of updated information

Most organizations lack an updated version of their in excel stored data, which is relevant to their project teams. And aren't used to follow any excel data management best practices. As the number of data stored in excel sheets in your organization increases, so does your challenge of tracking them properly.
Solution

Better overview and more efficiency

Get rid of your excel sheets for asset management. This DB plugin is an extension for the open source web-based software and issue tracking tool Redmine. Feel free to find a use case of your own. The custom field option of Redmine makes almost everything possible. Facilitate the collection and availability of project-relevant data and assets for your users.
---
Vinna saman í rauntíma.
Vinna með nýjustu gögnin er alltaf viðeigandi fyrir vel liðin. Notkun Redmine DB, liðið þitt á skrifstofunni eða fjarlægur skráir mikilvæg gögn í flassi. Þökk sé sameiginlegu samstarfi á netinu eru nýjustu upplýsingar strax í boði í rauntíma til allra samstarfsaðila til frekari vinnslu eða upplýsinga.
Tími sparnaður vegna fljótur staðsetningar.
Sem notandi viltu stjórna upplýsingum auðveldlega og finna það fljótt ef þörf krefur. Þess vegna eru sveigjanlegir sívalkostir mikilvægur hluti af tappi okkar. Efnið er hægt að velja út með Redmine leit, ýmsum síu valkostum sem og TAG verkefni. Allt þetta gerir leitina miklu auðveldara og skilvirkari.
Stuðningur við mælaborð
Þú ákveður hvað er mikilvægt fyrir þig.
Mælaborð eru frábær leið til að skoða allar viðeigandi verkefnamælingar á einum stað. Með fjölmörgum tiltækum mælaborðsblokkum geta notendur nálgast útgáfugögn auðveldara, fylgst með framvindu verkefnis, greint betur viðbótartengd gögn og margt fleira!
Aðgerðir til að auka liðsstyrk og áreynslulausan vöxt
Why us? Our solutions are efficient, integrated, scalable, flexible and up-to-date. This way we not only make sure that your product or service is on target, but also help you to transfor your business.
Our development base is Munich (Germany). Documentation and support available in: EN, DE. Plugin: Multilingual. Plugin is also available as Cloud solution.
Learn more about the plugin requirements and read our FAQ before purchase.
Fljótlega byrjað á innflutningi.
Enginn finnst gaman að byrja frá grunni. Sérstaklega ef þú vilt skipta úr öðrum kerfum (td Excel) til Redmine DB. Innflutningur gagna er allt og endir allt til að ná árangri. Vegna möguleika á að búa til notendaviðmiðaða reiti í hvaða tilgangi sem er, ekkert vandamál yfirleitt. Bara gefa það a reyna. Útflutningur er einnig mögulegt (CSV, XLSX)
Einföld samþætting innan málefna
Þessi eiginleiki gerir þér kleift að tengja auðveldlega við DB færslur innan Redmine málefni. Það gerir tengingu við DB færslur eins auðvelt og mögulegt er fyrir alla í hópnum þínum.
Our plugins will suit your needs!
Our Redmine plugins are multilingual and a good choice if you want to work productively. 12 month support & updates included.
Buy DB Plugin v3.0.8
Fast, free delivery of the download URL after receipt of payment
Plugin requirements - Plugin FAQ - Terms of use
Access to documentation, Support, Features & Updates
12 Month - DE, EN - E-Mail support via customer area
Right to use the obtained plugin version
Lifetime
Single product
* Offer is directed exclusively to entrepreneurs within the meaning of §14 BGB. All prices are in EUR and net prices. Plus the applicable statutory sales tax. Reverse Charge applies for international clients outside Germany with a valid EU VAT ID No. Delivery of the download URL against advance payment. Plugin installation is done by the client himself, according to our installation instructions. Note the minimum system requirements and FAQ before purchase.
1) does not run stand-alone. Requires Redmine Reporting. Affects: Automation, HRM, DevOps
What annual support and maintenance license do you need?