Project managers who work with appropriate tools can identify emerging problems in time and take countermeasures at an early stage. This enables them to work more stress-free and holds potential for improvement.
As a rule, a project manager monitors the following areas in the course of his or her work:
Deadlines
Costs (budget)
Resources (team capacities)
Goals (milestones)
For the above-mentioned areas, various tools are used to monitor the respective sector.
We have often presented a tool from our company with which you can monitor the capacities of your team: Redmine HRM (Add on for the issue tracker Redmine).
With this plugin for Redmine you can plan employee resources on a long-term basis. Various parameters are available for this purpose, which provide information for individual employees. This makes planning future activities much easier. Because, among other things, you get visualized information about the workload of an employee.
In this article we will introduce a useful feature of the HRM plugin that allows to detect resource bottlenecks in time. As a project manager, you will be able to take appropriate countermeasures.
Early warning system for resource bottlenecks
The so-called early warning system for possible resource bottlenecks can be found on the resource overview below the employee table in the area Notes / Problems in resource allocation.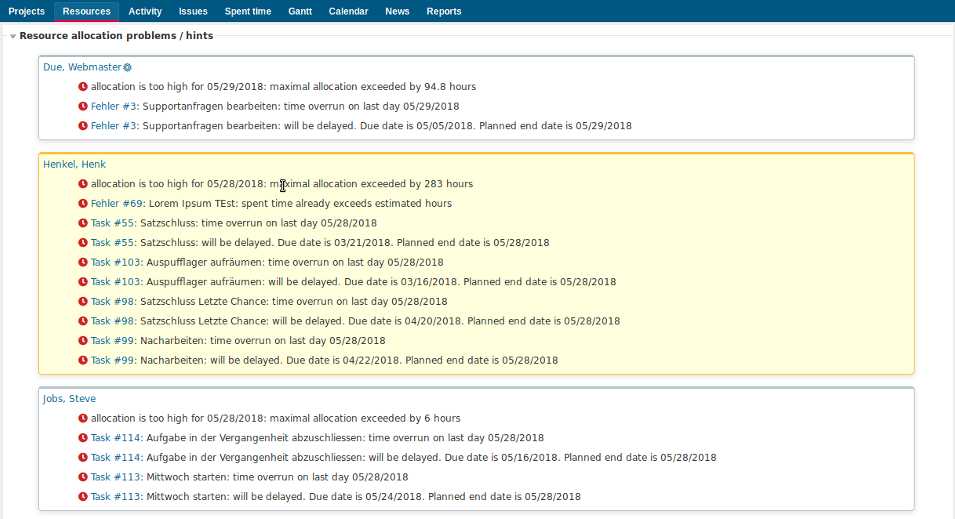 The box with the information can be shown or hidden. In addition to user-specific problems, general notes are also listed.
Although these do not represent a problem, they indicate tasks that may still need to be completed. For example, if you want them to be included in resource planning. For example, the following:
unassigned issues
Issues without estimated expenses
Rules for resource calculation
The resource planning of the Redmine HRM plugin is based on specially developed rules that influence the data of the planning.
This makes it possible to automate the resource planning tickets and to intervene manually only when necessary. This avoids micromanagement and leaves more time for other activities around the project.
If issues were discovered that no longer conform to the rules, they are listed in the corresponding information box. The project manager is directly alerted to problematic tasks, can more easily identify the cause and take appropriate countermeasures. For example, when he discovers the following messages:
Issue x is excluded from resource planning because the effort estimate is 0 hours.
The time spent exceeds the working time
The effort already exceeds the estimated hours
The issue will be late * Deadline is x. Planned end date is y
Timeout on last scheduled day x
Learn more about Redmine HRM Plugin. The attendance and resource planning for classic and agile project teams. The functionality can also be tested in our online demo.