The opensource issue tracking system Redmine is a professional useable and adaptable project management tool for web browser use.
With Redmine projects of all kinds can be implemented. Classical project management methods are also possible like agile project methods (Scrum, Kanban). As the software functions can be extended by the use of additional plugins the user can add many useful extra functions.
Now available: German Redmine book
For the german speaking readers we have written an extensively manual for administrating, configurating and using Redmine. The book is available as eBook in PDF file format, only. For more information visit our german web page.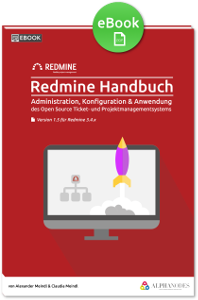 Authors: Alexander Meindl, Claudia Meindl
Language: German only!
Current version: V 2.0 describes Redmine version 4x
File format: PDF for MAC and PC (max 9 MB), 317 pages
Payment options: PayPal
Copyright © AlphaNodes GmbH, 2011 - 2019