The opensource issue tracking system Redmine is a professional useable and adaptable project management tool for web browser use.
Redmine
It is becoming more and more popular, is a flexible all-round talent and is not only used in IT projects, by public authorities, political parties or educational institutions. Many other industries also recognize the benefits of Redmine as a task management and PM tool. It can be used so flexibly that it optimally supports modern companies in the digitalization of business processes.
With Redmine, projects of all kinds can be implemented using classic PM methods. Those who rely on agile project management methods (Scrum, Kanban) are also well advised to use this software because it can be extended by many useful functions through plug-ins. The german Redmine book briefly introduces some Redmine 5 extensions.
As an alternative for our english visitors we offer an english Redmine online course to get to know Redmine and the basics working with it.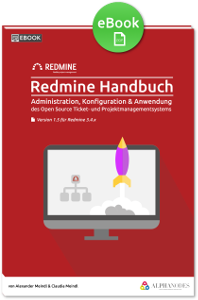 Authors: Alexander Meindl, Claudia Meindl
Language: German only!
Current version: V 4 describes Redmine version 5.x
File format: PDF for MAC and PC (9 MB), 336 pages
Payment options: PayPal
Copyright © AlphaNodes GmbH, 2011 - 2022