A Service Level Agreement (SLA) is an agreement between your customers and your support team. Or between the management and your IT department. Or between suppliers and you.
Usually it defines a time frame that one party (e.g. customer, supplier, department manager etc.) can expect for the solution of a problem or at least for the answer to it, if he contacts you and your team via the Redmine ticket system.
So you commit yourself to respond accordingly when a certain action is taken. With the goal of satisfying the creator in a timely manner.
What happens in case of non-compliance with the obligation, the two parties define in a written agreement. Normally, no one from the team needs to know this. However, it is important to define appropriate escalation measures in advance and to train your employees to adhere to the defined time frames.
Manage SLA in Redmine with Redmine Reporting Plugin
Redmine itself does not provide all necessary information required for SLA issues. You need to work with a plugin extension in order to use specific SLA functionality. The Redmine Reporting Plugin is equipped with a project-related SLA function to support your team with simple SLA activities that apply to issues in Redmine.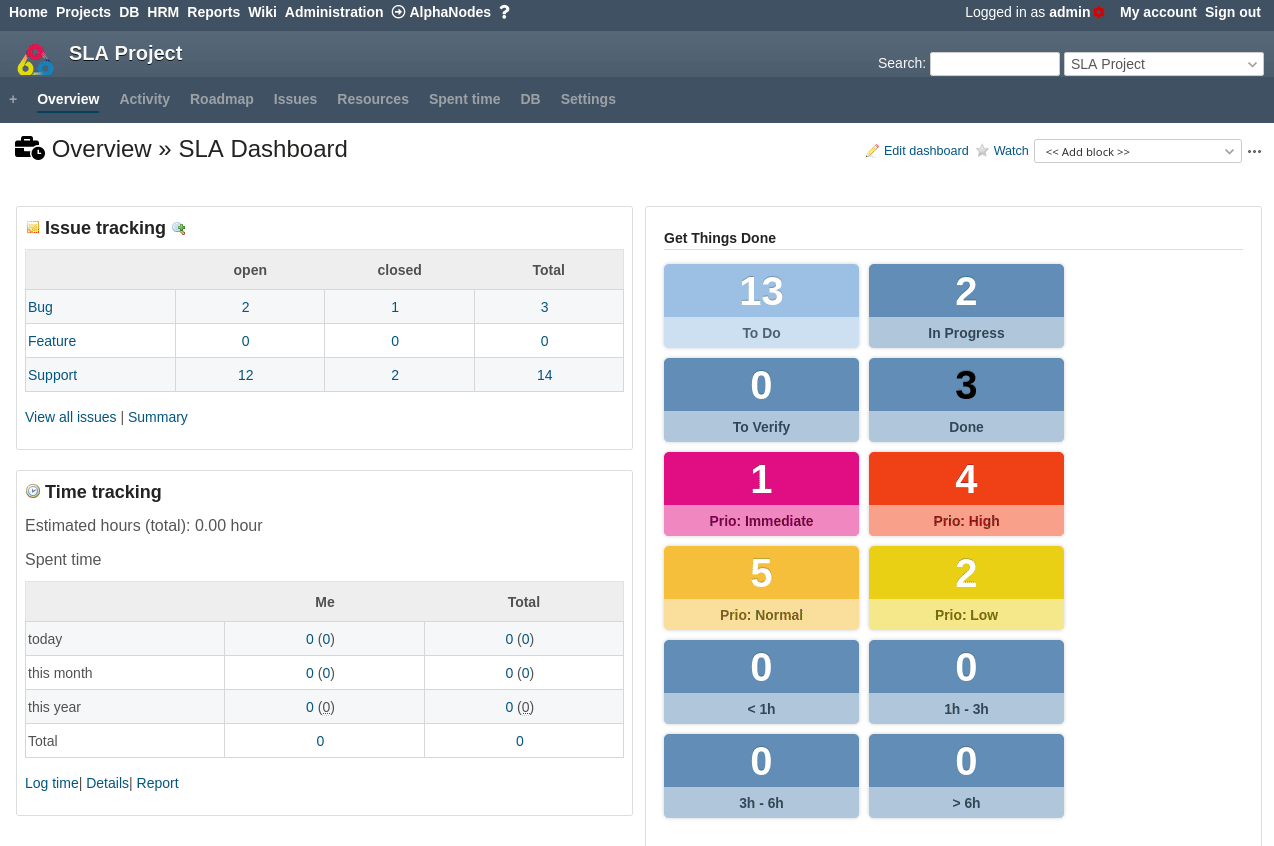 View the SLA functionality, provided by Reporting Plugin v3.0.4
SLA information does not always have to be displayed externally. This is ensured in the Roles and Permissions area by the possibility of a corresponding distribution of permissions for selected roles. You determine which user in a project can:
Manage SLA
View SLA
Execute SLA
Activate SLAs project related
If you activate SLAs for specific projects, you have a good opportunity to clearly define your support services and support your team in finding solutions. This way, it is clear to everyone in the team what is going on when they are assigned a certain task behind which a time frame for a response or solution time is defined by means of SLA functionality.
SLAs with the help of the Redmine Reportin Plugin are always priority-based. Thus, for each priority, you can specify a time frame for response and/or resolution of a task. Depending on the selected issue priority.
For example, you can specify that a commitment for an error issue with priority high is that the recipient must respond to the issue after 2 hours at the latest and should find a solution to the problem within 6 hours.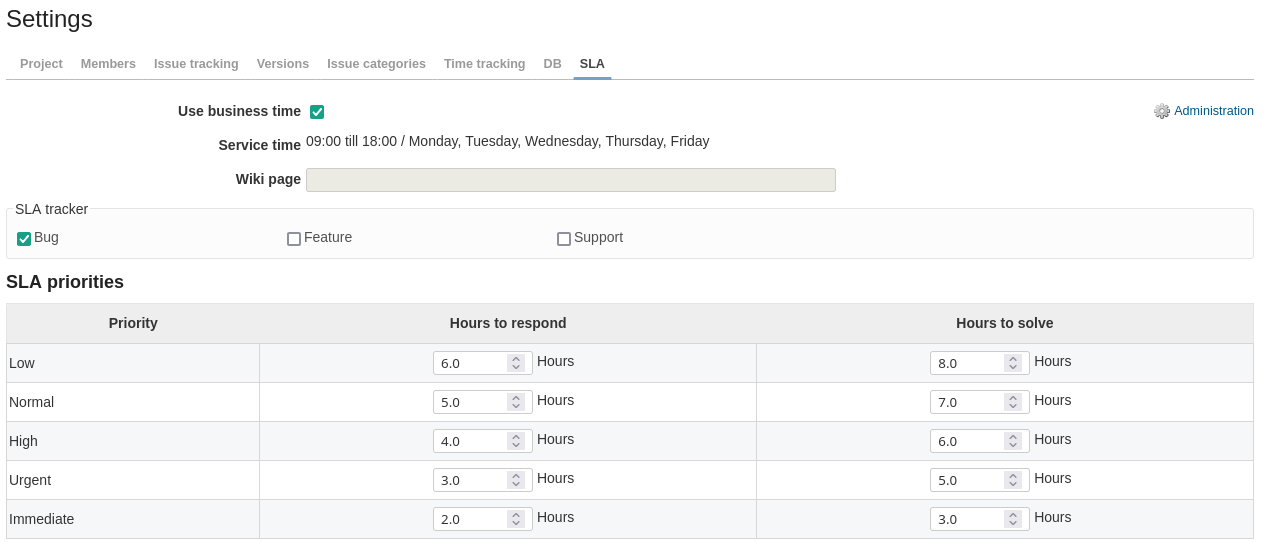 The SLA configuration takes place in the respective project configuration and can thus be defined individually for each project and tailored to the workflow.
Monitor SLA issues
With the help of additional filter options, SLA issues can be monitored well via individually created issue queries. Useful filters (available from plugin v3.0.4 onwards) for this are:
Issue life time
SLA respond time exceeded
SLA solve time exceeded
SLA issues
Hours to respond
Hours to solve
Add the SLA information dashboard block to your project overview page in order to watch all project related SLA issues (open / total).
In addition, by using the counter boxes, you can also ensure that your support team is alerted in good time to new, expiring or already expired SLA tickets on the home page or the project overview.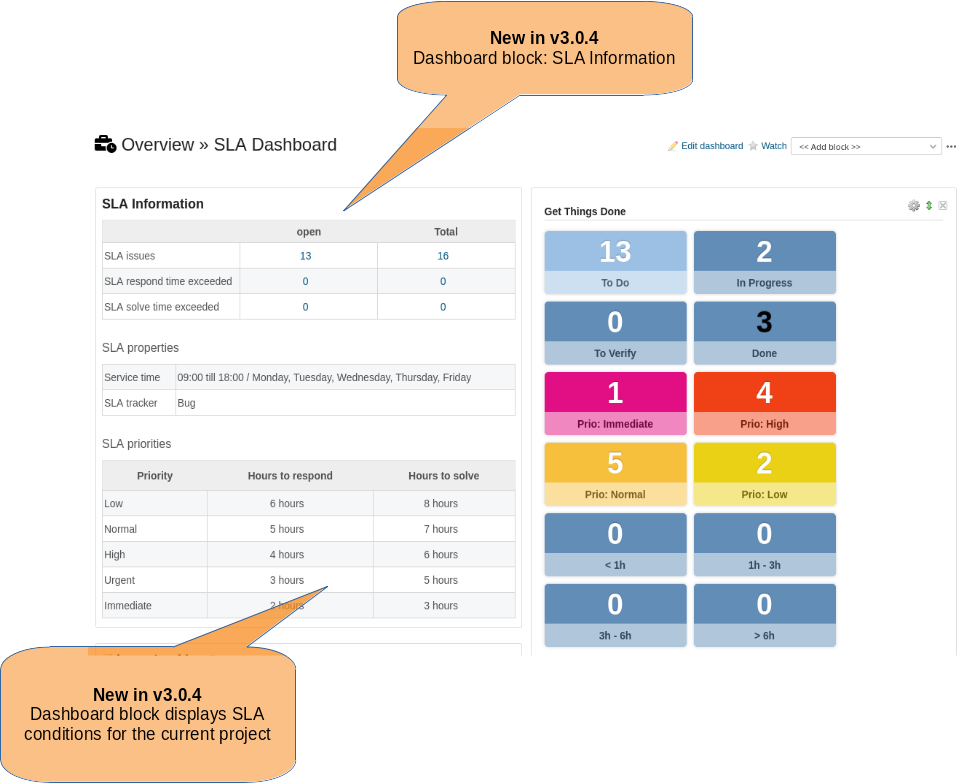 Why SLAs are important
Regardless of whether or not you have SLA agreements with a customer or stakeholder, there can be general benefits to using SLAs in a Redmine project:
SLAs for issues show for the first time how large the time frame is for beating requests and / or also how high the volume of certain SLA requests is. This makes it easier to perform a customer evaluation required for certain support requests.

If you use SLAs, you specify a time frame for responding to your issues. This also helps the support team to have a better overview of pending tickets. The customer knows when to expect a response and the support staff can plan their work accordingly.

SLAs help with prioritization. Many find it difficult to prioritize issues without an SLA. This work is made easier in this sense. Since SLAs in Redmine Reporting are based on priority, it is easier to decide which request should be handled first, as you have to choose between low, normal and high.

If your support staff sort SLAs by priority they can make sure that everything is answered in time. Unanswered SLA issues are easily identifiable, both for the customer and the support agent.

SLAs might help to measure or improve the support team performance. This not only contributes to customer satisfaction, but also helps you better identify what your team is actually doing.
Good to know
SLAs in Redmine Reporting are configurable per project.
The basis for the response / resolution time is the issue priority
SLAs have several advantages for you and your team
Why Priority Support
You might be wondering why our Reporting Plugin supports SLAs based on the issue priority?
Most businesses work according to the first-in / first-out principle. Issues in the queue are usually processed in order.
The approach works well as long as the issue volume remains within a manageable range. If the support requests get out of hand. Or if you don't have enough staff capacity to process the requests, then the issue life time and thus the waiting time of the issue author increases significantly.
Instead, your team's response time should be based on your customer's level of support and the urgency of the issue. Priority support highlights these customers and helps your team resolve their issues in a timely manner.
The SLA functionality is only one of the many Reporting Plugin functions. Learn more about it by viewing our feature list.
Useful for
The Reporting plugin described here is a commercial product from AlphaNodes. It is suitable for companies with multidisciplinary IT and business teams that use Redmine as a project management tool and need a better overview of schedules, progress, budgets and complex ticket relationships.
All information about our extensions for Redmine is available on the product page. The functionality can be tested extensively in our online demo. An overview of all features is available here.