In project management, there are increasingly labour-intensive phases in which ticket density increases and priorities constantly end.
Anyone who manages projects and individual tasks using micromanagement in such times wastes over 80% of his working time with coordination instead of completing tasks.
Redmine HRM Plugin
Especially in project planning it makes sense to give your employees the possibility to decide which tickets (so called issues in Redmine) are processed on which day. It is sufficient to simply specify the general conditions (priority, cost estimate, completion period).
Employees want to work independently and also decide for themselves which task is to be completed today. This not only reduces stress but also motivates the employee to see a sense in his work.
On the one hand because he is not constantly controlled. And also to be able to put a ticket in between, which is more fun today because of the task. ("I don't just have to work through one ticket after another stupidly. I am allowed to make certain decisions. The boss gives me a certain confidence.")
Hint and problem list
The Redmine HRM Plugin supports the self-management of project teams due to various basic configurations. It also provides useful hints for the resource overview.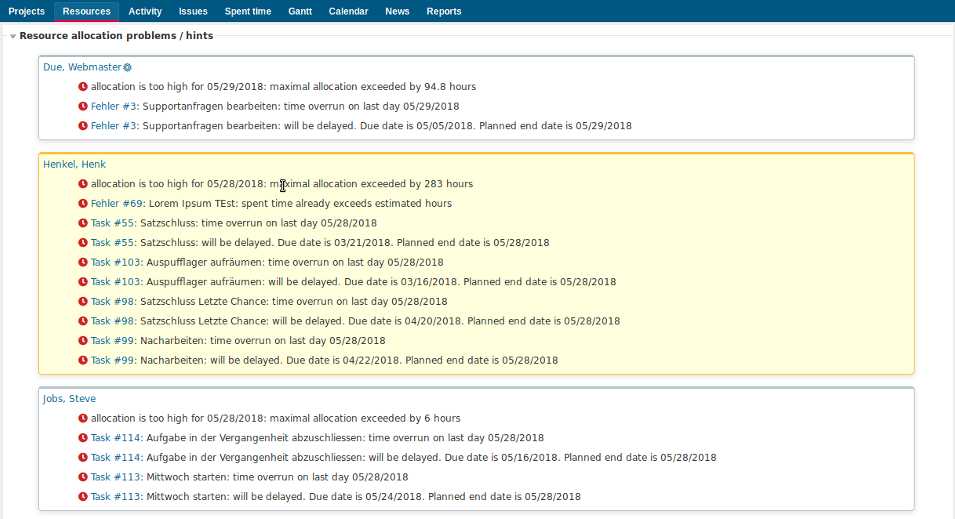 For example, if there are problems due to the given framework conditions, a ticket can be completed as planned.
Task view in the user calendar
Users are shown the upcoming tasks in the account in the calendar view and for when their implementation is scheduled on the basis of criteria such as effort estimate, time period, priority, etc.. The calendar always provides a real-time view and changes daily. If a ticket was not completed on one day, it is automatically moved to the next day. If this happens several times in a row and it is likely that it cannot be completed within the planned time period, the viewer is informed of this as a hint.
If new tasks are added or if the priorities or effort estimates of a ticket change, this is immediately taken into account in the planning. Even without manual intervention by a project manager.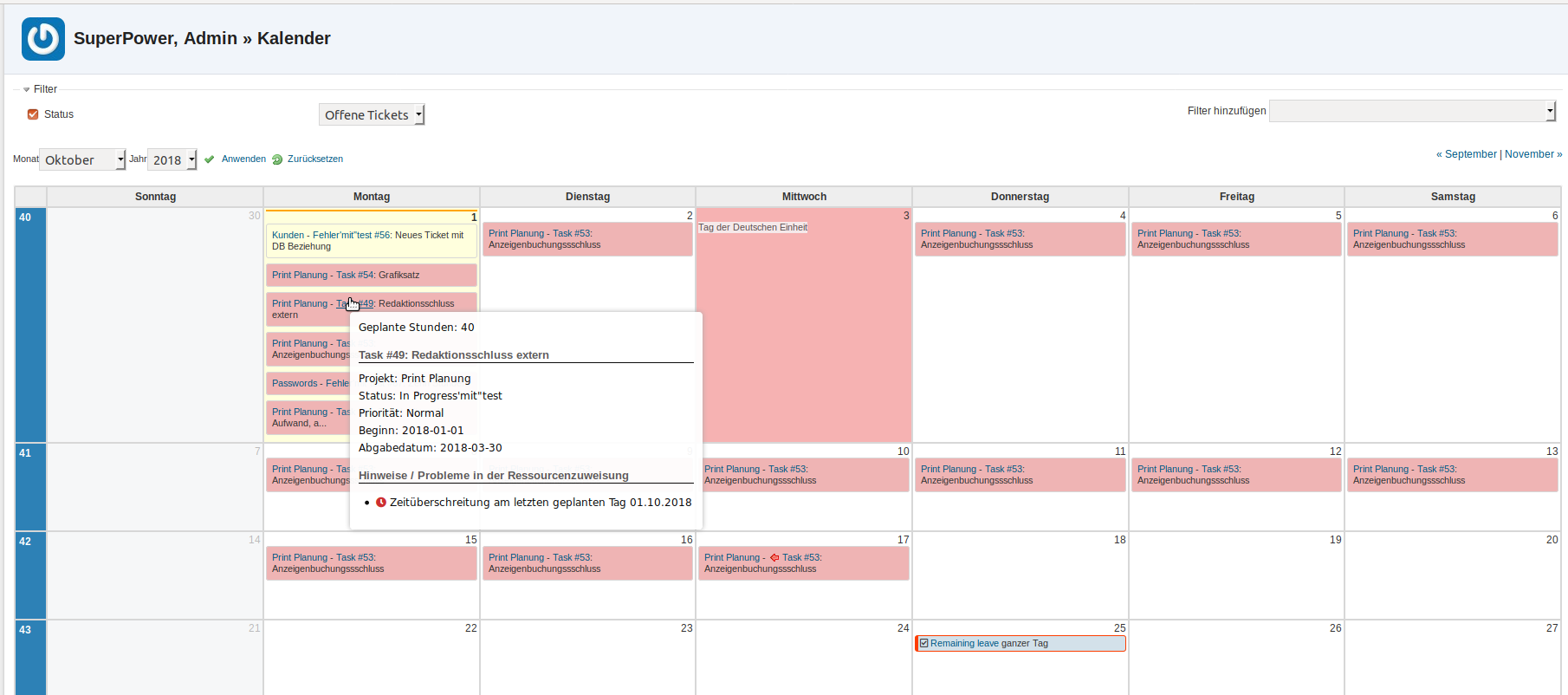 Whoever uses the Redmine HRM Plugin does not necessarily have to interfere in the day-to-day business. As a project manager it is sufficient to get an overview of the work in the resource view and only intervene if employees are obviously overburdened with their work, need support or there is something absolutely urgent to do immediately (which should be an exception rather than the rule).
Of course, it is possible to exclude tickets from resource planning. Or to find out about tickets that are not yet included in resource planning due to a lack of framework conditions.
Take a look at the plugin in our demo and get an impression of the features. More information is also available on our product page and on the webinar page.
More infos and details on our Plugin home page: Redmine HRM Plugin