If you use the Redmine HRM plugin for project resource management, then you cannot avoid the use of a leave and attendance management. This is the only way to get realistic resource calculations.
Attendance types
The integrated leave management allows your users to manage any kind of absence such as PTO, sick leave, maternity leave, vacations, personal days and many other via the user profile.
In addition, your employee can also lock his or her attendances in the office or remote work if he or she is required to do so.

Approval flow
The person accepting an application may be the superior or a substitute. As well as users of the appropriate user type according to it's permissions (e.g. HR department).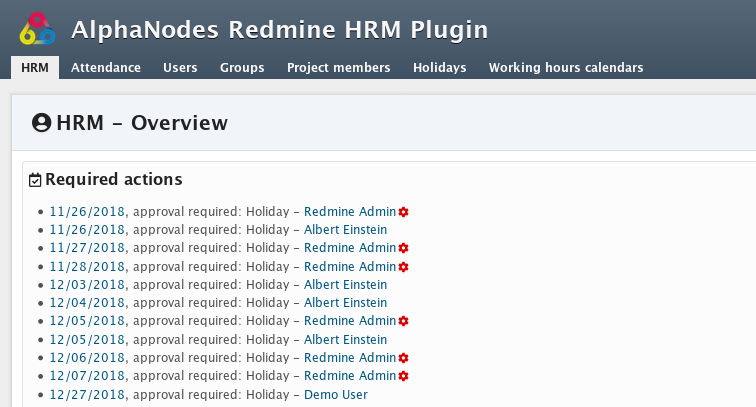 Individual configurations of attendance types
Users with the appropriate authorization (access to the administration area) can configure the attendance types individually to their companies needs.
Common attendance types are:
Office
Remote work
Vacation
Sick leave
Maternity leave
Personal days
Sabatical
Business training & workshops
Business fare
Leave management and attendance tracker
After successful installation and plugin configuration you access the Leave management and Attendance tracker in the user profile of your Redmine account via the App Menu.
The Working hours calendar gives you an overview of the employees working times.
The Attendance types table displays what kind of attendances the user can track.
Already added attendances can be displayed in the clearly arranged table view by using various filters and options.
Available export formats: CSV, XLSX, PDF
Bulk operations: Approval, Delete
Absence calendar
The Calendar in the user profile gives you also an overview of all added attendences per month. If the user has assigned issues that might conflict with his / her absence you will also see it in the calender view.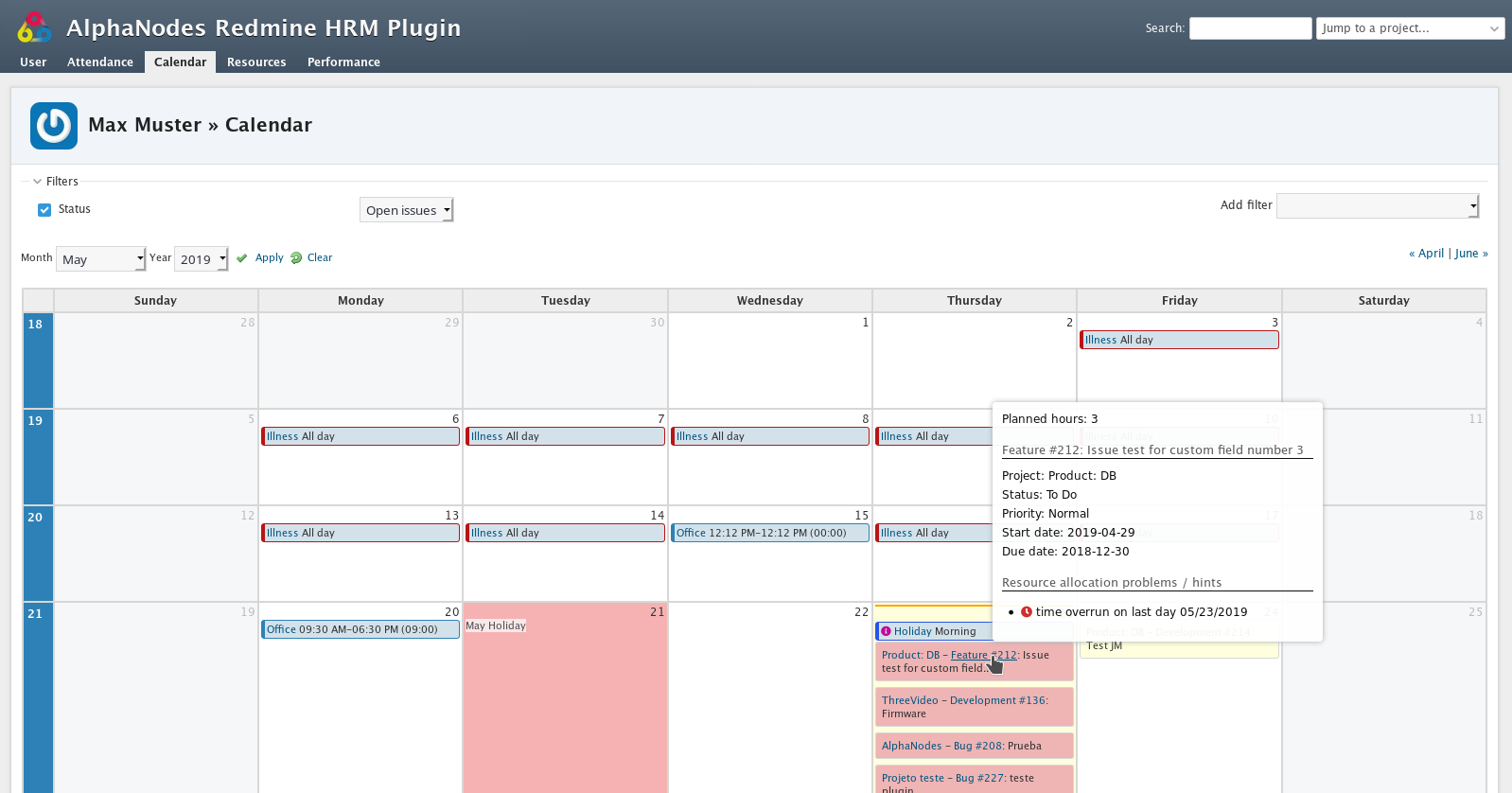 Synchronize all user calendar information by iCal feed, if necessary.
Testing leave management and attendance tracking
If you want to learn more about the attendance types of the Redmine HRM plugin, have a look at our plugin online demo. There you can test all functions of the Redmine resource management. More information is also available on our product page.
With the Redmine HRM Plugin you can connect your employee data in a meaningful way and evaluate available resources - project-related and cross-project, as well as user-related. Thus free employee potential is optimally used for current or planned projects. The Redmine HRM Plugin is our felxible resource management solution for Redmine. All plugin features are listet here