The Redmine Reporting Plugin is a customizable controlling solution for Redmine. It is equipped with numerous functions to create graphical evaluations and reports for projects, tickets and teams.
With real-time information, project progress is coordinated and decision-making is made easier. Especially with the help of counter boxes for custom queries, necessary steps and resulting follow-up actions become visible for project managers and team members.

Example: Counter boxes for the Redmine home page
In this article you will learn how to use counter boxes of the Redmine Reporting Plugin for project controlling.
Definition of project controlling: This is a part of project management. Project controlling aims to ensure the achievement of the project goals and thus to control the planned project process.
Project controlling in Redmine with the counter boxes
To give all team members of your projects an overview of what is important, it is worthwhile to use an important function of the Redmine Reporting Plugin: counter boxes
With the help of the counter boxes on the Redmine start page or the project overview page, you can easily keep track of important goals, project events and tasks.
All you need are:
Custom queries on the desired events
and the corresponding counter boxes.
As well as the appropriate query groups for placing the results and restrict acccess
Displayable values in the counter boxes from plugin version 2.0.5: Depending on which area (ticket list, project list, user list, password list, etc.) and which totals are available in the filter options of the user-defined query, the displayed values of the counter box can vary. Here are a few examples of what you could output: Cost, Budget, Number of entries, Time spent, Open tickets, Due issues, Number of issues, Closed issues, Estimated hours, Number of wiki pages, DB entries, passwords, members etc.
Step 1: Create query groups
Suitable query groups are created in the plugin configuration in the administration area. If you want to use this function, first activate the query groups. Then you create the required areas in which the individual counter boxes are displayed grouped. Various settings are available to define who, where and at which position the contents of a query group are displayed.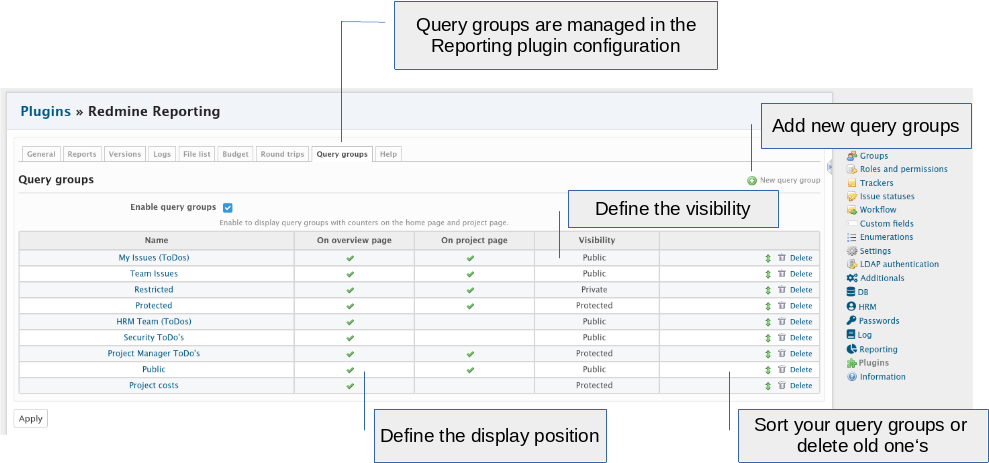 Step 2: Create Custom Queries
The next step is to think about the appropriate reports and create and save corresponding custom queries. It is important to think about which reports are important to monitor the project events relevant to your company and, if necessary, to intervene in time.
Step 3: Activate counter boxes
The necessary counter boxes are activated in the last step. When saving a custom query, as well as in edit mode, the counter boxes section is available in the lower area. As far as naming, arrangement and colouring are concerned, one is relatively flexible.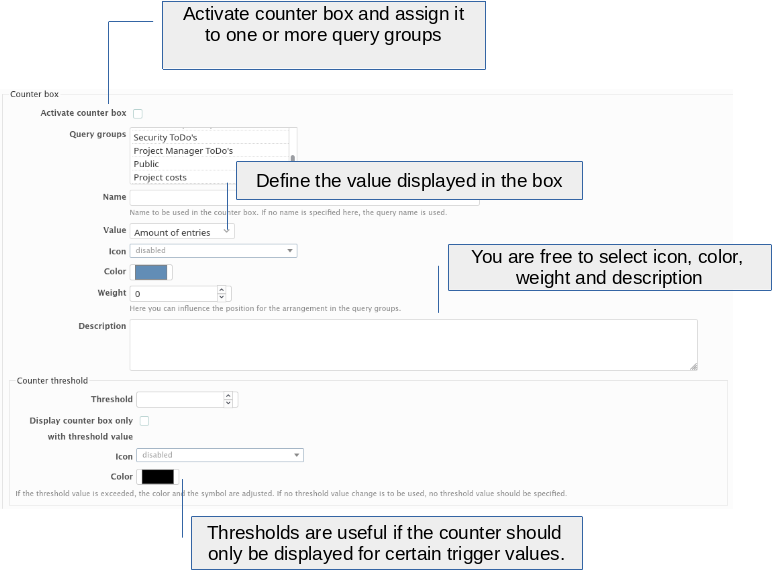 Counter boxes for project controlling
Project controlling is all about ensuring that the project goals are achieved and getting an overview of the current project progress. The following query groups can be created for this purpose:
Project costs
Personnel planning (only if HRM plug-in is available)
Scheduling
Accordingly, you can then use the filter options of the issue list, project list, version list and (if HRM Plugin available) the user list and resource view to create the appropriate custom queries.
Counter boxes for other project participants
For other team members and project participants, you can set up other query groups and configure the meter boxes required for this user group. Here are a few examples.
For administrators and security experts
Redmine Administrators are responsible for the configuration of the Redmine system and plugins. Often there are also other tasks. For example, ensuring compliance with certain internal company security measures. The following query group could be created for this:
Security checks
Security team
Security ToDos
Correspondingly suitable queries are with existing Passwords Plugin for example the examination of a use of obsolete passwords. In addition, you can evaluate certain system log entries of the last 30 days that seem strange to you (e.g. unauthorized deletion of content, an accumulation of failed login attempts, etc.).
If you have installed the HRM plugin, you can also track down inactive logins and discover the reason for them. Maybe accounts have to be deleted or blocked etc.).
For employees in personnel planning
In the human resources department, other activities usually arise, such as the evaluation of time entries or approval of absences, etc. If the HRM plug-in exists, team members from the HR department can define custom queries for their activities in a corresponding query group and place them here as counter boxes:
HR Team
Personnel planning
This ensures, for example, that the monthly hours have been booked accordingly and can be invoiced. Or that the project planning is realistic when absences such as holidays and further training are entered.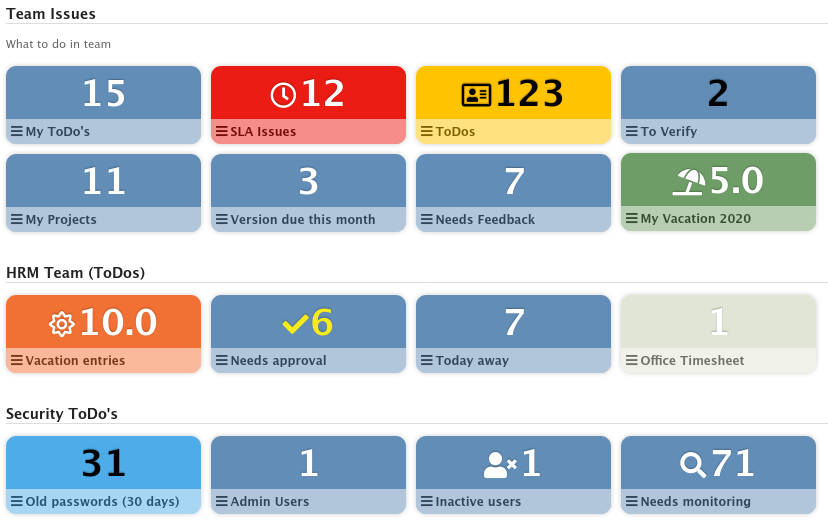 For all team members / employees
In order to increase productivity and make it easier for employees to use Redmine, we have already shown a few possible applications in the article on the Getting Things Done method. We refer to this at this point.
If you want to test the counter boxes for project controlling, you can take a look at the functions of the Reporting Plugins in our Redmine Online-Demo. More information can be found on the product page. We are happy to help with specific questions.