The Redmine Automation Plugin is a feature extension for current Redmine versions. It supports project managers not only in freeing their team from the burden of manual, repetitive tasks by means of automation, but also in the automatic escalation of certain situations.
Escalation of certain project scenarios is a professional act and part of a project manager's job. Nevertheless, it is an unpleasant task because it requires dealing with a problem that needs to be solved by a third party. Or should at least make a superior or customer aware of a specific (negative) situation (information escalation).
Typical escalation triggers
In every project, there are situations that require special attention. These include, for example:
Risks or disruptions that jeopardize the planned end of the project.
unsatisfactory processing paths or processing times of involved employees
budget overruns or otherwise unplanned financial expenditures
the need for possible solutions to determine the ETA (Estimated Time of Arrival)
other (massive) disruptions that impact ongoing business operations
team-related situations, such as resource and group conflicts, unclear roles and responsibilities, third-party dependencies, etc.
No matter for what reason you as a project manager start an escalation process. The goal is usually always to draw the attention of a supervisor or decision maker to a specific problem. With the goal to start a discussion, to achieve a certain action or at least to inform about certain procedures.
Whereby an early, proactive escalation based on certain indicators is always better than having to deal with nasty surprises and costly rework of the project due to late started (or missing) escalation.
Triggers of the Automation Plugin help with escalation
And this is where the Automation Plugin comes into play. In order to start an escalation measure as pro-actively and early as possible, it provides various event-based automations that can be used as triggers for certain automations.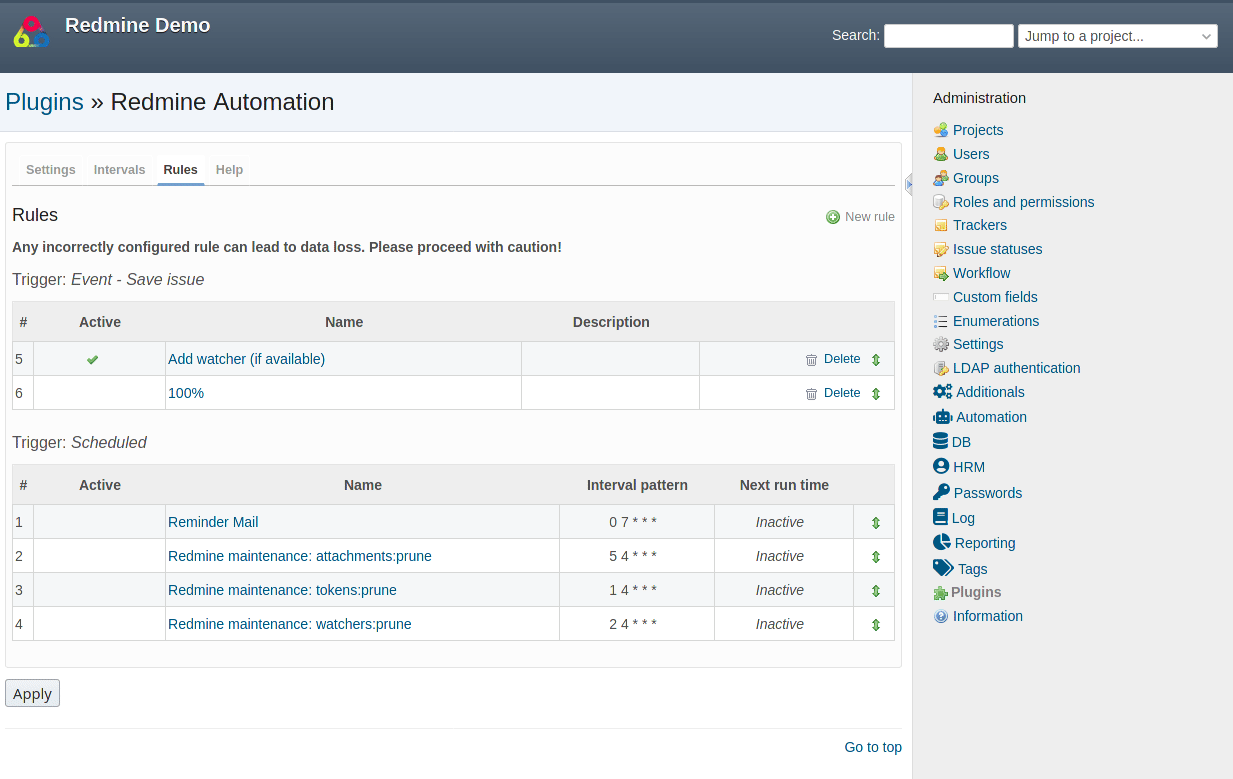 Automation rules help to escalate a certain situation as early as possible.
Typical triggering events are for example:
User Login (HRM Plugin)
Save User (HRM Plugin)
Save ticket
Save project
Save spent time
Typical escalation actions
The Automation Plugin allows you to create escalation rules. Based on various filters and options, certain characteristics can be set as conditions for projects, issues, spent time entries or users, which (if they occur) will initiate the escalation process. Whereby it should be about the execution of a certain action. Such as:
the assignment of a task to another employee
the change of priorities or content within a task
Notifying the issue creator or project manager (e.g. set watcher).
e-mail notification of a supervisor, customer (stakeholder) or similar
locking of a user account or informing a specific user
execution of certain functionalities (by webhook, shell command)
and much more
If you define escalation procedures and hand them over to a tool like Redmine Automation Plugin, you free yourself from the burden of an unpleasant but necessary task. And does not get into the situation here to hesitate too long and (if necessary) also to escalate in the customer's organization.
All information about our extensions for Redmine is available on the product page. The commercial Automation plugin is available in a cheaper bundle. It requires the Reporting Plugin. Customers whose Redmine does not meet the minimum requirements or who prefer to hire someone to install and regularly maintain their Redmine instance have the alternative to book our Managed Application Hosting for Redmine. Here, the plugin is already part of our hosting offering. The functionality can be tested extensively in our online demo.
Further information