Regardless of whether your team members are working remotely, in the field, or on-site at the office. You can easily view and monitor employee absences from anywhere via the web interface using our human resource management plugin for Redmine, called Redmine HRM.
The Redmine HRM Plugin is a feature extension for current Redmine versions. In order to plan employee resources for your projects or product development, as well as for attendance tracking and monthly time sheet reports of your project team.
The absence calender of the HRM plugin not only provides you with an overview of your internal employee absence entries. With the help of numerous filters, it is possible to track down users, subordinate employees (via supervisor), concrete absence types and much more. Depending on the respective custom fields assigned to your users.
Transparency and more efficiency for the HR department, supervisors and decision-makers
How effectively your team works together depends, of course, on your staffing plan. Attendances and absences both need to be kept in mind. It's the HR department's job to make sure that not everyone in a team is on vacation, away for business training, or otherwise absent at the same time.
To make this task easier for you, the Redmine HRM plugin allows you to centrally overview the entered attendance entries of your internal employees. By providing you an absence calendar view in the HRM area. An restricted accessible area for personnel management within Redmine.
Redmine employee absence calendar
While spreadsheet calendars can do the job, an absence calendar like the one provided by the Redmine HRM plugin has other advantages and allows you to quickly recognize poor attendance patterns.
It is easier to use, more secure than spreadsheet-based calendars, requires less manual effort and can be quickly customized to the current user's needs. Using the various filter options.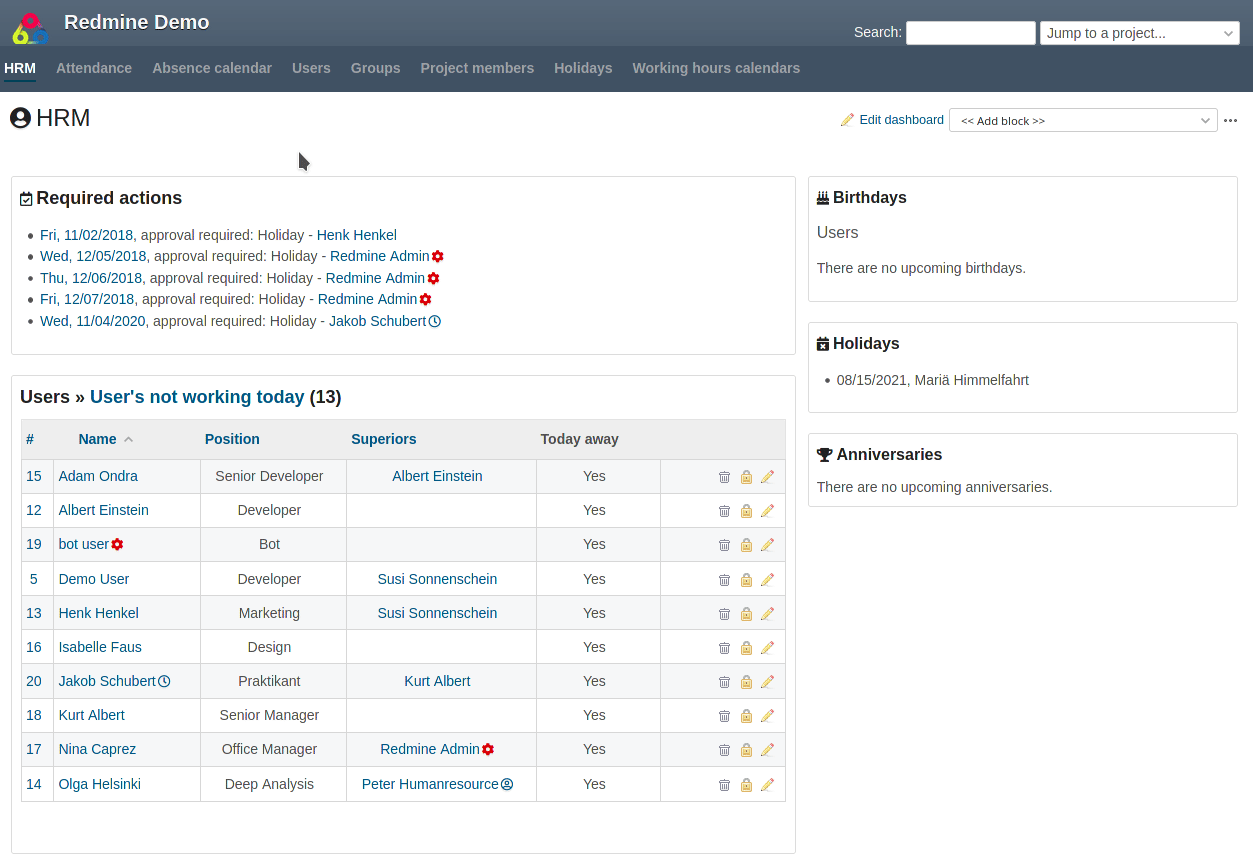 Track your employees absences month by month - for better transparency and efficiency.
Key Features
Displays the employees absent for a particular month.
Allows you to view absence entries based on various information such as attendance type, user name, superior, custom fields for users, etc.
Highlights legal public holidays in different colors on the calendar for easy visibility.
Highlights different users for absence entries like vacation days for easier identification.
Minimizes staffing issues by displaying who's absent and for how long.
A streamlined employee attendance and absence list can be a convenient way to monitor and manage human resources for your project or company wide.
Conclusion
An absence calendar is undoubtedly a valuable accessory for human resource management employees.
It doesn't matter if your company has a team of five employees or hundreds. If you're well organized and use appropriate tools, you'll save yourself tedious, manual work and valuable time.
And if you are already using Redmine for project management. And want additional features such as resource planning, advanced reports, attendance tracking (internal employee or freelancer), you should definitely choose a plugin like Redmine HRM.
Redmine HRM free demo
Do you want to learn more about Redmine HRM features? You can find detailed information about features, benefits and pricing on our website. Or take a look at the possibilities in our online demo: Our public demo instance is available at any time and great for getting a first impression. The plugin is multilingual and suitable for remote teams, as well.
Further information