Redmine already makes workflows and projects more efficient in your company. But specially in larger teams, spread all over the world connecting with your co-workers might get a little bit difficult.
This is where Redmine HRM Plugin comes into play. The Redmine HRM Plugin is a solution for working time recording and personnel allocation planning in global enterprises working with project teams spread over the internet.
Redmine HRM Plugin extends user information
Companies using Redmine HRM Plugin are working with an extended user profile and can add custom information to a user profile using Custom fields for Users in the administration area.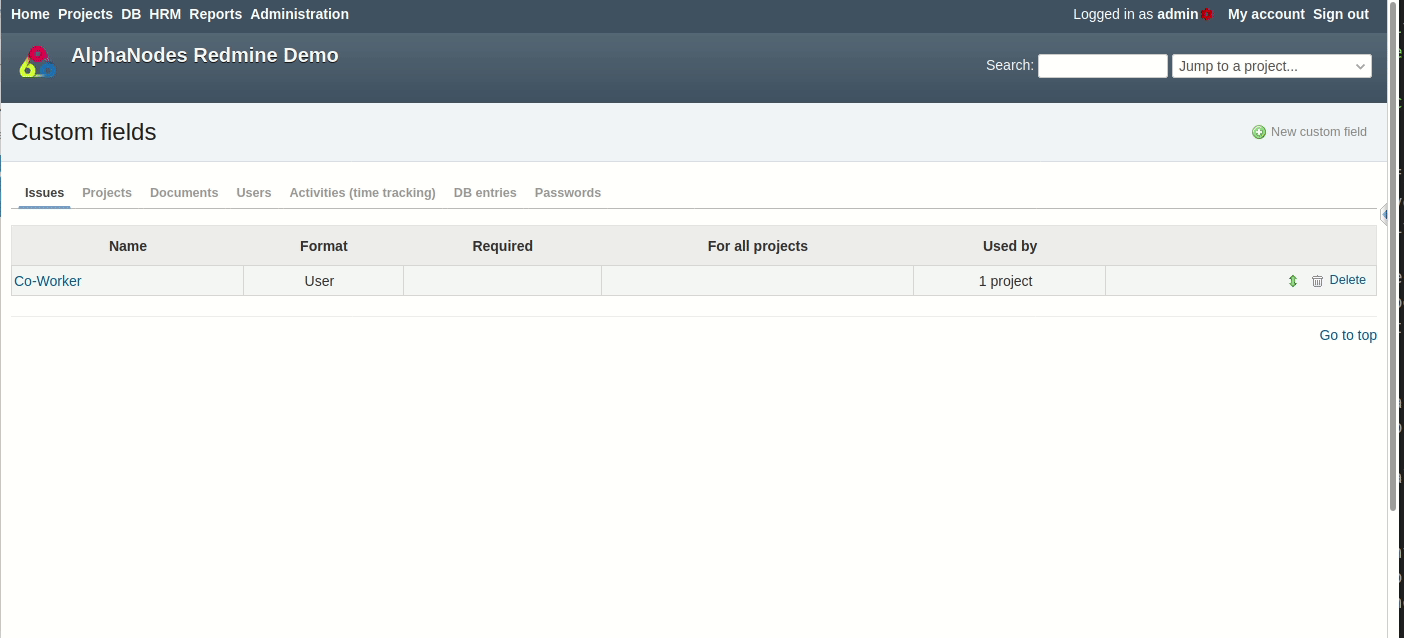 Weather it is additional contact information, Personal skills or any other information relevant to you. You can customize the user information via custom fields and make them visible to any users or just a specific user type of your choice.
Redmine HRM Plugin is ideal to provide access to specific user information, important to you and your team. Using those details will help your team to integrate better in their working environment, especially if they are remote workers.
The extendes profile pages letting you know more about other users in your Redmine.
Redmine standard user page
The standard Redmine profile page looks like this. It's a one-pager containing information on the user itself as well as the users issues, projects, groups and activity. It's sufficient for small teams with user's active in a few projects.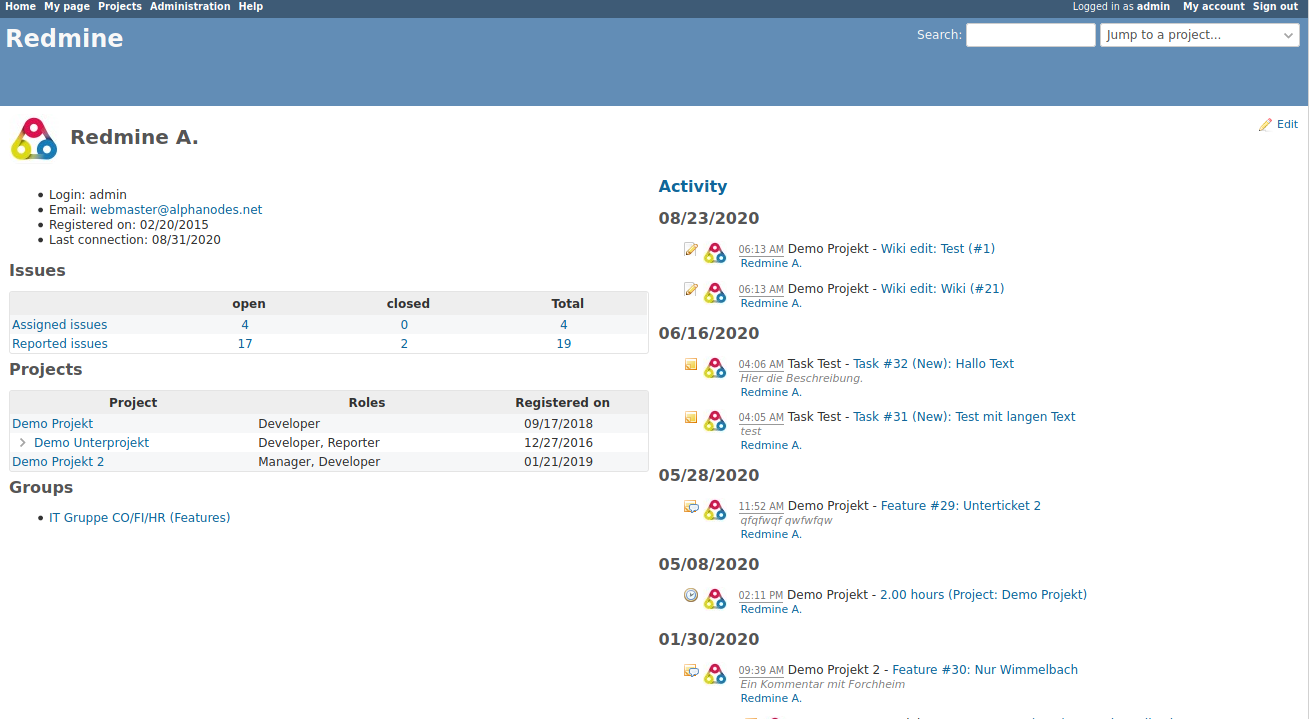 The standard Redmine user profile is a compact view of all stored user information.
Redmine HRM Plugin user page
The Redmine HRM Plugin user page looks like this and makes the digital work environment more personal and interactive. The user account is divided into the App Menu section, where the main items are located:
User
Attendance
Calendar
Resources
Performance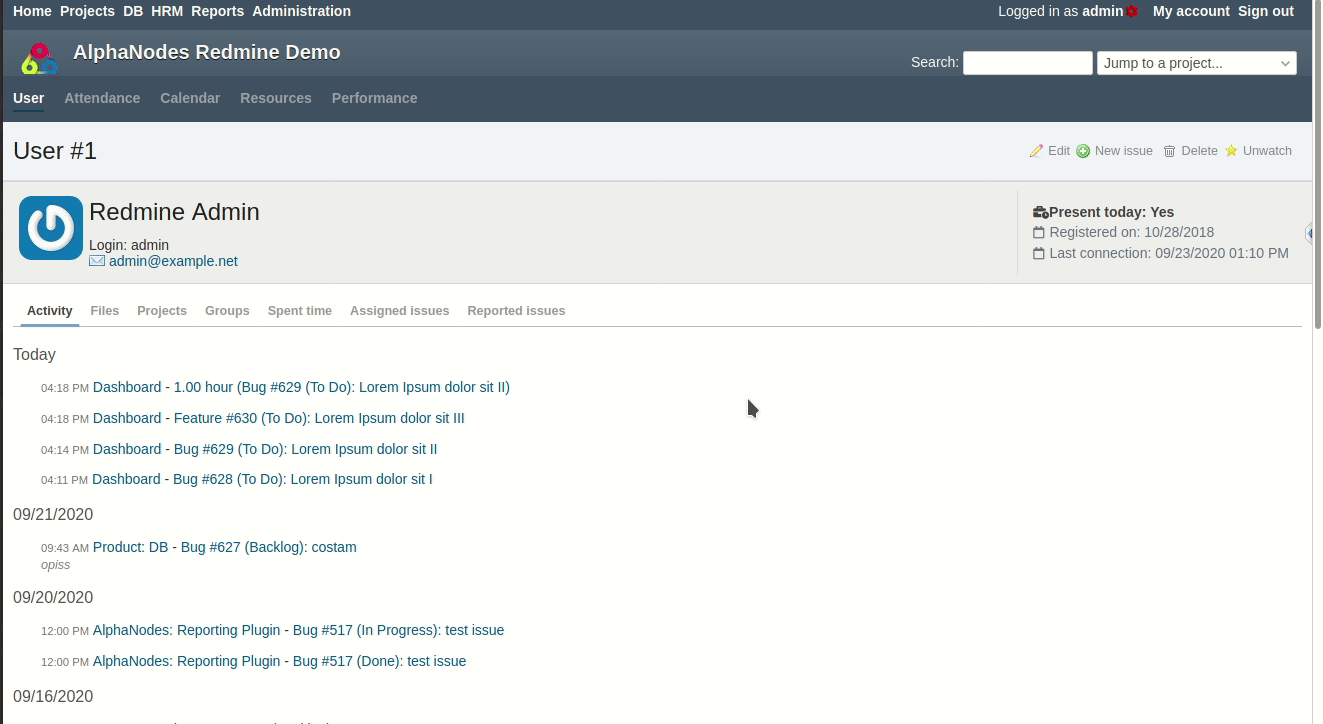 The Redmine HRM Plugin user page is divided into several areas and ideal for employee self service.
In the User area you will find a further subdivision into tabs, which mainly refer to user activities. In the edit mode of the user account all system-relevant information can be stored.
Redmine is capable of working with LDAP (e.g. redmine_ldap_sync). Which means Redmine is capable of syncronising information with other systems, to keep your data up-to-date in all your working environments, that support this.
Advantages
The HRM extend the standard user profile providing additional information.
The extended user profile of the HRM Plugin lets you know more about your users and makes teamwork more efficient.
The extended user profile becomes an important contact point for the user. Information stored there is also relevant for employee self-service.
Another advantage is the user list of the Redmine HRM plugin. This provides employees with appropriate authorization a fast access to relevant information from the user profile. The filterable list facilitates the search and can be exported into other formats for further use.
Advantages Redmine HRM extended user profile
The Redmine HRM Plugin extends your standard Redmine installation with an user profile extension. Some advantages you get when using the User profile are:
| | | |
| --- | --- | --- |
| User profile | Redmine basic | HRM plugin |
| Suitable for small teams with less project activity | | |
| Suitable for larger teams and remote teams | - | |
| Cleary structured view of relevant user information | - | |
| Filterable user list for relevant profile information | - | |
| Exportable user information in the HRM area (CSV, XLSX) | - | |
| New user creation without administrator access | - | |
Test HRM function for Redmine
The HRM Plugin is an extension of the Redmine Reporting Plugin. It is available as Bundle. Use our online demo to get to know the HRM functionality and how it extends the user profile.
Keep reading