In many companies it is common to manage resource planning via Excel spreadsheets. This is available for the team to view on a share drive and should be updated regularly.
This may be a practicable and cost-effective solution for planning in small teams. But with multiple simultaneous projects and different workflows and schedules, Excel planning of team resources can quickly become a major challenge for project managers and stakeholders.
Disadvantages of a spreadsheet
On the one hand it is difficult to work on the file at the same time. On the other hand, additional information is not directly visible. In addition, not everyone in the team is so accurate to keep his times up to date.
Team planning, resource planning, capacity planning
A better solution is the use of special software, which outputs the current data stored in the system in real time for the planning of future projects. This not only saves time but also frustration.
Redmine HRM Plugin
For an example, our customers like to use the following functions of the Redmine HRM Plugin:
The timeline view of the team members in the project-related resource view - planned hours. This can be minimized to certain team members with the help of the filter functions.
The values contained therein for: hours already planned, hours still available, total capacity of the listed team members. Everything related to the selected time period.
The attendance area of the user account for booking planned (unplanned) attendances/absences (e.g. vacation, training, illness, etc.).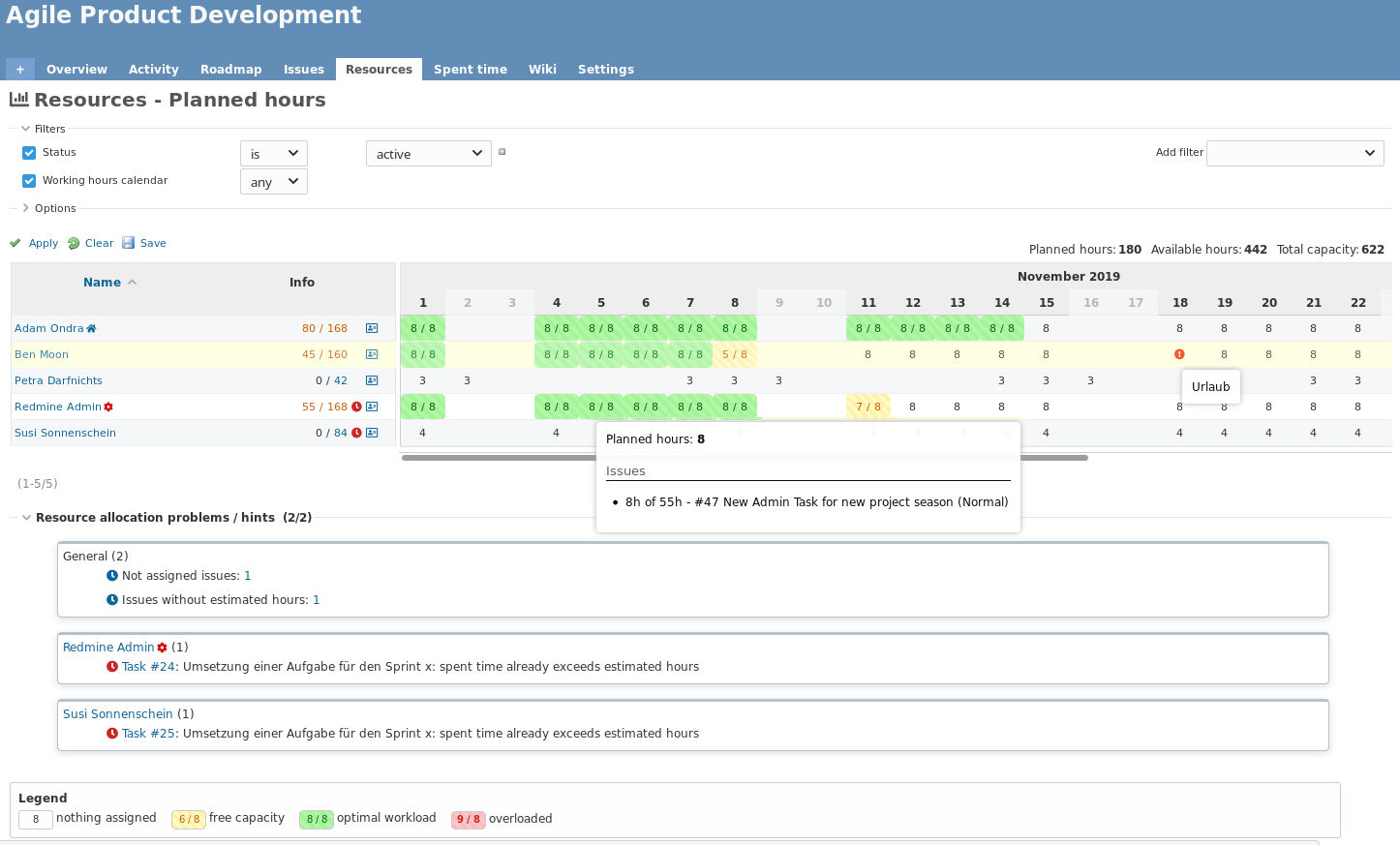 Solve allocation conflicts more easily
Many have a weekly meeting to discuss allocation conflicts with the project leader. Since the HRM plugin is seamlessly integrated into Redmine, everyone can immediately see where the problem is and work out a solution with the project manager.
Most Excel spreadsheets are not very precise here. The Redmine HRM plugin provides the necessary data at a glance. Everyone (with the appropriate rights) sees the workload of the members of their team. Which tasks are on the agenda and what to work on.
Advantages of Redmine Resource Planning
A straightforward and transparent planning is an important part in every company to achieve its business goals.
Our Redmine HRM Plugin helps to foster good planning methods.
It gives team members clarity on what to do and provides a visual representation of workload.
Who commits himself to deliver a product to a customer at a certain time, must know whether the delivery date with the extent of utilization of his team can be kept realistically.
The HRM plugin uses Redmine's estimated issue times and priorities, as well as time spent on completed activities for more realistic scheduling.
The Redmine HRM Plugin extends the basic installation of Redmine with nice features, but it is not too hard to use. Once configured, it runs and is not complicated. Integrated automatisms take over the ticket assignment if no specific tasks have been defined on a specific day.
Testing Resource Planning
If you want to know more about the Redmine HRM Plugins, have a look at our Online Demo. There you can test all functions of the Redmine Resource planning tool.
The Redmine HRM Plugin helps to find available employees for certain periods of time more easily and thus to use them optimally for current or planned projects.