You want to send your employees to their home office with a clear conscience? Then you need tools that make relevant information and data centrally accessible for every team member.
Distributed project teams need a shared platform so that they can access their tasks while on the road. The easiest way to do this is to use software that can be accessed via web browser. Redmine is such a web-based software for managing projects and tasks.
And because we at AlphaNodes also want to have flexible access to our project information, you can be sure that the functions we provide for Redmine are optimally geared to the needs of remote teams.

Time recording for issue expenses
Whoever works on a task for customers will usually record this effort somewhere. Redmine already provides a standard way to record time spent on a ticket.
So nothing is forgotten and the stakeholder or customer gets a transparent insight into which activities his planned budget has been spent.
By the way, if you provide a time estimate in addition to the time spent on a ticket, you can better plan such (or similar) tasks for the next time. Because the comparison between the expenditure estimate and the time booking shows
how extensive the task actually was.
how good (or bad) the task description was.
Working time recording (presence and absence management)
If you can no longer welcome your employees personally in the office every day, then many entrepreneurs are obliged to record the working hours of their employees in a different way.
A tool like Redmine HRM plugin, with which you can document the presence and absence of your remotely working team, is very useful in this case.
Team members working in the home office can not only enter their vacation online, but also register other absences or training courses. Or, of course, they can book their daily working hours and generate monthly timesheets. These can then be viewed by the HR department and serve as the basis for monthly payroll accounting.
Project resource planning
The HRM Plugin is primarily used for project resource planning. If all resulting absences such as vacation, illness, advanced training etc. are deposited, one already created the ideal conditions for a realistic resource and project planning.

Project managers can use visual resource planning to monitor project progress and plan new projects more easily. In general, a visual resource tool is easier for users to understand because it clearly shows how all their usually limited resources are used in the project cycle. This reduces the communication effort enormously when it is immediately apparent whether or not planning is feasible with the current team.
Central password management
A team-oriented password management is generally important, but is more necessary than ever, especially for distributed teams. After all, sensitive project data (which includes access information and passwords) should not be shared via insecure channels such as e-mail, What's App or other online chats.
The Passwords Plugin is ideal for teams that need to work together effectively to achieve the best results, but don't want to constantly search for important access information.
Those who store relevant accesses directly in the project-related password management know where to find them and do not need to worry about them falling into the wrong hands. Because access can also be defined within the project via roles and rights management.
Reports and dashboards for project managers and stakeholders
What is the current status of certain projects?
Who is currently working on what exactly?
Where do budget overruns occur?
If you keep an eye on important project key figures, you will become aware of bottlenecks or problems in the course of project activities in good time.
The Redmine Reporting plugin provides graphical evaluations and reports for this purpose. It also provides numerous possibilities to compile important project criteria in Redmine in a more visually appealing and informative way than the basic Redmine installation. So even less technically experienced users can use the information.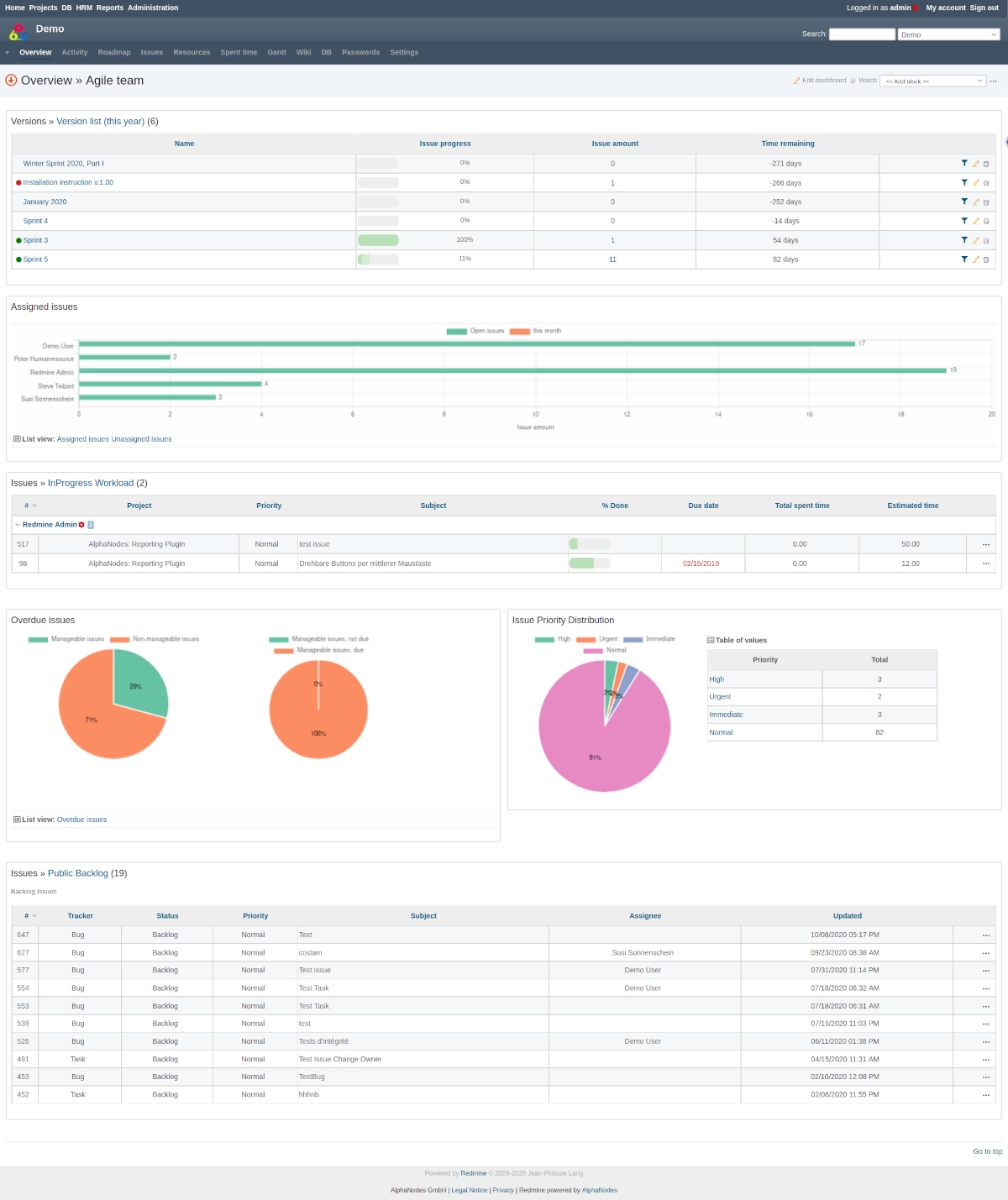 Because the Redmine application hosted by us provides dashboard support, you can create custom dashboards for different Redmine users with information relevant to each user group. For example, the Redmine home page becomes a central information point for all ongoing projects.
This way, users, project managers and stakeholders benefit equally from the information managed through Redmine.
Automation of workflows and processes
In every project, there are recurring tasks that are completed quickly, but the final documentation in Redmine always requires a certain amount of time.
Or, for certain tasks, special information is relevant that must be taken into account when creating the project. Such things and more can be optimized in a time-saving way and quickly escalated in an emergency. With the help of automation.
Reducing repetitive, manual tasks and automating processes helps your team to focus more on the relevant activities. Especially in the home office you have enough distraction. You don't want to waste your time on stupid tasks like ticket management.
We have recognized this necessity and offer our hosting customers the possibility to use the Redmine Automation plugin for this.
Test Redmine and our plugins
Do you want to learn more about the Redmine features and our plugins? Have a look at the possibilities in our online demo. Our public demo instance is always available and great to get a first impression of what a Redmine managed hosting solution from AlphaNodes has to offer.
Redmine Managed Hosting offer is suitable for:
Project managers and stakeholders
Teams in marketing and product development
for freelancers with specialized services
Redmine Managed Hosting feature set includes
Project and task management, time recording
Wiki, news, discussion forum and document management
Task calendar and Gantt chart
extensive rights and role management
Ticket workflows and e-mail notifications
AlphaNodes Managed Hosting customers also receive the following additional features:
Digital asset management of project information
Team-oriented password management for sensitive project data
Extensive reports, graphical evaluations and analyses
Ticket SLA options, improved usability and applications to increase productivity
Visual resource planning, as well as presence and absence management for project teams
Automation tool to optimize workflows and processes in Redmine
Keep reading