Have you always wanted an overview of the macros available for your Redmine instance? You want to make it easier for your users to implement macros in the wiki or tickets?
With the new Additionals function Macro Button for the Wiki Toolbar this fact is no longer a problem.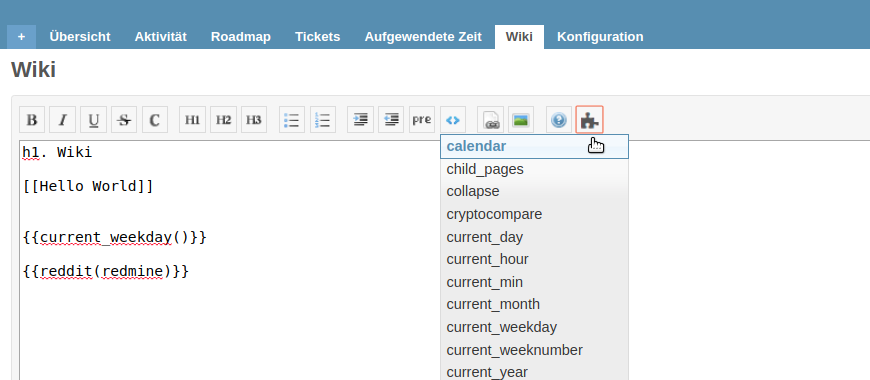 What are macros?
Macros are small text modules in a program code-like notation that transmit certain function instructions to Redmine. A possible function is for example:
the output of a certain number of issues,
Today's date,
or embedding a YouTube video.
The use of macros helps you to extend a wiki page or issue description with useful functions or to add dynamic content. Which are then provided by Redmine directly or by an installed plugin.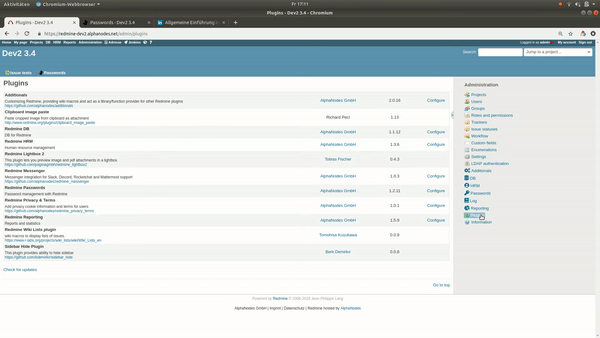 Macro list for Redmine Wiki Toolbar
So far it was quite cumbersome for Redmine users to get an overview of the available macros for his / her Redmine installation.
The new function of the Additionals Plugin extends the Wiki Toolbar with the Macro Button which is available to every Redmine user. One click and the macro list opens which can vary in length depending on the user and project.
Which macros are displayed in the macro list depends on the following criteria:
which rights the user has in the corresponding project. Only the macros of areas to which the user has access due to his role authorization in the project are displayed.
Which modules are activated in the project. Only the macros of the functions and plugins that are active in the respective project are listed.
The area in which the user is currently located. Macros that can only be used in the wiki are only displayed in the wiki area and not in the issue area. The other way around it is the same.
Conclusion
We think the Macro button for the Wiki Toolbar is a useful functional extension of the Additionals plugin. It not only facilitates usability, but also provides a better overview of which macros are available to a user. It also promotes the increased use of macros by the user. Those who work a lot with the Wiki will be animated to work more with dynamic instead of static content.
The function presented here is only one application of the Additionals plugin. There are many more possibilities how you can optimize your project success with the free extension. Details what else the tool can offer you to advance your projects can be found on the plugin page.