The winter edition (version 3.0.8) of our Redmine power plugin Reporting will be equipped with a new feature: Board view for issues.
This feature is intended to transfer the standard issue list of Redmine into a clear structured, digital board (Kanban board) for all your issues. The project management tool Redmine gets another useful view option to improve clarity and usability with our new Task board view (a Reporting plugin feature).
What makes a tool like Redmine Reporting distinctive is that we integrate the functions into Redmine where they are needed. By integrating the board view within the issue list, no one needs to leave their usual workspace. Your users can use the board view both globally (for all Redmine issues) and within a project (for project related tasks).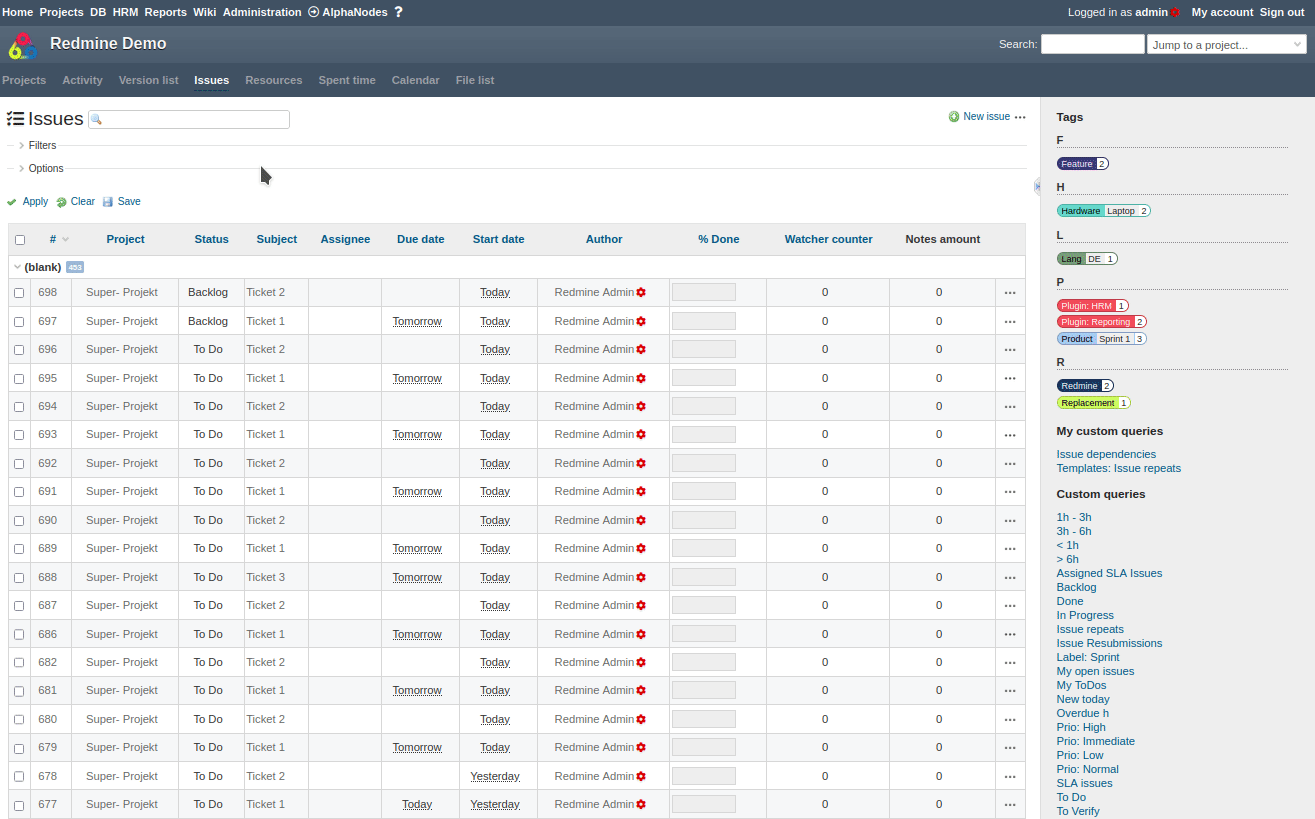 You might use the board view as Kanban board in order to map or visualize the planned workflow. Depending on the team size, the view can quickly appear confusing and crowded. So make usage of the general issue filters in order to limit the content accordingly to your needs.
In the plugin settings you can define:
whether the standard display is the board view instead of the typical list view.
whether the project color is used for the individual cards. Project color is set individually in the project configuration.
whether empty status columns remain collapsed by default. The regular issue filter called Status is used for this

Kanban Board as central point of contact
You probably know, that Kanban has been established as a method for agile project and change management. In many project it enables project team members to organize their work largely autonomously. As well as to a more transparent, efficient information transfer. To ensure transparency, the cards (every issue is a single card) are placed centrally on a board, which is divided into several areas (every issue status is an area).
Conclusion: Structure hero
The Reporting plugin is a true structuring hero. The display of the issue list can be flexibly varied between list view, issue dependencies, various treemaps and now also the new board view.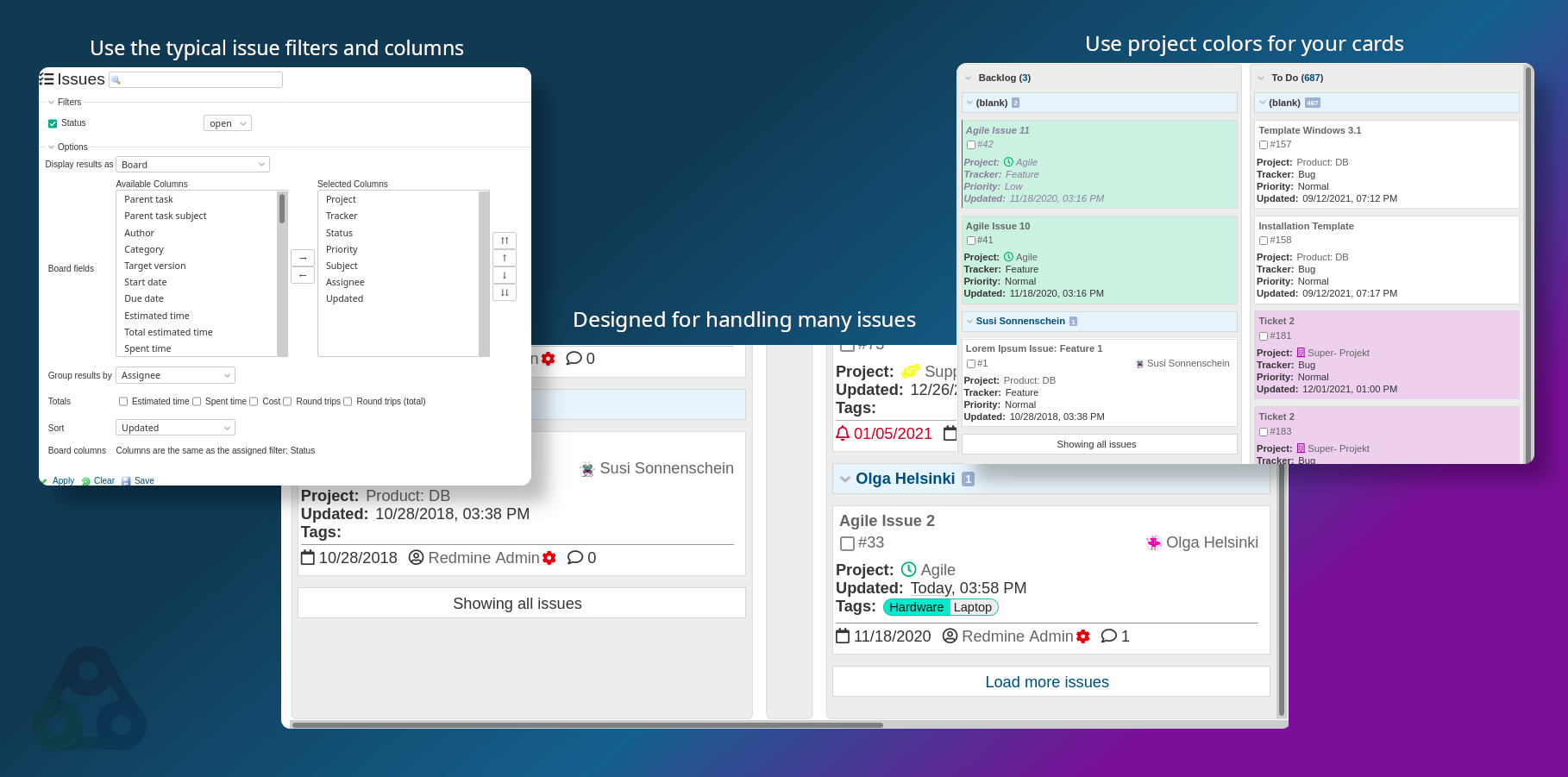 Note: For the view of the board cards you can implement all possible issue fields. Some fields are placed in the lower symbol-toolbar. Some fields are fixed (cannot be removed). Other fields can be added and placed flexibly. However, to keep the view clear, we recommend to show only the relevant information. Which ensure a quick impression.
The usual role permission for issues are taken into account. Employees will only see tasks from the projects they are members of. In order to save a custom query, the user must have the corresponding role permission.
Try it out. You can test the new board function in our online demo. Plugin customers can use it from plugin version 3.0.8 onwards.
All information about our extensions for Redmine can be found on the product page. Customers whose Redmine does not meet the minimum requirements or who prefer to hire someone to install and regularly maintain their Redmine instance have the alternative of booking our Managed Application Hosting for Redmine. Here, the plugin is already part of our hosting offer. The functionality can be tested in our online demo of the current Redmine version.
Get to know other new functions and features coming with Reporting plugin v3.0.8
Our plugins for Redmine are continously developed further and support always the latest Redmine version. Since Redmine v5.0x has been published for a while we have dropped Redmine 4 support. So make sure your Redmine system always meet our current minimum requirements to run the plugins provided by us. Learn more in our plugin FAQ.
Take a preview peek on other new functions, coming with the plugin winter edition 2022:
New: Newly created Redmine issue URLs are replaced by variables

Example 1: https://myredmine.com/issues/12345 becomes #12345
Example 2: becomes redmine_issue(123)

available for: issue description, notes, wiki pages
also availabel for (if installed): DB entry description, Password entry description, Contact entry description

New: Project Tags supports grouped tags: Plugin:Reporting as well as scoped tags: prio::HIGH
Scoped Tags will be displayed in two different colors. Grouped Tags will be displayed in one color.
New: Color scheme for TAGs adjustable in plugin configuration: /settings/plugin/additional_tags
New: Display type "Board" in the issue list option to display the issues according to the chosen issue status in a task board view.
Bug fix: Maintains the set display type in filter options, when changing to another TAG.
Bug fix: To avoid conflicts with RedmineUp Agile, the colour name for the project icon has been renamed.
Improvement: Furthermore, the selected project colour is used for:

Project icon,
Issues in calendar entries,
Issues in the reporting task board.