Tools are merely functional instruments. They should either simplify work processes or help to keep track of certain topics. Often nobody wants to spend a lot of time on configuration. The Wiki Guide Plugin is a tool that works with minimal setup. It serves as an add-on to the traditional Redmine Wiki and helps you and your team:
to better categorise wiki pages
find wiki content faster
and to improve and keep wiki content up-to-date
AlphaNodes uses the wiki itself quite happily and intensively. Since the content relevant to us was already stored in the wiki, it made no sense to look for another addon. For which the already existing content would have to be recreated. We wanted to work with the data already there.
For that reason we simply improved the shortcomings discovered in the use of the function with the Wiki Guide plugin. With the plugin version 3.0.7, the following new features are added, which we briefly introduce to you.
New: Top menu with recent searches and project wiki list
In Redmine, all content is project-related. Use the central Wiki Guide page to get an overview of the content in the individual project wikis. The new drop-down top menu allows quick access to:
a list of all project wikis and the contained wiki pages
access to the recent searches using the Wiki Guide live search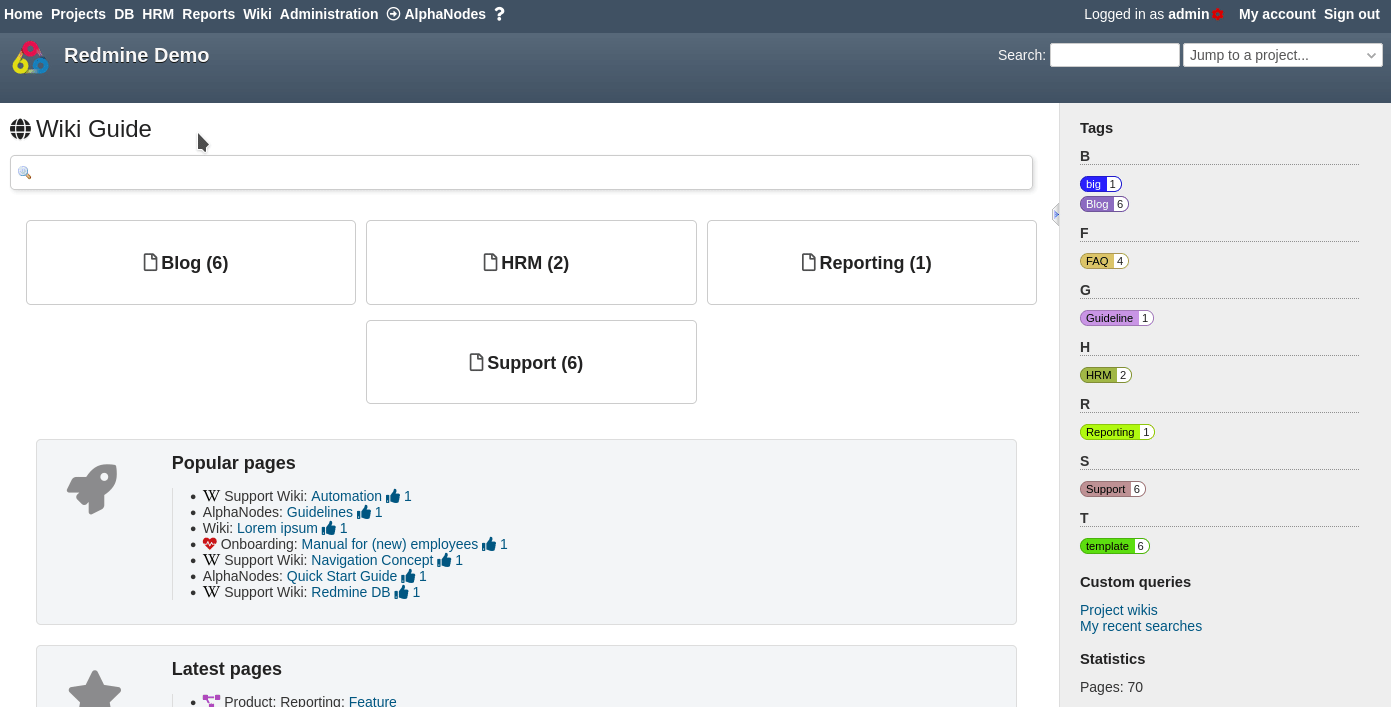 Get a quick access to the latest search terms and to all project wiki infos
For both links the wiki permission view wiki links is necessary for the specific user role. Otherwise the user will not be able to see and access those pages. The top drop-down menu is available if the HRM plugin is also installed on the system. Apart from that the links can be found in the sidebar of the wiki page as well.
New: Detect outdated wiki pages
Especially in the beginning, the structures in a company are not yet completely mature. As your company grows, you will realise that you have to offer your customers as well as your employees other possibilities to inform themselves. To ensure that the content in the wiki is always up-to-date and does not fall into oblivion, we recommend to activate the option Days until outdate in the plugin settings.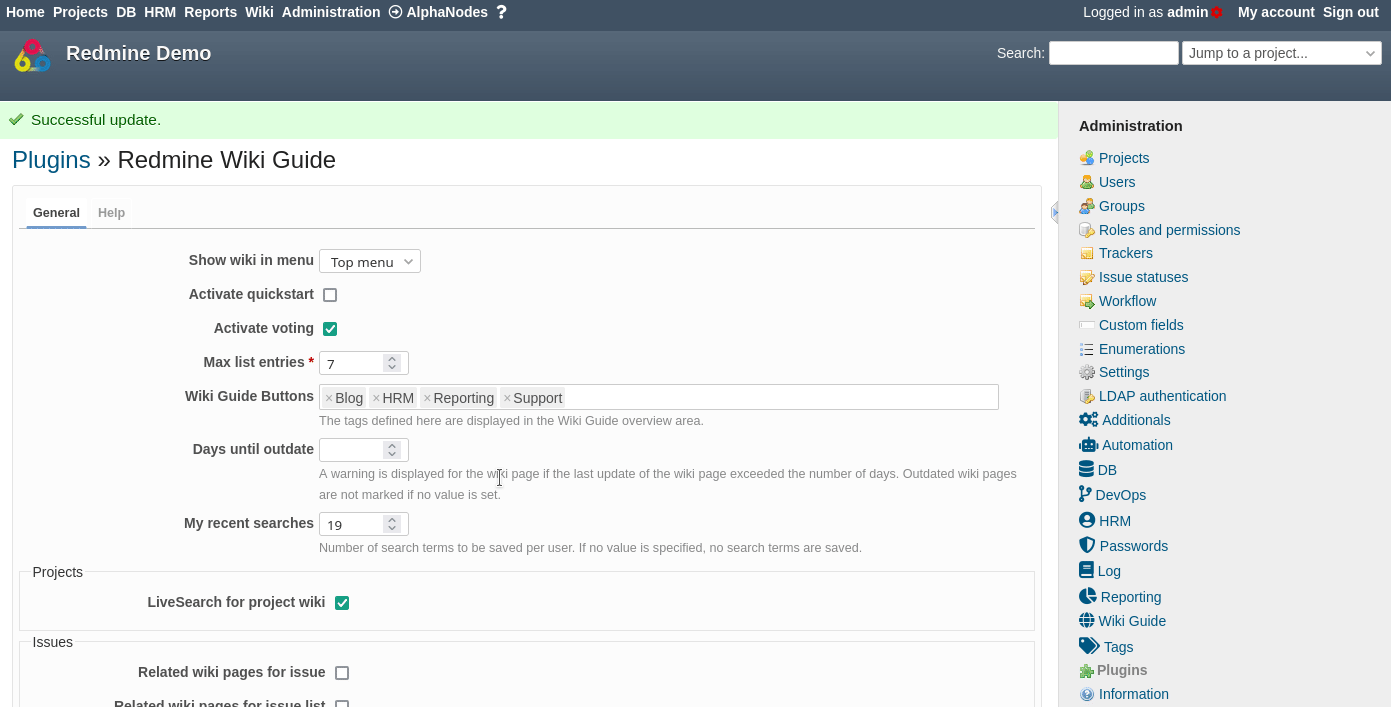 This way you will be visually informed, if a wiki page has not been updated for a specific time frame. Moreover the sidebar link List outdated pages will also be available to you to detect outdated wiki pages within a project.
New: Related wiki pages for issue TAGs
Use the advantages of the Wiki also in connection with Redmine issues. For example, to make it easier for employees to understand what which ticket TAGs mean.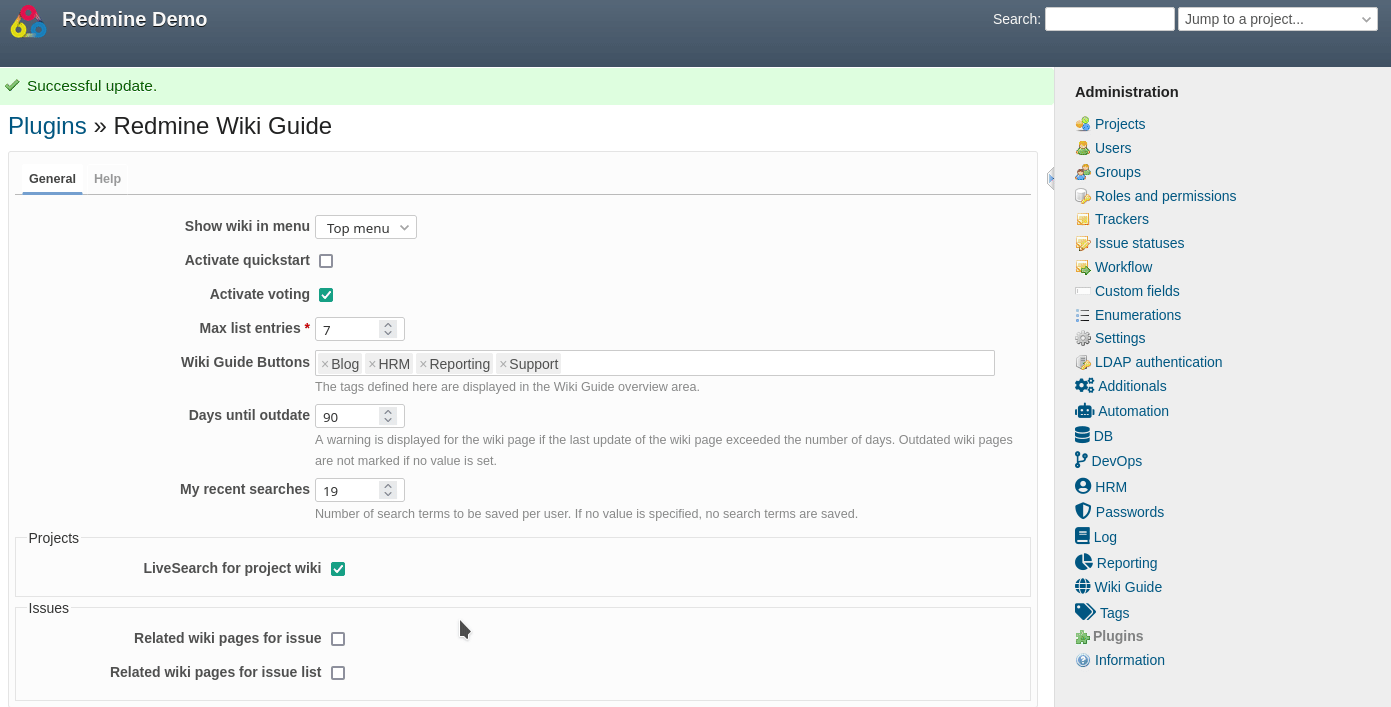 The new function Related wiki pages for issues helps to link tagged issues to corresponding wiki pages where information on the ticket tag can be stored. Facilitate compliance with standards. Or provide additional information.
Conclusion
If you have already collected a lot of knowledge and information in the Redmine Wiki, then the Wiki Guide with its new features is ideal for making this knowledge more accessible and easier to keep up-to-date.
With this plugin, AlphaNodes offers companies an easy-to-implement add-on to the Redmine Wiki to use it as a knowledge database - a few basic settings are enough to quickly get started with the existing content without much extra effort.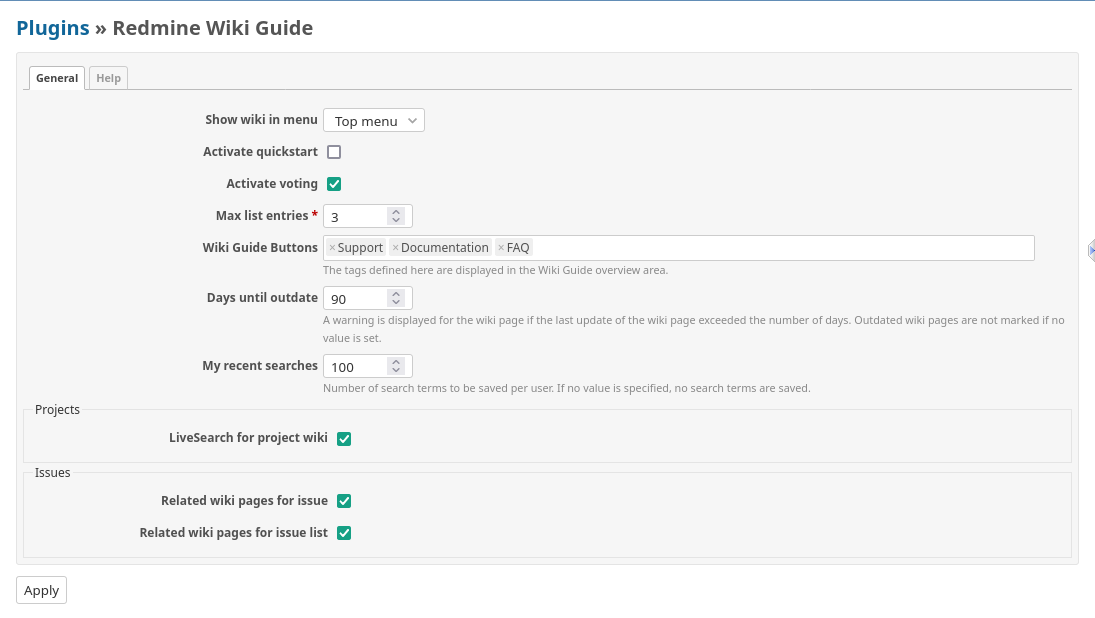 Tip: The plugin is worthwhile for the cross-project and project-related LiveSearch alone. You simply find relevant wiki passages more quickly.
An overview of the plugin is available on the product page. We are happy to answer specific questions via e-mail and the publicly available online demo can be used for testing. Everything is linked in the section Further information. The features listed here are part of the plug-in from version 3.0.7 onwards.
Redmine - Open Source Project Management Software
In case you don't know Redmine yet, it is a free, web-based project management software that provides project teams of all kinds with extensive functions. In addition to user and project management, users have access to discussion forums, wikis and task management.
Redmine is a good alternative to commercial applications. Because companies can scale more cost-effectively and are not tied to specific providers or limited user licences. This is an important plus point for the use of open source software, especially in times of tight budgets. Visit redmine.org to learn more about Redmine or ask the community your specific questions on what's coming next.
Further information