At AlphaNodes, we understand the importance of issue analytics. From a project management perspective, we know how essential it is to give product managers and other groups of people who are not so deeply rooted in Redmine additional possibilities to see the state of affairs at a glance.
We have been using Redmine as project management tool for a very long time, because we are more than convinced of its efficiency. At that time, however, there were hardly any plugins that made the necessary information more visible for stakeholders.
The constant demand for graphical evaluations of issues and projects in Redmine was the starting signal for the Reporting Plugin back then. Since then, the product has continued to develop.
Monitoring and controlling Redmine issues
Plugins like the Reporting Plugin for Redmine provide you with the corresponding added value when it comes to analysing your projects and issues. Since then, the product has continued to develop. Thanks to customer feedback, many useful functions have been integrated that not only make life easier for project managers, but also help users to save time on a daily basis.
What is the Redmine Reporting Plugin doing?
The plugin gives your project managers an easy and quick access to charts and evaluations on important metrics of your issues and projects. It displays bar charts, pie charts, flowcharts, line graphs, counter boxes and much more.
Learn more on our overview: Best Redmine Reporting Charts
Every project manager must take the time to determine if the project team is making progress. And they need to determine if there are significant problems that jeopardise the project goal. Stakeholders may think that everything is going according to plan. They still want to be kept informed on a regular basis. The standard issue lists are not exactly informative for outsiders. Graphical evaluations (even small ones) are more suitable to visually show progress not only to outsiders.
In this article we will introduce the three best Redmine Plugin features for issue evaluation.
No. 1: Version list
You have to keep track of your project progress. An essential aspect of that data is to review your version list.
Is the work on the current version progressing?
How many issues have already been completed?
How many issues are still open?
And when is the planned timeframe for the current version to end?
Answers to this questions and more are provided by the use of the version list of the Reporting plugin.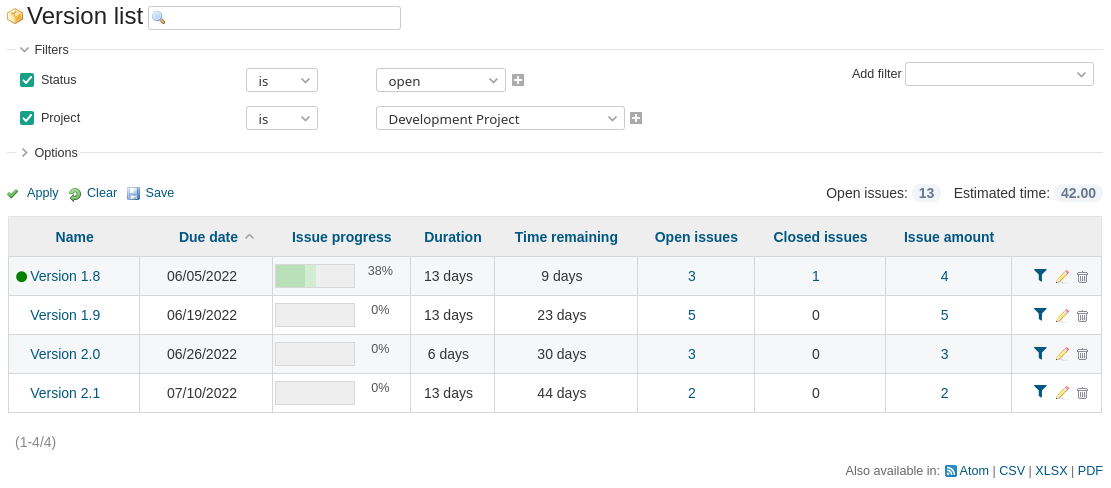 In Redmine, versions represent points in time in a project. They help organize your tasks by working towards milestones. You can assign issues in your project to a specific version. Or you can organize your sprint around the completion of tasks in that version.
The version list helps you in any case to keep the overview here.
No. 2: Overdue issues
For your team's efficiency and productivity, it's important to be able to identify where time is being lost. If you are looking for a chart, that shows all issues due the Overdue issues chart is the one of your choice.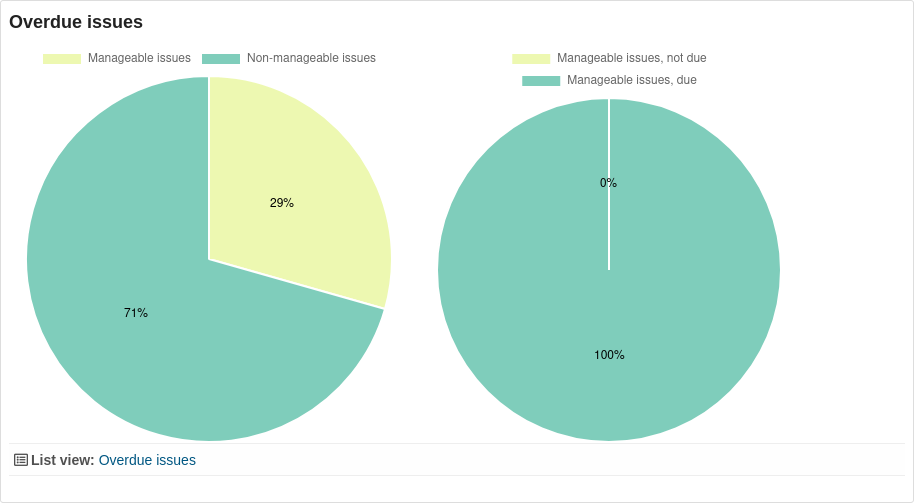 What are overdue issues?
Issues can be given a due date. Either manually or via version assignment. Such deadlines ensure that a task is completed by a target time. However, if the issue is still open on the due date, the target has been missed. It is overdue.
With the help of the issue list, such tasks can be filtered. With the help of graphical evaluations, however, you can immediately see how many tasks are actually overdue. Often, you are surprised by the amount of overdue issues, when you see it visually displayed.
Informative charts that present the data in the best possible way are certainly crucial for your business to work better. Many graphical evaluations are clickable. For more detailed analyses, direct links are provided to the corresponding issues.
Charts like the pie chart can be saved as PNG image. This way you can integrate them into other files for sharing.
No. 3: Issue dependencies
In many projects it is necessary to process tickets in a certain order. This often results in issue dependencies. One of Redmine great basic feature is the possibility to create issue dependencies like:
Related to
Blocks
Blocked by
Precedes
Follows
Subtask
As great as this function is. It is extremely difficult to map dependent issues in an understandable way using the standard issue list. This is where the Reporting plugin comes into play. By providing the Issue dependencies flowchart.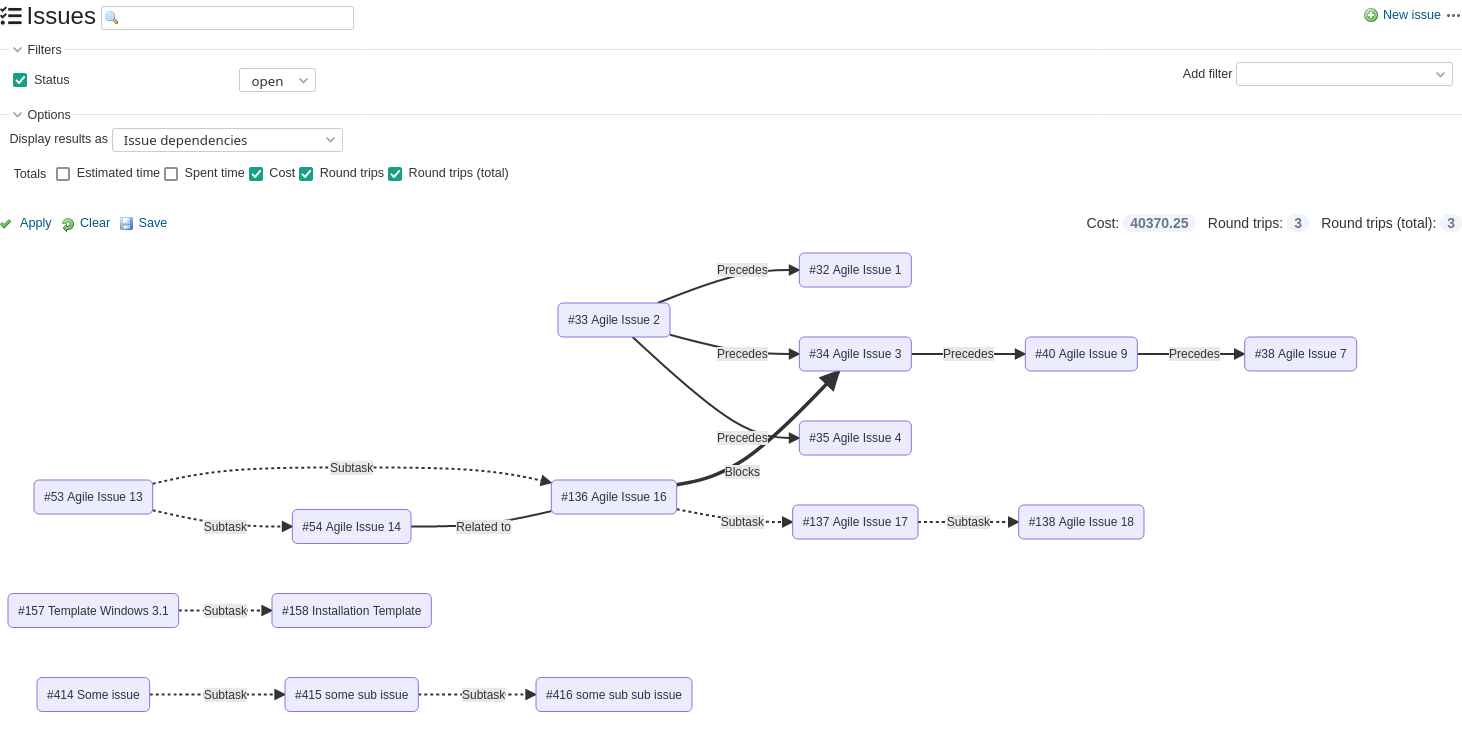 As you can see, it is much easier with a corresponding graphic that visually shows how individual tasks depend on each other or are linked to each other. The issue list is usually output as a table. With the help of the Reporting plugin, additional (visual) output options are available.
Managing Redmine projects gets easier
You can only improve what you can measure. That's why graphic evaluations are also important in project management.
You can import the data from Redmine into external tools for analysis purposes and evaluate it at a later time. Or you can use special Redmine plugins that output the data in Redmine directly and in real time.
We think, that only directly in Redmine it brings the most benefit to you and your team. Because the graphical support shows the situation as it is at the very moment. And that is what counts and at the same time facilitates the work with Redmine.
What is the product about
The Reporting plugin provides users from the business sector with additional evaluations, filters and export options, as well as insights into tasks and projects that are managed with Redmine. It is ideal for project managers, product managers and decision makers who use Redmine as a tool for the different phases of the product lifecycle management (PLM).
What values is generated working with the Reporting plugin
It supplies you additional insights into Redmine, for better decision making, additional data analysis capabilities, easier and more efficient use. Moreover it improves processes and team productivity with extended functionality.
AlphaNodes develops great plugins for Redmine that help to work more effectively. The commercial tools are regularly maintained and supported by our in Germany located team. The updates provide bug fixes as well as new functions and are always compatible with the latest Redmine version. An overview of all features can be found here: Feature list
Redmine - Open Source Project Management Software
Redmine is a free, web-based project management software that provides project teams of all kinds with extensive functions. In addition to user and project management, users have access to discussion forums, wikis and task management. Redmine is a good alternative to commercial applications. Because companies can scale more cost-effectively and are not tied to specific vendors or limited user licences. If you want to learn more about Redmine, you can find extensive information at "redmine.org".
Further information