Optimized workflows allow more time for more important things in the long run. More enjoyment at work. Ergo more efficiency and customer satisfaction. Points that are important if you want to secure competitive advantages with your company.
Especially if the majority of employees work in the home office or field service. And you only have virtual access to their workload.
What does resource planning aim at?
The goal of a software for capacity planning / resource planning is to control the optimal utilization of its employees.
Those who plan poorly, or in the worst case do not plan at all, especially in remote teams:
that members of the team are not working to capacity.
having to wait for tasks.
having to work too many tasks (overtime, weekend work, etc.)
That the project completion is delayed (associated with higher costs).
Or the start of new projects is delayed (accompanied by customer dissatisfaction).
That a plan B is needed for sudden changes (illness, termination, other absences).
Basic functions of a resource planning software
Especially when things have to be done quickly because the need for resource planning is suddenly recognized, many entrepreneurs simply use a spreadsheet for this purpose. For example Excel.
For small teams with few parallel projects or a long-term customer order, this is sufficient. Especially if you want to gain initial experience in this area. With more than a handful of employees, however, this approach has its limits. Reason:
Error-prone, since manual activities are necessary.
Poorly divisible in the team. Risk of data loss and outdated data is high, and a long processing time is certain.
Too time-consuming in the administration, because everything has to be entered manually and often has to be checked by several people, and one cannot always react as flexibly to changes as one would like to.
Everyone has to decide for themselves whether they can live with the disadvantages of resource planning via Excel. We believe that a ready-to-use solution that is already integrated into the project management software already in use would be the better choice. The following functions are important:
Different tasks (e.g. from different projects) can be assigned to one employee.
The employee receives an overview of the assigned tasks according to the planned execution time so that he can complete them.
A visual form of presentation that shows the workload of individual employees or the entire team and can be filtered according to certain metrics.
Version periods are supported in order to ensure implementation by the planned deadline. Or to determine an alternative date for a product release based on the current actual data.
All this and more is possible with a resource planning tool like Redmine HRM Plugin. In addition, a product like this always reports the current actual status based on the entered data stock. What is important is to continuously optimize your work processes.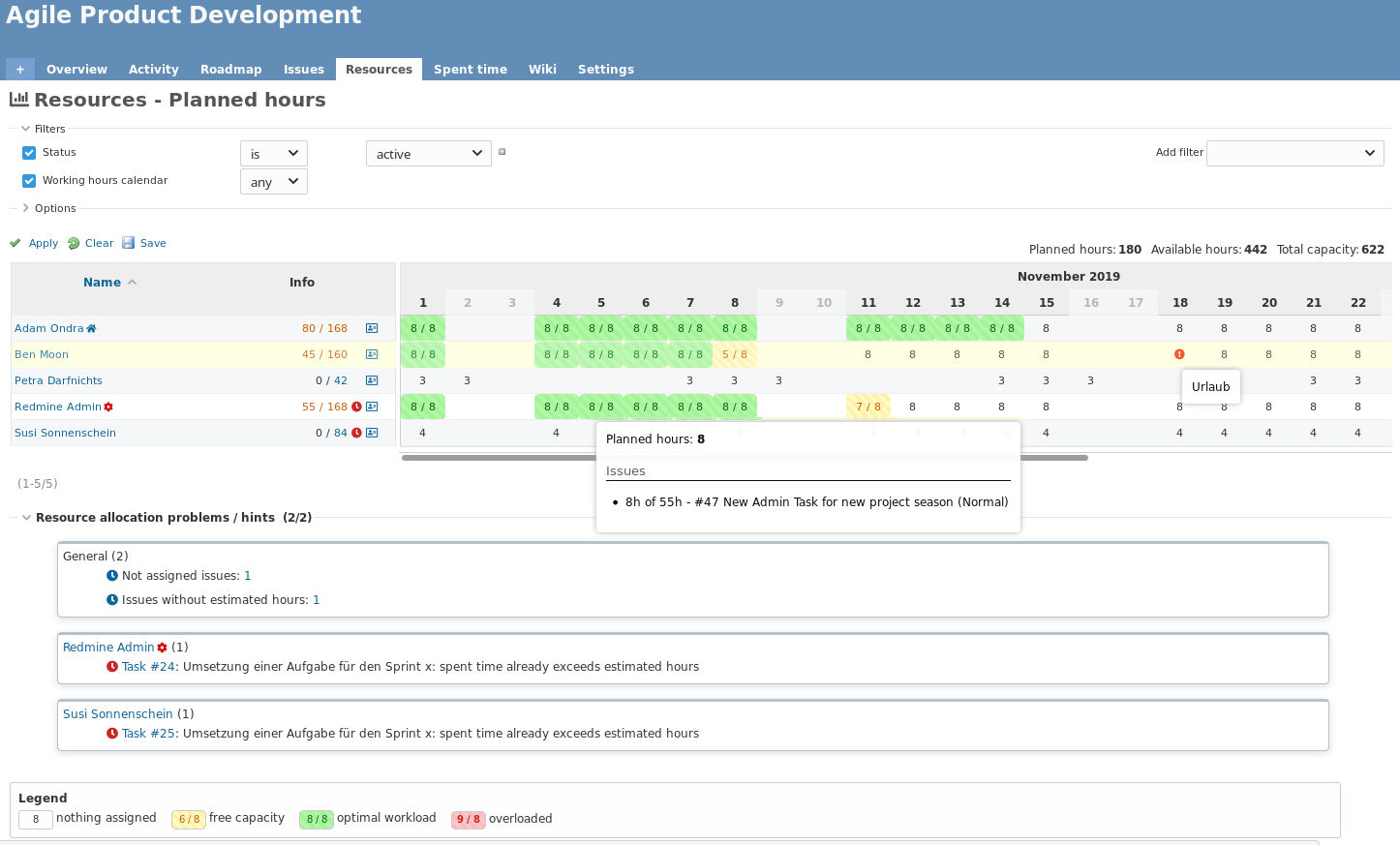 Answer capacity questions quickly
The Redmine HRM Plugin saves time by answering the following questions:
Who is currently operating underutilized and has free capacity?
Will the planned work be completed in period x?
When is the next free time slot for a new project?
Who in the team is overloaded and works longer than planned? To whom can this person alternatively outsource work?
For which tasks are there problems that delay completion?
Especially the last question helps to optimize workflows. If more and more problems occur in resource planning, this is definitely a sign of a need for improvement.
Individual workflows are probably not optimally defined and require a more detailed analysis of possible weaknesses. For this purpose, take a closer look at the infobox Hints / Problems in resource allocation in the resource planning of the Redmine HRM Plugin:
Which tasks cause problems and why?
Do the problems accumulate with certain employees? If so, why?
Are they errors due to overload, poor quality of work, poor communication, lack of information, lack of knowledge?
In order to improve work processes, it helps to define certain criteria. This section in the resource view can help you do this.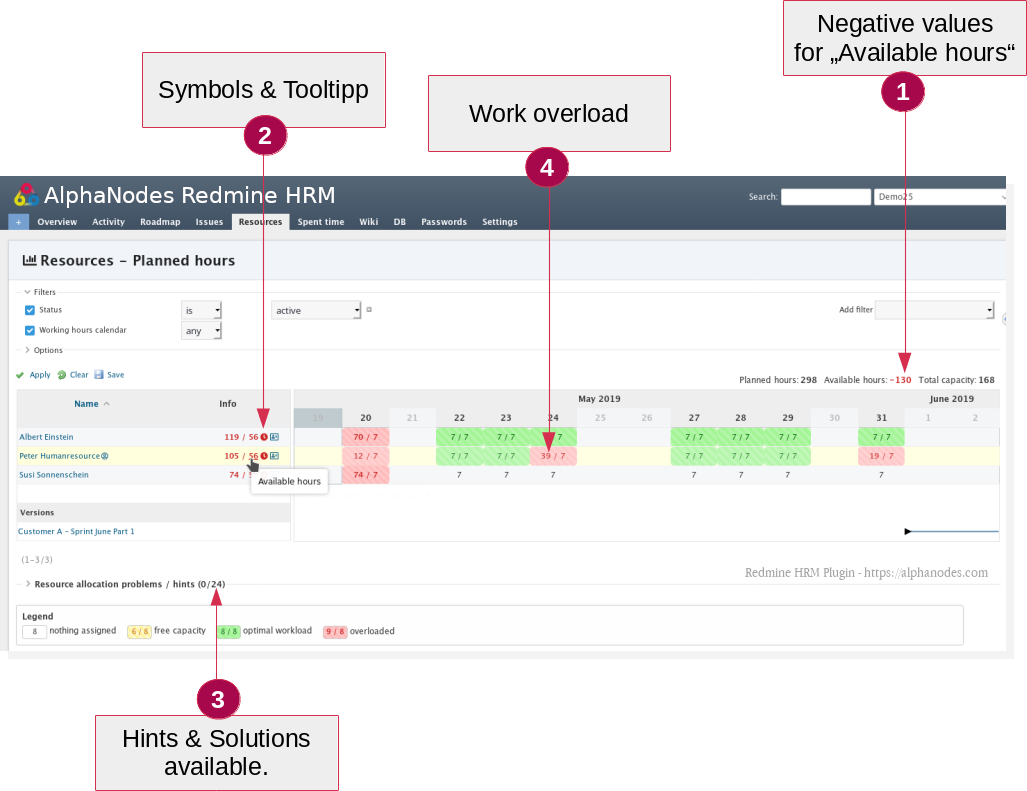 Reacting flexibly to customer needs. Automatic mechanisms make it possible.
Particularly in long-term projects, the general conditions are constantly changing. Customers often have difficulty formulating the desired result until they see it. Project managers cannot assess all eventualities until they happen. This requires a certain amount of flexibility, not only on the part of the employees, but also on the part of the software used for capacity and resource overview.
The Redmine HRM Plugin is correspondingly flexible, because:
it works with automatisms based on certain rules for resource planning. These should provide more structure and a standardized approach to planning. The goal is to reduce micromanagement (and the time required for it) and to promote the automatic assignment of tasks to employees. Manual intervention should only be used in an emergency.
it considers new incoming tasks immediately and integrates them into the existing planning without much effort. You can see immediately, for example, whether this causes significant delays in other projects. Or whether the schedule is still in the green zone. Even changes to existing tasks are directly transferred to the planning view. For example, if the time estimate increases. employees are absent or have less time available etc.
HRM Plugin Advantages for work process optimization
The Redmine HRM Plugin extends the basic installation of Redmine with numerous additional functions. Here are some of the advantages that the HRM Plugin brings especially for the optimization of work processes.
| | | |
| --- | --- | --- |
| Workprocess optimization | Redmine Basic | HRM Plugin |
| Recording / output of the actual status | | |
| Clear resource display, filterable by relevant metrics | - | |
| Analysis possibilities through notes | - | |
| Defined rules / automatisms for ticket allocation in resource view | - | |
| and much more... | - | |
Note
The Redmine HRM Plugin maps the current situation of the stored data in the system. This allows for continuous analysis to optimize work processes.
Built-in automatisms and assignment rules reduce the time required for planning tasks, increase efficiency and allow flexible reaction to changes.
integrated time recording allows further analyses of the booked expenses.
Redmine HRM Help
If you need more helpful tips for working with the Redmine HRM Plugin, get help in PDF format from our support area. As a customer with a valid support license you have access to it.
Test Redmine HRM Plugin
With just one tool, the standard functionality of Redmine can be extended with useful functions for decision makers and project managers, which will benefit every company in the long run. Want to learn more about Redmine's HRM features? Please visit our website for detailed information about features, benefits and pricing. Or take a look at the complete feature set in our online demo: Our public demo instance is available at any time and great for getting a first impression.
Further information