If you are a project manager and plan project work for your team or manage resources in your company, this article is useful for you.
Agenda
You will learn
A) what resources are in project management with Redmine and what resource management means,
B) why resource management is important and how you manage workload,
C) what's the big plus when using Redmine HRM plugin for resource management.
What are resources
When we talk about resources in project management we basically mean the people in your project team or organization. When working with Redmine those resources are your users, who contribute to your projects.

Resource planning in project management with Redmine means:
finding available people for your project in order to do the work, that needs to be done.
planning time for those people, working for you on projects.
optimize the availability of your resources by managing team attendances and absences.
To start off let's go to the project wide Resource Planning view of Redmine HRM Plugin. As soon as you have configured the plugin correctly you can start working. You should already see data according to the already existing issues, that:
have been assigned to someone
have been evaluated (time estimation)
are assigned to a relevant issue status
The project wide Resource planning view is your home base as a project manager. You open it via the Redmine App-Menu link: Resources. Afterwards you see all your team members according to your role permissions in alphabetical order.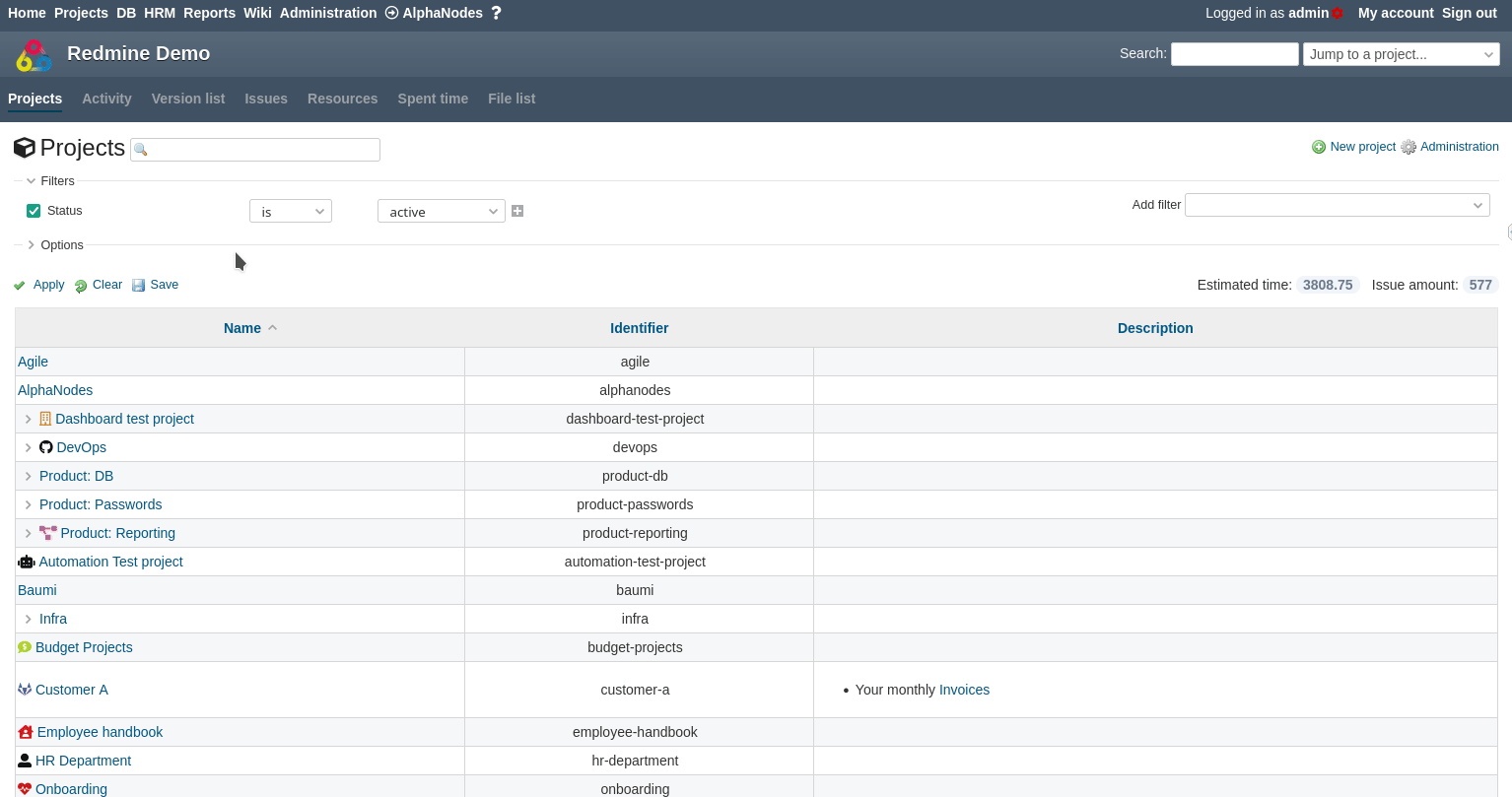 There you have Filters and Options for adjustment of the current view. You can do various things here like:
change the view scale to Day, Week, Month
change the Date range to current month (like in our example)
According to your date selection you find all necessary planning information in the right head section of the planning view. Like:
Planned hours
Available hours
Total capacity
All numbers are calculated according to your user selection and date range.
Why resource management is important and how you manage workload
Resource management is important, because with just one look you know how bussy your team currently is. The planning view allows you to get a first impression on:
available team members in a special date range.
overloaded team members, who might not be able to finish tasks in time.
absent team members due to holidays, illness, trainings, etc.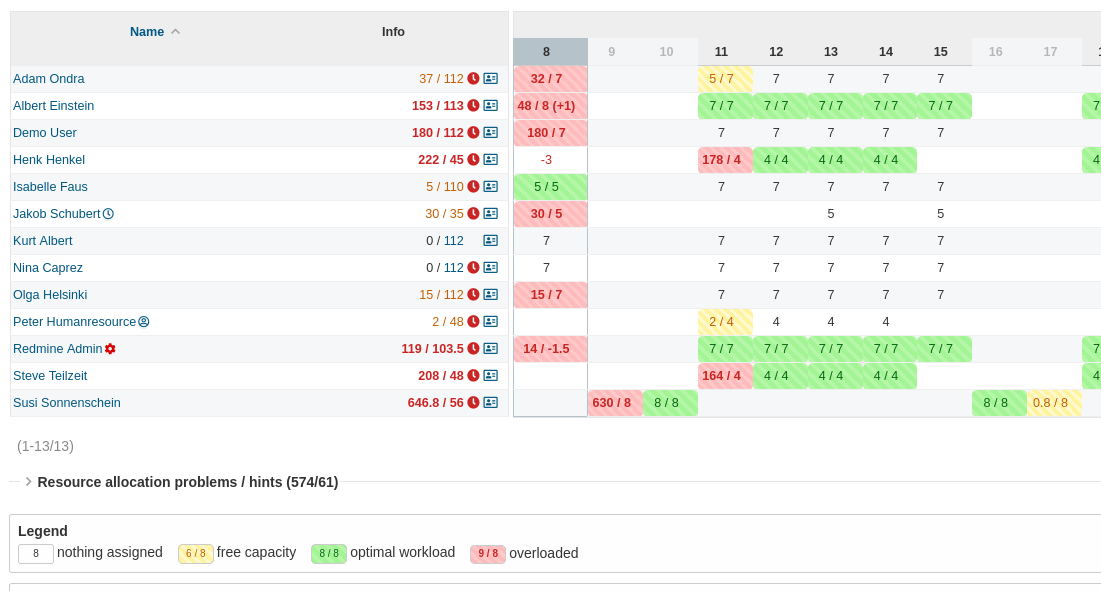 The resource management tool you use, should be flexible to adapt to your needs of information. This means, it is helpful to use a tool, that supports custom fields to store additional information on your users. Like for example skills, position, location. And that also supports different working models (remote work, full time, part time etc.).
Use working hours calender to define workload
The first important step before you start planning is to take a look at the existing working hours calendars. Those are relevant for the workload of each user.
Usually, not only full-time employees work in a company. But also part-time workers, external employees or trainees. Their workload should be configured accordingly for realistic resource planning. This is done with the help of the Working hours calendars.
The HRM plugin allows all possible work models here. Before you start, check whether a suitable calendar exists for each team member and make sure it is also assigned to the specific user of your team.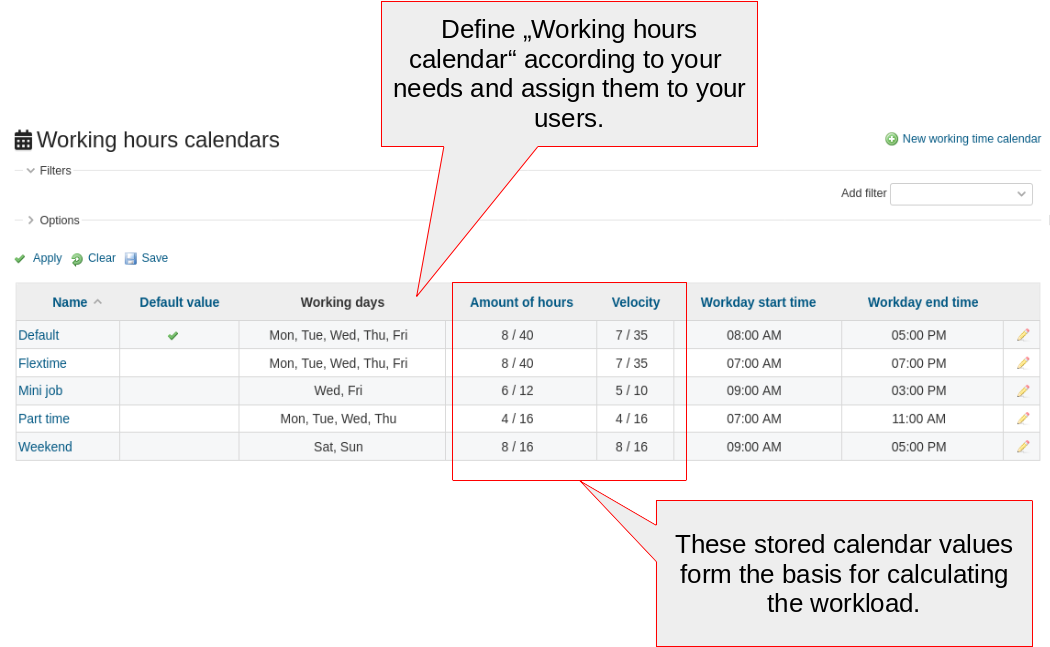 Work with custom fields for users
Normally a typical team consists of users with different positions and skills. Like Designer, Developer, DevOps, Tester etc. If you use a resource planning tool, that allows store information like special skills in additional custom fields, you are as flexible as possible when it comes to resource planning. This allows you to identify special users for specific projects easier.
Before you start planning another important step is, that you should set up your relevant information on your teams and user skills by adding custom fields for Users and fill them out accordingly. Then with the help of the additionally available filters, specific resources can be narrowed down.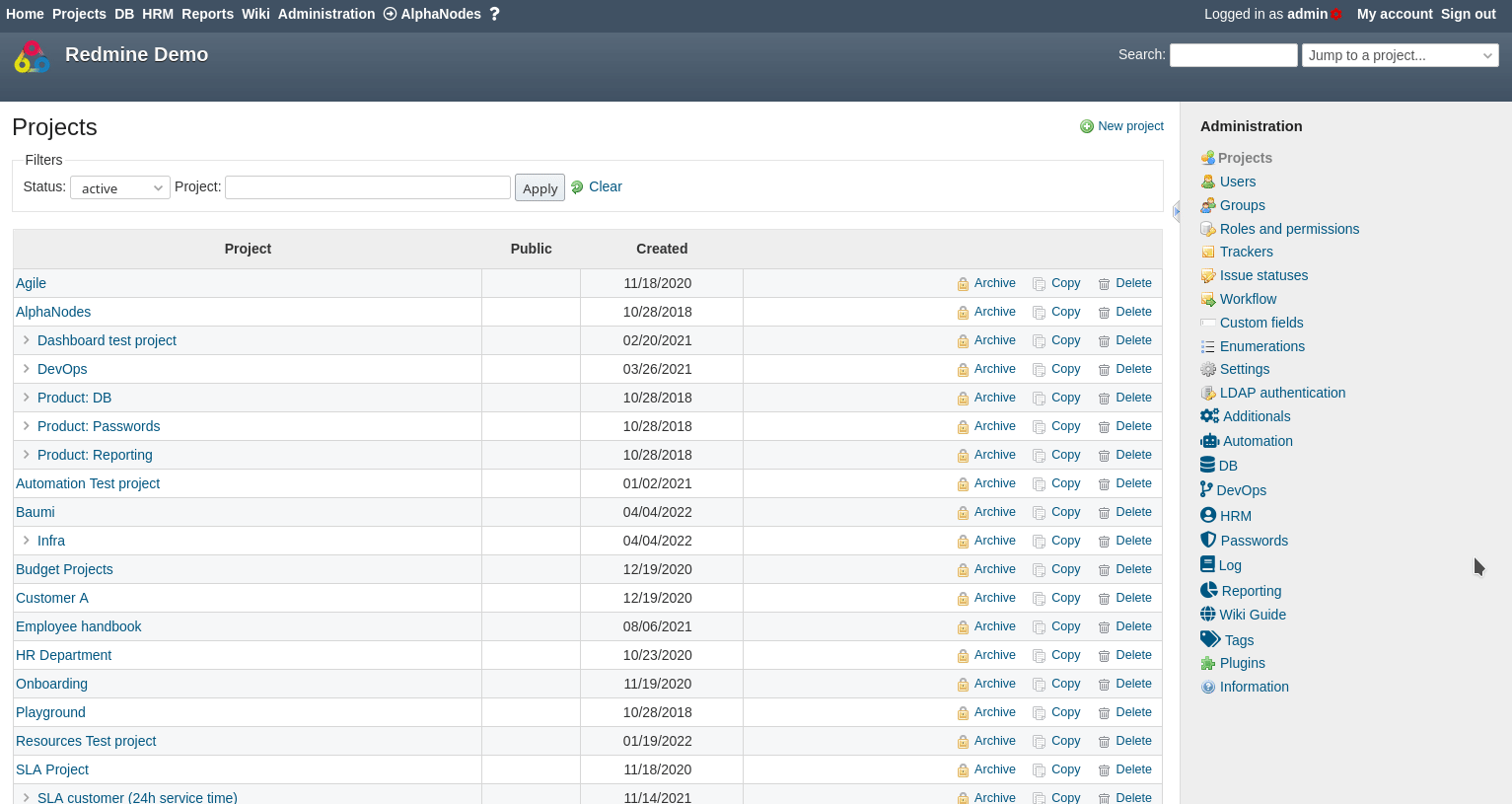 As soon as the basics are set you are good to go. Start planning your resources, take a look at typical problems like employees with overload / low workload and start fixing bottlenecks.
Re-assign issues in case of overload
When you have overloaded team members and others, who are currently available you should think about reassigning issues to those, who have currently nothing to do.
You already know how to identify users with similar skills using Filters. So it is easier for you to decide who should be right for the reassignment. See how easy it is.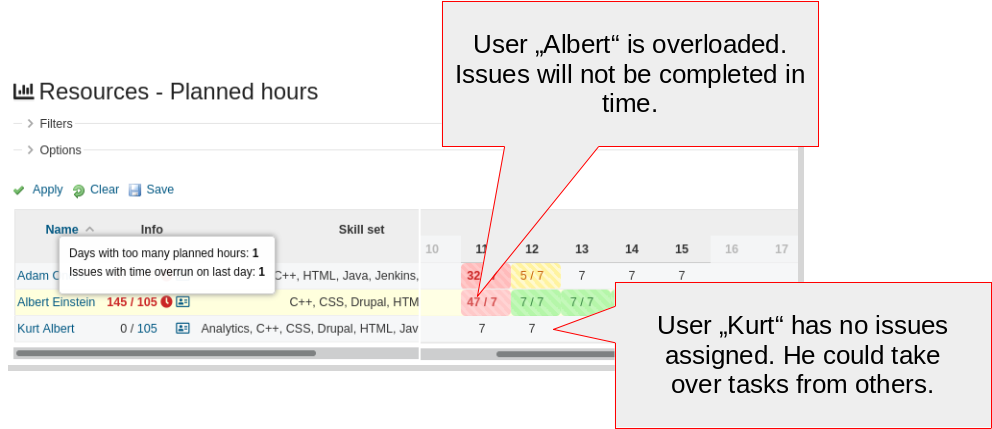 In our screen example the user Albert has a lot to do. When hovering over the red numbers you see the list of issues he has to work on. Click on the number to go to his issue list of this day.
The user Kurt is currently available for tasks. We will assign him one issue of Albert. Both users are equipped with the same skills and are in the same project.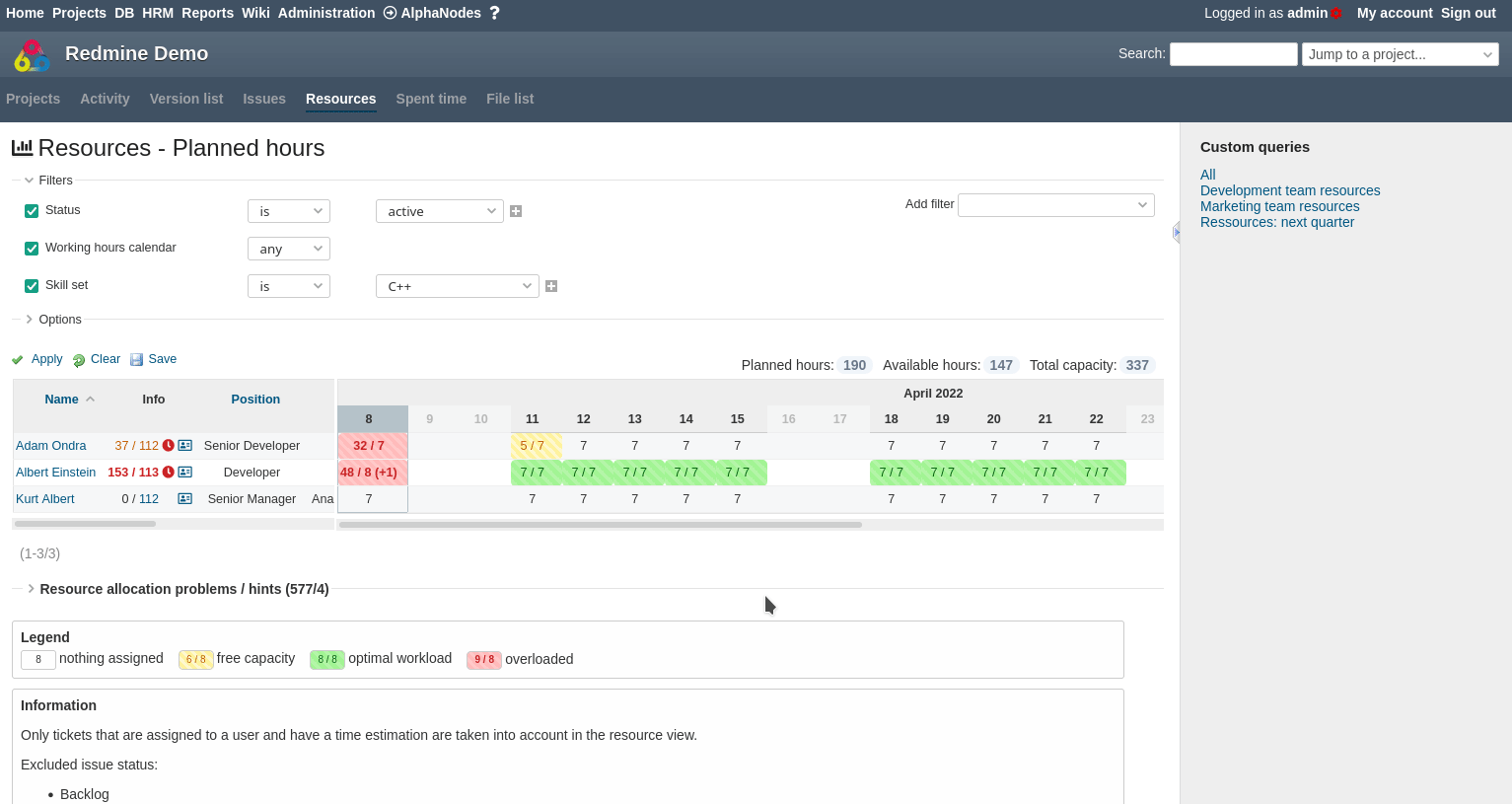 You already see, that a resource management tool helps you quickly to identify bottlenecks by showing problems in the planning view. In addition such planning addon ensures better transparency in the team.
It is easier to see who is working to what capacity. When you need to provide new tasks again. Or, if your team is constantly overloaded, you should provide for new employees.
Redmine HRM improves resource planning
The Redmine HRM Plugin is a resource planning tool for Redmine. It helps to find available employees for certain periods of time more easily and to use them optimally for ongoing or planned projects.
Instead of working with long, confusing issues lists, the HRM Plugin converts the assigned and estimated tasks into a visual view. Useful for someone who is not that deep into planning. Because this view alone is enough to reveal possible problems at an early stage.
The big plus of this plugin
There are project managers who do not want to or cannot spend much time planning their resources. This is where the plugin plays its big advantage.
Built-in rules for the assigned issues ensure that micromanagement in issue planning is not required.
Issues do not necessarily have to be scheduled manually one by one. It is sufficient to define the time frame the issue has to be done by means of version assignment. And to define the urgency by means of issue priority. All this can be easily and quickly done via Bulk-edit.
The plug-in takes care of the scheduling of when the work is to be done by the user. As already said, based on implemented rules for resource allocation.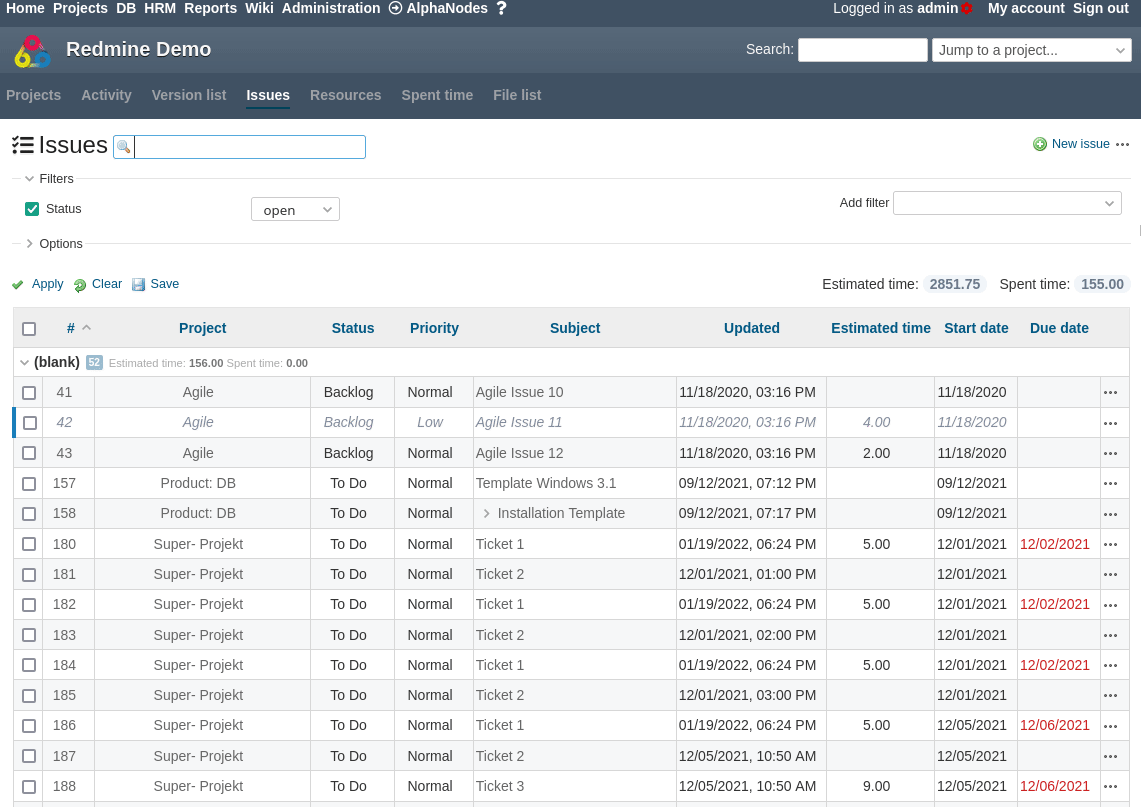 The plugin converts long issues lists into a visual planning view for better insights on relevant issues.
Learn more on our product page. The plugin is available as bundle (Business-Class) as it requires Redmine Reporting as base. It works not as stand-alone.
Redmine - Open Source Project Management Software
Redmine is a free, web-based project management software that provides project teams of all kinds with extensive functions. In addition to user and project management, users have access to discussion forums, wikis and task management. Redmine is a good alternative to commercial applications. Because companies can scale more cost-effectively and are not tied to specific vendors or limited user licences. If you want to learn more about Redmine, you can find extensive information at "redmine.org".
Further information