Our Redmine plugin Privacy & Terms is ideal if you want to include terms of use for your Redmine installation and get the consent of the users. Furthermore, the plugin displays a reference to the use of cookies (cookie consent). And if you want to find out about possible data protection problems in your system, use the useful inspector.
Available on GitHub
You host Redmine yourself and want to use this Plugin? System requirements and Plugin download, as well as support requests on GitHub.
Redmine Managed Hosting
The Redmine Privacy & Terms Plugin - get user consent is part of our Redmine hosting offer, if required. If you need Redmine or Redmine Plugin support or do not want to host Redmine yourself our Redmine Hosting is perfect for you. This way you can fully concentrate on your business and work with an up-to-date, secure working environment.
Support for Selfhosting user via GitHub, only. If you are not a AlphaNodes hosting customer use the issue tracker on GitHub for community support. Other support requests via eMail are not processed by us.
Features
Redmine Privacy & Terms allows adjustments in the following areas:
Cookie agreement
allows implementation of a cookie hint:
with individually adjustable colors and texts for the cookie banner.
with the possibility of an external URL integration.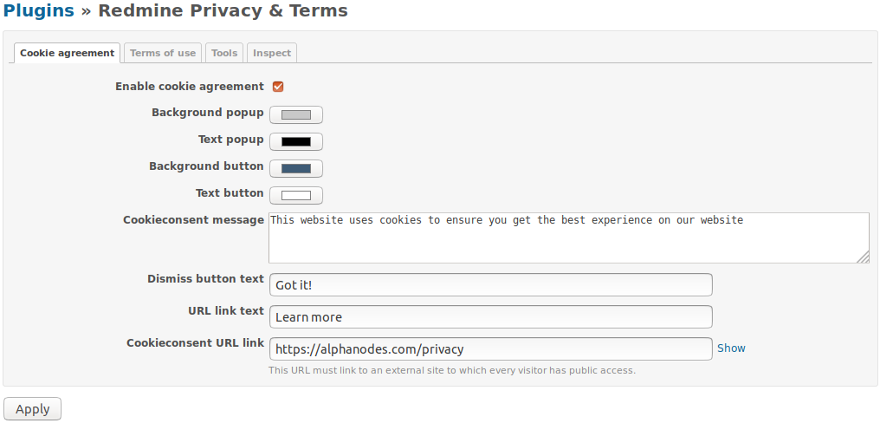 Terms of use
allows the implementation of terms of use for registered users:
with reference to internal wiki page about the terms.
with reference to internal wiki page if terms are rejected.
Tools
allows the user to confirm changes to the terms of use again.
Inspect
provides a page of information that helps to identify potential privacy issues.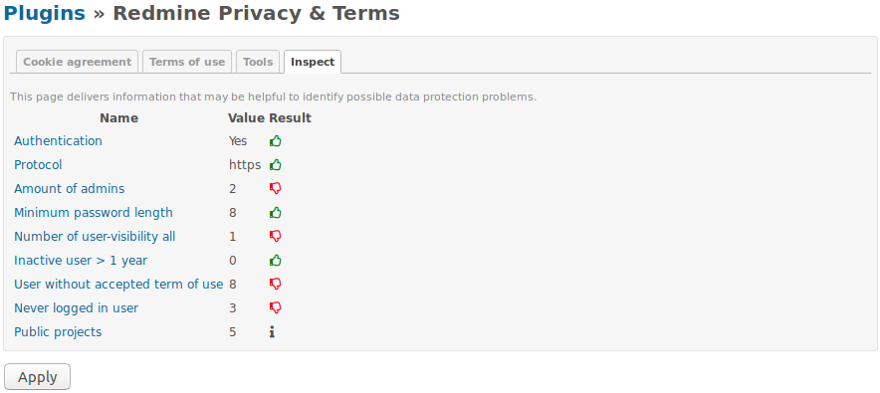 Macros
provides the macros for the wiki