Again and again, we read that the future of work is mobile and digital. In addition, the recording of working hours is one of the most important topics in human resources management for all companies. Nevertheless, the events and changes the recent years have shown that too many companies are still poorly prepared for flexible working time models and remote work. Yet there are tools that allow a combination of both.
Remote work support becomes important
A company that also offers its employees remote work has a much better chance of attracting good employees than those that are exclusively fixated on on-site teams. And only those who align their corporate structure with remote work at an early stage will be able to offer it when needed.
After all, who would be happy to give up a highly sought-after talent just because this person can't even quickly change their place of residence for the job. Due to a currently changing life or family situation?
Redmine HRM Plugin for attendance management
Such situations should no longer be an obstacle to choosing a job. In the meanwhile, there are suitable solutions for many use cases.
As you probably know Redmine is an open source application to manage projects and tasks around your company goal. This has advantages over proprietary applications in many ways. Besides the financial aspect open source software adheres to common standards. If you use open source based tools:
you can transfer your data back to another system in a structured way.
The data is always yours. You are not bind to a special vendor or a special cloud offer.
Most open source tools can even be managed on an own server environment.
And usually have a solid API that enables interchange with other platforms and applications.
If you are using Redmine and looking for an attendance management solution for your Redmine based team the Redmine HRM plugin might be the tool of your choice. As part of this time recording, at least the start and end of working hours are recorded.
Hint: Only by recording employees' working hours are companies in a position to determine key business indicators for productivity and profitability. And this is also possible with tools that are based in the open source area.
Log your working time with Redmine HRM
In addition to absences such as vacation, illness, etc., the HRM plugin for Redmine also allows the recording of attendances. First and foremost, of course, this includes the working time itself.
Definition of working time: This is the time during which the employee, according to his employment contract (Working hours calendar), is generally available for the company and performs his job duties (not to be confused with time spent on individual issues). Strictly speaking, coffee breaks and other rest breaks are not part of working time. In practice, however, almost all employers tolerate short breaks to drink coffee or stretch.
In the HRM plugin you have the possibility to define attendance types according to your needs. These are created by admin users in the plugin configuration after startup.

The HRM plugin allows management of attendances and absences via attendance types. Configure them according to the requirements of your company.
For example, a typical attendance type is Office. This can be used when on-site employees are present in the office. You can make this default if most of your employees are on-site workers. This one usually requires no approval and no Days per year limit. We recommend the input format Manually from - to area here.
For home office or field service employees, you can offer the attendance type Remote-work. The settings will usually be the same like for Office workdays.
Hint: Existing attendance types can be edited slightly (e.g. change of name). However, it is not possible to delete them once bookings have been made by the users.
How to record the working hours using Redmine HRM plugin?
The fact that companies record the working hours of their employees has been regulated by law in Germany for some time (e.g. to prevent working time violations). However, the form in which working time is recorded is entirely at the discretion of the company. This is how working time recording works with the HRM plugin.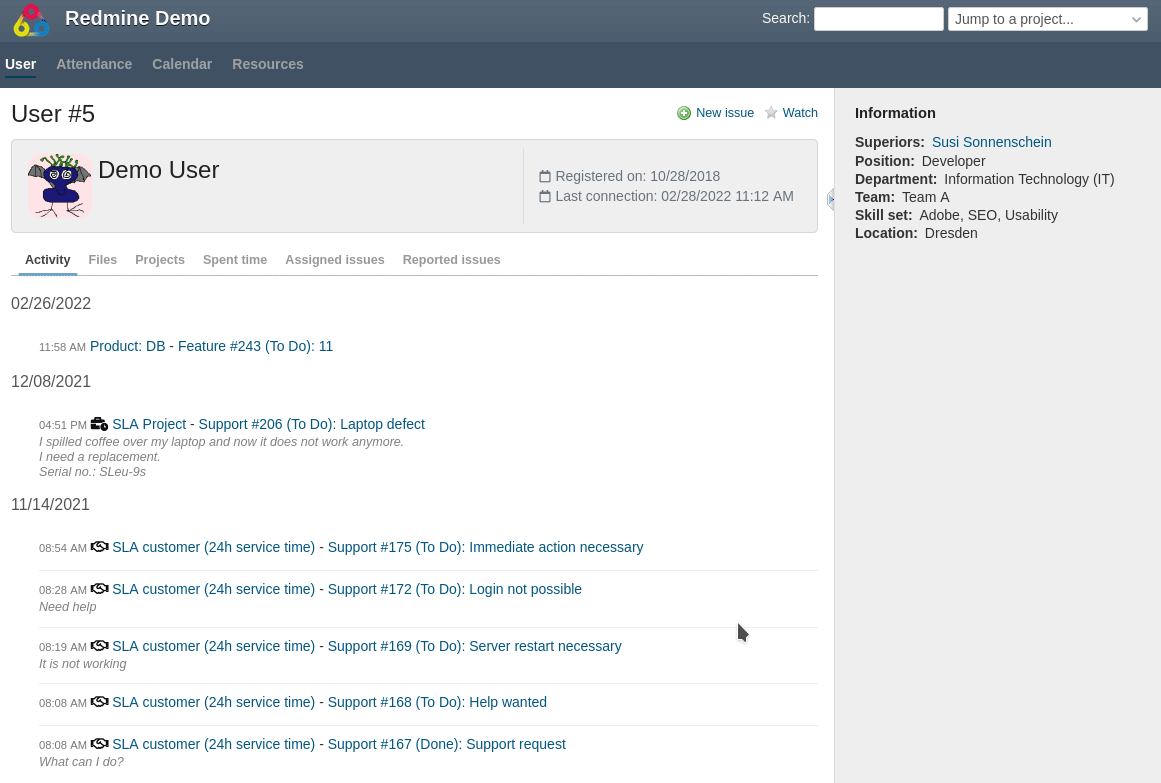 For the user logging work time using Redmine HRM is easy, as you can see in above image.
3 common questions on logging attendances in Redmine HRM plugin
Learn some answers to most common questions, using Redmine HRM plugin for recording working time.
Does every user needs to log attendances?
No. It is up to you to decide who should log attendances or not. The HRM Plugin comes with so called User types. They are very flexible to manage and can be adapted to your needs (e.g. customers, internal users, freelancer etc.). There you define what assigned users to this type should do regarding Attendance log requirements.
Where to log attendances as user?
Every user, with the appropriate permission has additional sections within the personal user profile. There is also a section Attendances. Here it is possible to add attendances of any kind. Learn more in our blog post on How to log employee attendances.
Where to go in order to see, what attendances have been logged?
People from your HR department should have access to the HRM section within your Redmine. There they will find the Attendance Tab. This section comes with a list of recorded attendance entries of your users. Use the various filters and options to filter the results according to your needs. Learn more in our Buyer's Guide section HRM Plugin Guide for HR department (PDF).
Testing HRM Plugin Attendance Management
If you want to learn more about the work time logging feature of the Redmine HRM plugin, have a look at our plugin online demo. There you can test all functions of the Redmine resource management. More information is also available on our product page and on the webinar page.
The Redmine HRM Plugin is our resource management and attendance management solution for Redmine. It is an extension for the Reporting Plugin and needs to be used as Bundle. It will not work as stand-alone.
Further information