Tools are merely functional instruments. They are here for you to provide solutions to problems you have, to simplify workflows, or to help to maintain an overview of our projects.
Before blindly buying something, it is important to find out if a product will do the job you bought it for. You will find it easier to make a decision if you already know what your problem is and not just look around at what would be nice. Most of the time you don't need such functions.
With a clear goal in mind, as far as the functions are concerned, it will be easier to decide whether a tool is suitable or not.
Be specific about your problems and a possible solution
Perhaps your problem is that you want to keep your Stakeholders informed about a project. Probably to avoid disagreements about the current status at the next meeting. You need a solution that ensures it notifies all stakeholders in a timely manner as soon as certain parameters change.
You already have a platform that sends issue notifications if something changes. But the issue change alone doesn't tell you much about the overall project status. You need something more universal.
Project managers can manually perform periodic status checks. But that takes time and often takes effort (Who likes to be the messenger of bad news?).
What you need is a way to get notifications on important project metric changes (like budget, planned end date, spent time bookings, etc.).
And you need a way to automate those notification to save time and effort.
Solution: Automation tools in combination with project reporting are useful here (e.g. Reporting & Automation).
If you have a concrete idea of what you need, then it is easier to find a suitable solution and you are more likely to complete your job satisfying.
Redmine Plugins to work smarter
We offer some useful tools to support you in project management with Redmine. They come with numerous features you will surely not necessarily need all of now. But with your specific problem in mind, you will quickly find out if they can help you find a solution for your special task. Get to know our 3 most interesting tools today with focus on efficiency and usability improvement.
Redmine Automation Plugin

Figure: The Automation plugin saves you time by automating repetitive tasks, simple time-consuming tasks, not so frequent tasks, that should not be forgotten, tasks that employees do not enjoy doing so much.
What is the Automation plugin about?
The tool automates project management tasks and workflows in Redmine using simple if-then conditions for automation rules. No code necessary. When an event happens (Save-Event, Scheduled Event) than the Automation plugin performs a particular action (View download resources).
What values is generated for you?
Time saving through automating repetitive tasks.
What jobs can be done using the product?
Here are some examples on how to use the Automation plugin in your project.
Learn more about Automation and typical use cases.
Redmine HRM Plugin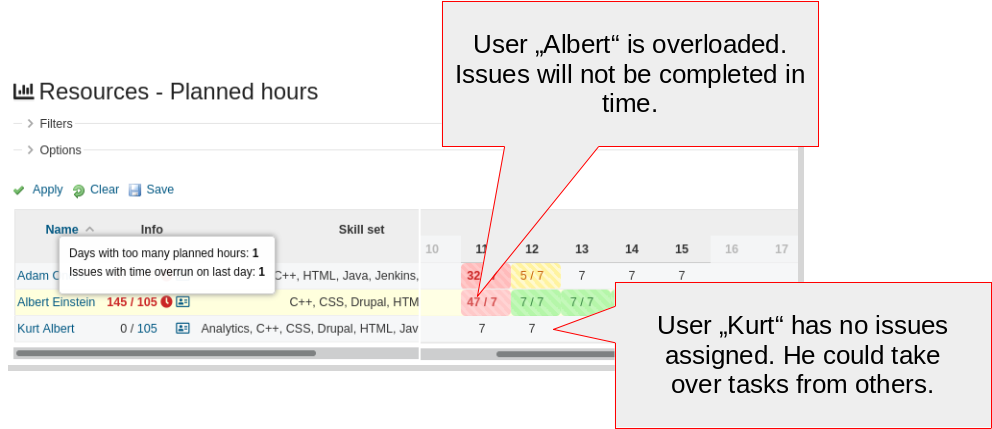 Figure: The HRM plugin makes real-time resource evaluation possible.
What is the HRM plugin about?
The tool provides real-time ressource planning views and attendance and holiday management for project management teams using Redmine.
What values is generated for you?
It allows an effective planning and overview of your team resources (project-related and cross-project) to see where the bottlenecks are.
What jobs can be done using the product?
Learn about use cases how the HRM plugin can be used in your project.
Redmine Reporting Plugin

Figure: The Reporting plugin comes with visual support for better insights and numerous features to improve efficiency.
What is the Reporting plugin about?
The product provides users from the business sector with additional evaluations, filters and export options, as well as insights into tasks and projects that are managed with Redmine.
What values is generated for you?
It provides additional insights into Redmine, for better decision making, additional data analysis capabilities, easier and more efficient use.
What jobs can be done using the product?
Find out how to use the Reporting plugin in your project to work more efficient and detect bottlenecks easier.
Learn more about reporting and typical visual tools.
These are just a view problems you might wanna have a solution for. Take a look at the free accessible online demo to explore all our Redmine plugin features.
Those three plugins are available as bundle. The Reporting plugin is always the base for the other ones. The good thing about our plugins is, that they are for any size of business. You can evolve at any time, because our tools grow with you and interact with each other. No matter where your business journey takes you.
Redmine - Open Source Project Management Software
Redmine is a free, web-based project management software that provides project teams of all kinds with extensive functions. In addition to user and project management, users have access to discussion forums, wikis and task management. Redmine is a good alternative to commercial applications. Because companies can scale more cost-effectively and are not tied to specific vendors or limited user licences. If you want to learn more about Redmine, you can find extensive information at "redmine.org".
Further information